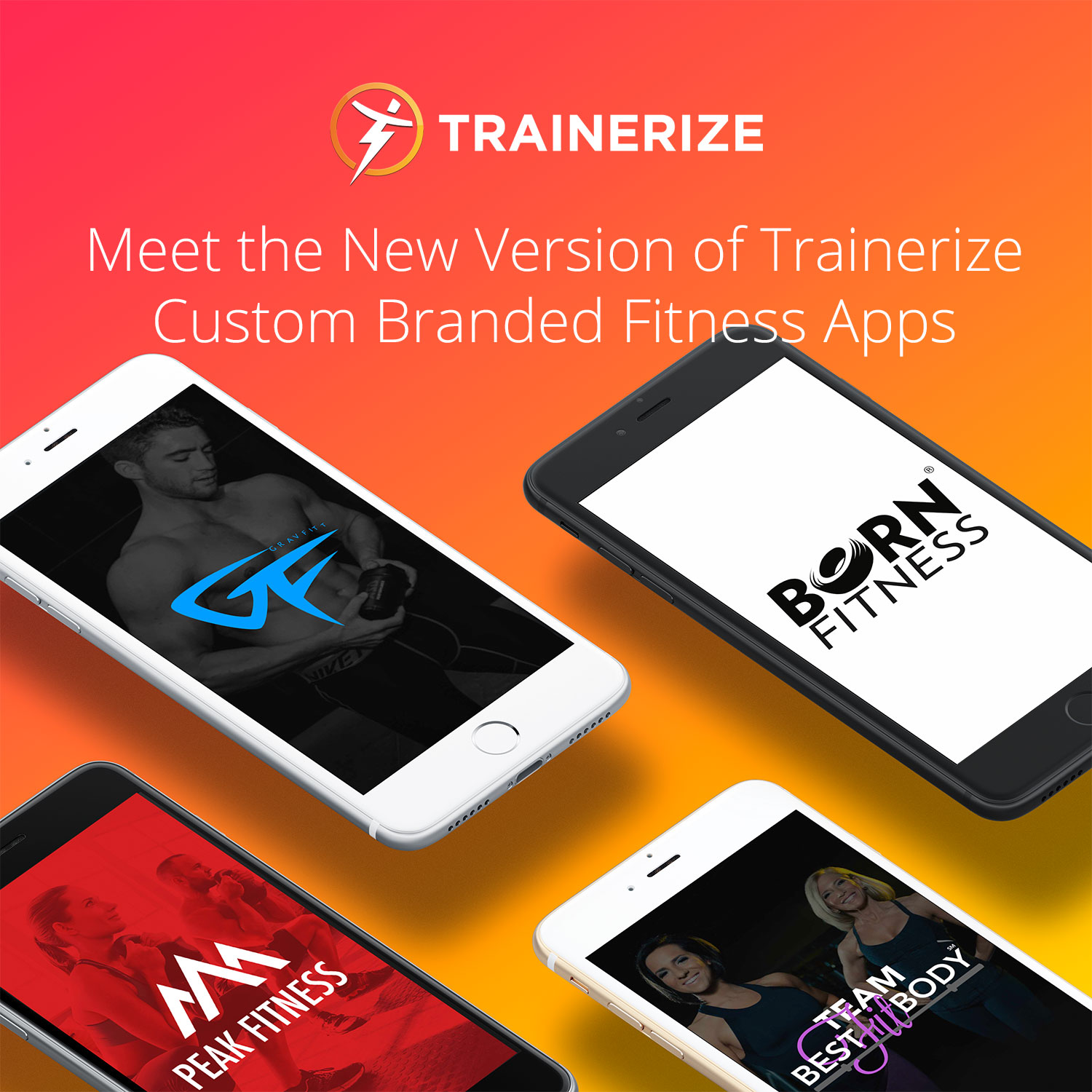 It's common knowledge in the fitness industry that good things are seldom easy, and when you're faced with a challenge how you respond is the true measure of your drive to succeed.
Recently, Trainerize was faced with a challenge, and we are proud to say that we took that challenge as an opportunity to up our game and redefine the way we deliver our Custom Branded Apps.
We burned that midnight oil, doubled down on our mission to make fitness accessible, and tossed the status quo right out the window.
And today, we introduce the new version of Trainerize Custom Branded Fitness Apps.
Custom Branded Apps for Everyone
The new Custom Branded Fitness Apps (CBFA) are branded mobile apps powered by Trainerize that are either custom built as stand-alone apps (Android) or custom branded on first login to the main Trainerize Fitness app (iOS).
One of the key (and possibly most exciting) ways we've made our Custom Branded Apps even better with this new version is by opening them up as an add-on available to all Pro, Studio, and Enterprise plans.
That's right, Custom Branded Apps are now available to all trainers on any of our Pro, Studio, or Enterprise plans.
In our efforts to make fitness more accessible, we want to give every trainer the opportunity to grow with Trainerize by providing their clients with the personalized experience of a Custom Branded App.
With a professional custom app in their pocket, trainers—from the most seasoned professionals to the freshest faces in the industry—can now gain market traction by boosting brand recognition and exposure.
This means that whether you have 5 clients or 50, you can now add a Custom Branded App to your Trainerize plan and set yourself apart from the rest as you build both your business and your brand.
Build Your Brand with a Custom Branded App
What's Inside? Explore Our New Custom Branded Fitness Apps
Included in the new version of our Custom Branded Apps are all the powerful tools and features of Trainerize with the added bonus of a custom-built app icon and a fully-branded app welcome screen (splash screen).
With these custom elements, fitness professionals and fitness businesses can share their uniquely branded identities starting from the moment a client taps into the app and can build their brand recognition with every client sign-in.
We've also streamlined our Custom Branded App building process so that every purchase comes with the support of a Trainerize Coach from setup through publishing. All you need to do is purchase the app, submit your brand artwork and information, and we take care of the rest.
How Can I Get My Very Own Custom Branded Fitness App?
Custom Branded Apps can be added to any Pro, Studio, or Enterprise plan from the Add-Ons tab in the Trainerize web-app for a one-time fee of $99USD.
Every purchase of a Custom Branded App includes both an iOS and Android version of your custom app and a branded version of the online web app, and comes with the full support of a Trainerize Coach who will manage the setup and publishing process for your app from start to finish.
Once you've confirmed your purchase and paid, you'll submit your brand artwork and information and our team of Trainerize Coaches will do the rest.
The approximate processing time for Custom Branded Apps is 2-3 weeks, depending on the number of requests currently in our queue.
All future updates to Trainerize are also included with your custom branded app.
Get Your Own Custom Branded App!
Need Some Help With Your Branding?
If you don't yet have brand artwork but are interested in purchasing a Custom Branded App, but are interested in purchasing a Custom Branded App, you can still request your custom app and one of our Trainerize Coaches will reach out and recommend some resources to help you create your perfect branding and get you on your way to to professional custom app.
A New Look for iOS Apps
On top of the release of the new version of Custom Branded Apps, we've also made some changes to the appearance of all our iOS apps, included the custom version.
Updated Navigation Bar
With Trainerize version 5.0, you'll find that the main navigation bar, previously located at the top of the screen, has been replaced with a larger tabbed navigation bar at the bottom of the screen. This change put all the core functions of Trainerize within thumbs' reach and removes the collapsed "hamburger" menu from the trainer view that used to live in the top-left corner. You'll still find this "hamburger" menu when you open a client profile, and you can use it to quickly toggle between the trainer view and active client sessions.
Clients will also see the navigation bar in its new location, but will find included an additional "Locations" feature where they can quickly see their home gym: their trainer's primary training location. From this screen, clients can access directions to their home gym as well as the training location's phone number.
For both trainers and clients, the "Add" button has also been relocated to a new home in the top-right corner of the screen and the main PM conversation can now be accessed from any page by tapping on the floating head.
All About the Android Custom Branded App
All purchases of a Custom Branded App include both an iOS and Android version, both fully loaded with the same branded elements of a custom icon and branded welcome screen.
But unlike with iOS, the Android version is a completely separate stand-alone app that is listed for download in the Google Play store under your chosen app name.
Trainers and clients alike access the app by downloading it directly from the Google Play store, and once installed, the app name will appear below the custom icon on each user's phone.
The menus for Android Custom Branded Apps look a bit different from the ones used for iOS, and currently feature our classic layout with an expanding menu in the upper left-hand corner; the key features of Client Summary, Plans, and Calendar along the top of the screen, and the "Add New" button in the bottom-right corner.
Updates and improvements to our Android apps are in the pipeline, so stay tuned for those.
Have a Custom Branded App Already?
If you purchased a previous version of our Custom Branded Apps—great news!—you've been automatically upgraded to the new version at no additional cost. Our team will be reaching out in the coming days with information regarding your next steps for migration.
If you have any questions about the new version of Custom Branded Apps, or what this means for you, you can always set up a quick chat with one of our Trainerize Coaches who can personally fill you in on everything you need to know.
Set your brand apart with a custom branded fitness app today.