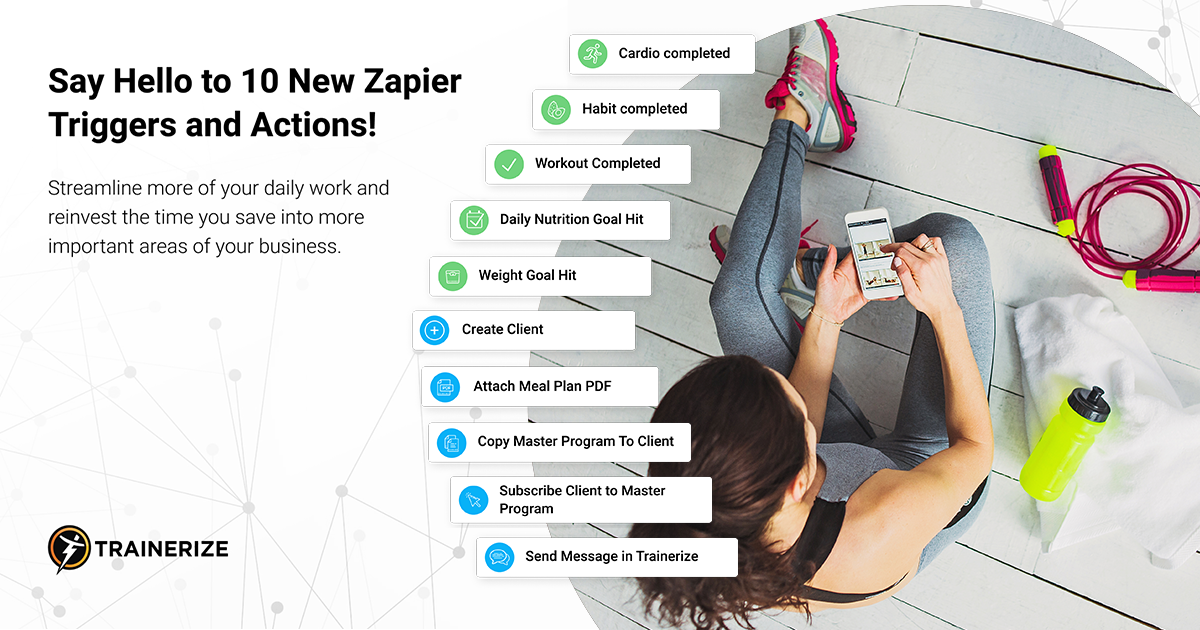 Running a business is rewarding, but it's not always easy. Besides your neat list of to-do's, you're likely managing your clients, emails, CRM, and using a variety of other business tools to ensure your business runs smoothly. Fortunately, with Zapier you can automate parts of your business and streamline workflows across the apps and tools you use. 
Whether you're new to Zapier or a longtime user, we just know you'll love our latest set of Zapier triggers and actions—designed to help you streamline even more of your business! 
Boost your productivity with automation 
Thanks to our Zapier integration, there's an easier way to get more done for your business. Think of Zapier as an extension cord between Trainerize and other apps and tools that you love to use. For instance, automate various aspects of your business like setting up a client by creating automated workflows called "Zaps." They're perfect for streamlining your daily tasks and getting more time back in your busy day! Connect Trainerize to over 2000+ apps and reinvest the time you save into more important areas of your business, like coaching your clients and growing your business. 
Take a look below to learn more about our newest Zaps! 
Try out our newest Zapier triggers and actions
Celebrate success with a quick message 
As a trainer, you already know how important it is to cheer clients on in their fitness journey and help them stay motivated to succeed. There's now an easier way to keep track of your client's small wins! 
With the addition of a few new triggers and a "Send a message" action, you can motivate your clients each step of the way! Easily set up a Zap to automatically follow up with clients after they hit their goal weight or daily nutrition goal and also when they complete a workout, cardio activity, or habit. Learn how to set up this Zap.

Automate attaching a meal plan 
Want a meal plan with that? Now you can add meal plan PDFs to clients' profiles! For those of you who aren't able to take advantage of our meal plan automation with Trainerize Pay, ABC, or MINDBODY, this Zap is the perfect solution for you. As a result, when a client purchases a product, you can automatically attach a meal plan to the client's profile.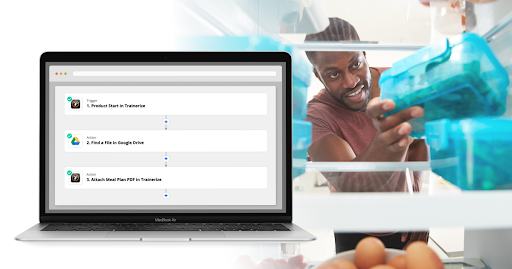 Note: In order to use the Zap, your PDF needs to be uploaded online first onto Google Drive, Dropbox, or through a direct link. If using Google Drive, etc to host your PDF, you'll need to set up an intermediary Zap with Google Drive. Learn more about automating attaching a meal plan PDF with Zapier. 
More actions, more flexibility
Previously, all of the following actions below belonged to one action. To give you more flexibility to customize your workflow, we've split them into smaller actions! 
Create client

Subscribe client to master program

Copy master program to client

Attach meal plan PDF (new)
What are you waiting for? Try these new Zaps out for yourself today and reach a new level of productivity that wasn't possible before! 
In addition, learn how to set up Zapier for your business and find out what are the most common workflows that we've tried with Zapier app automation.
As you know, we're always listening to you—our amazing #TZtrainers. We love using your ideas and feedback to help make Trainerize the best app possible for your fitness business.  
These Zapier triggers and actions were inspired by some of our conversations with you. Tell us more about your experience using Trainerize and let us know what new Zaps you'd like to see in the future. Submit an idea or vote for your favorites in our ideas forum!