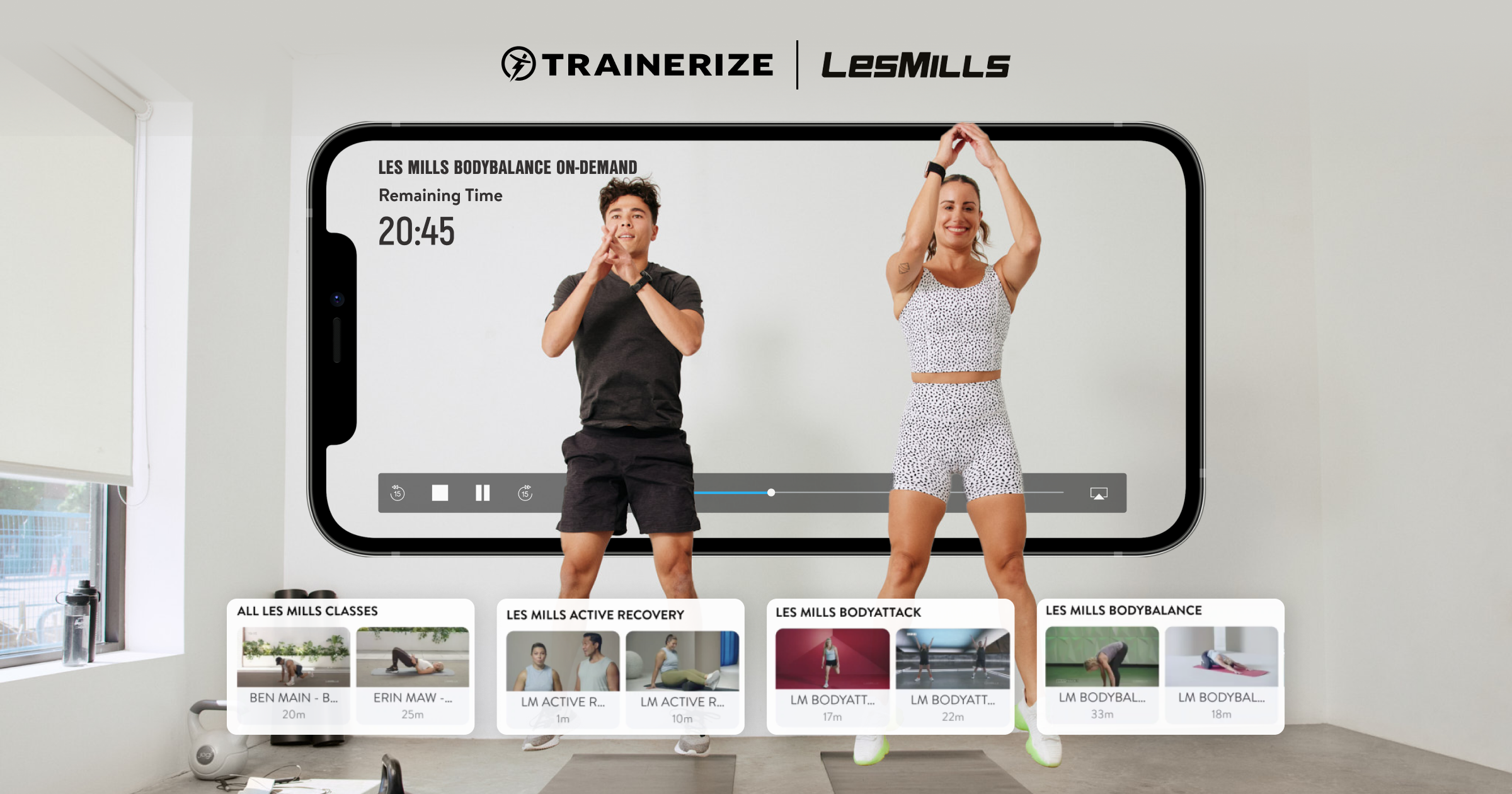 Here at Trainerize, we're constantly thinking about the next big thing in fitness and coaching and how we can help you continue to excite and engage members in and out of the club. Today, we're excited to unveil our latest partnership with Les Mills, the world's largest provider of group fitness programs, to offer their world-class on-demand video classes right within Trainerize. Les Mills brings a whole new level of personalization and engagement to digital content to help create a truly omni-channel experience for members.  
Why focus on a hybrid, omni-channel experience?
At the end of the day, people simply want to get in shape and live healthier lives. How they go about achieving that looks a bit different given the variety of options available–at the club, at a boutique studio, outdoors, or at home. It's not about one or the other, but oftentimes members are curating from a mix of options.  
According to industry reports (Global Fitness Report, 2021), 80% of gym members want digital offerings as a part of their workout plan post-pandemic, and an overwhelming 84% of gym members workout at home. There is also an increase of 22% in membership sales for clubs with a digital model (The Fit Summit Spring, 2021). 
When your club can help members embrace optionality by offering digital coaching and on-demand video content, members can enjoy working out to classes and stay engaged even when they're not physically in the club.  
The Les Mills experience
For 50 years, Les Mills has created the world's favorite fitness classes, like BODYPUMP, BODYATTACK, BODYCOMBAT, yoga, dance, cardio classes, and more, taught in 21,000 gyms around the globe. Scientifically designed to maximize results and inspirationally crafted by the world's leading choreographers to incredible music, the classes are cinematically filmed by award-winning production crews and presented by some of the world's best instructors.    
Press play on Les Mills anytime, anywhere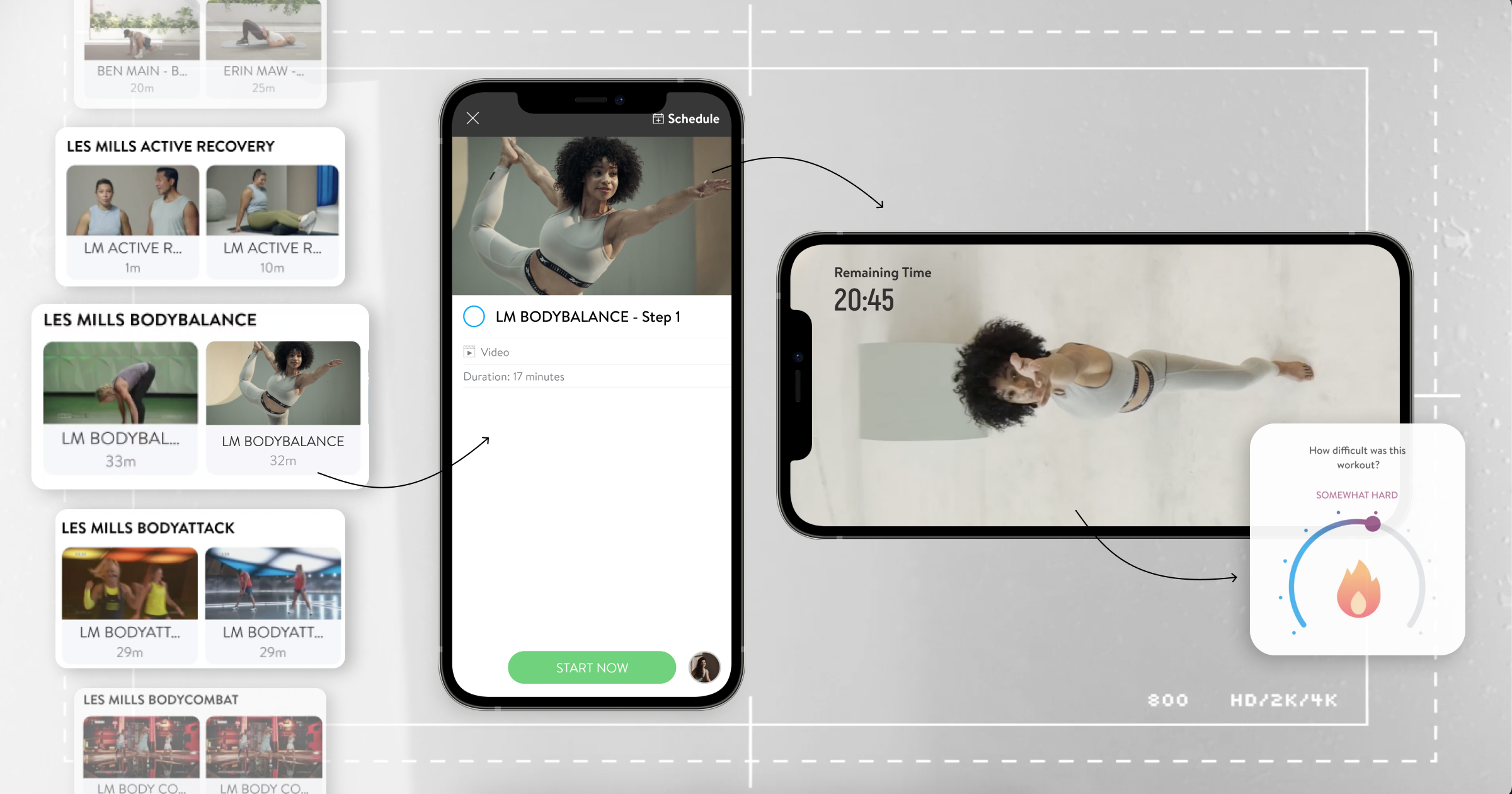 Our partnership with Les Mills, allows you to deliver their stunning on-demand video classes and wide range of workout programs through Trainerize, exclusive to our Enterprise customers.  
With an on-demand library content at their fingertips, members will be able to press play on their favorite new Les Mills classes, whenever, wherever. After their workout is complete, they can rate it and leave comments so they can keep track of their progress and leave any feedback for your club when it comes to finetuning any programming! 
It's never been easier to offer members access to high-quality and challenging workouts that can be performed from the comfort of their own homes or at their local club, all within a seamless, easy-to-use coaching app. Check out our help article to learn more.
Why you and your members will love streaming Les Mills on your Trainerize app. 
Keep members motivated, engaged, and coming back for more with Les Mills on-demand video content. Give members an exciting new way to workout at home. Plus, Les Mills programs are scientifically designed to deliver results that keep people motivated, helping you with member engagement and retention.  
Differentiate your club from others to stay competitive. Deliver compelling content and offer a whole new level of personalization that will enhance a hybrid fitness model. Drive new members through club doors and watch their length of stay increase as a result. 
Unlock additional revenue streams through digital subscriptions. Better position and sell virtual personal training options, upsell streaming memberships, or offer more premium all-inclusive memberships to increase revenue opportunities.  
How to get access
Love what you see and want to start offering Les Mills video content through your own app? This integration feature is currently available to our Trainerize Enterprise customers with a Video Enterprise subscription. 
If you're an existing Trainerize Enterprise customer

, contact your Account Manager directly to learn more and to get access. 

 

Not yet a Trainerize Enterprise account?

Get in contact with us today

!

 
As you know, we're always listening to you—our amazing #TZtrainers. We love using your ideas and feedback to help make Trainerize the best app possible for your fitness business. Help us shape the future of Trainerize by letting us know which features you'd like to see! Head over to our ideas forum to submit an idea or vote for other favorites!