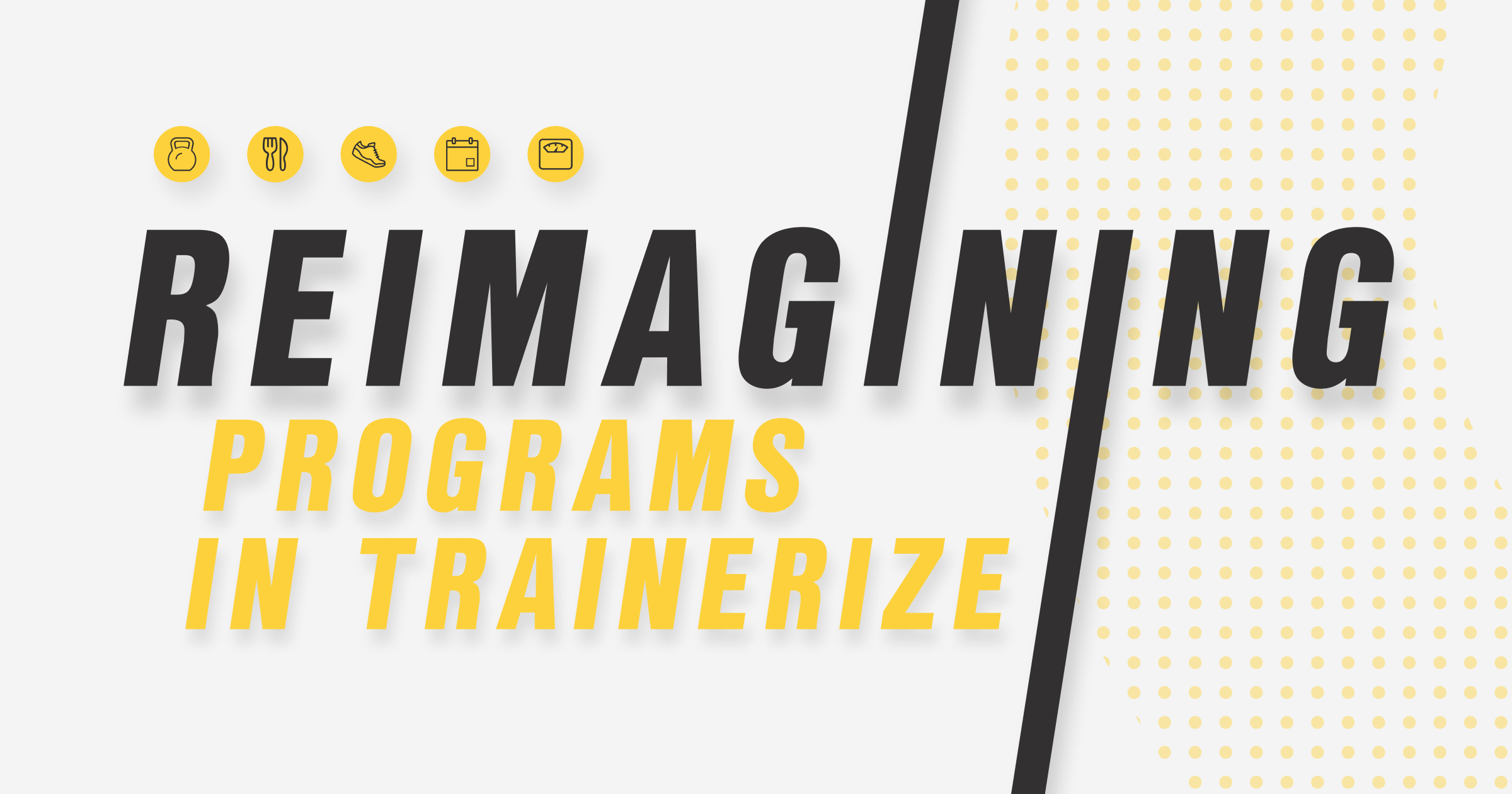 Here at Trainerize, we are continually reimagining how we can improve the app to bring you and your clients the best app experience. For us, making training and programming simple for trainers and clients is key. 
We are incredibly excited to soon bring to life a new way to deliver coaching to clients.
This revolves around the ability to sell, offer and stack multiple programs at a time for clients and allows you to give access to on-demand programs and libraries in a more seamless way inside the app.
This update requires a complete rework on how we manage our programs features so in order to prepare for these features, we will be making some initial updates to the app.
What's changing on March 18th?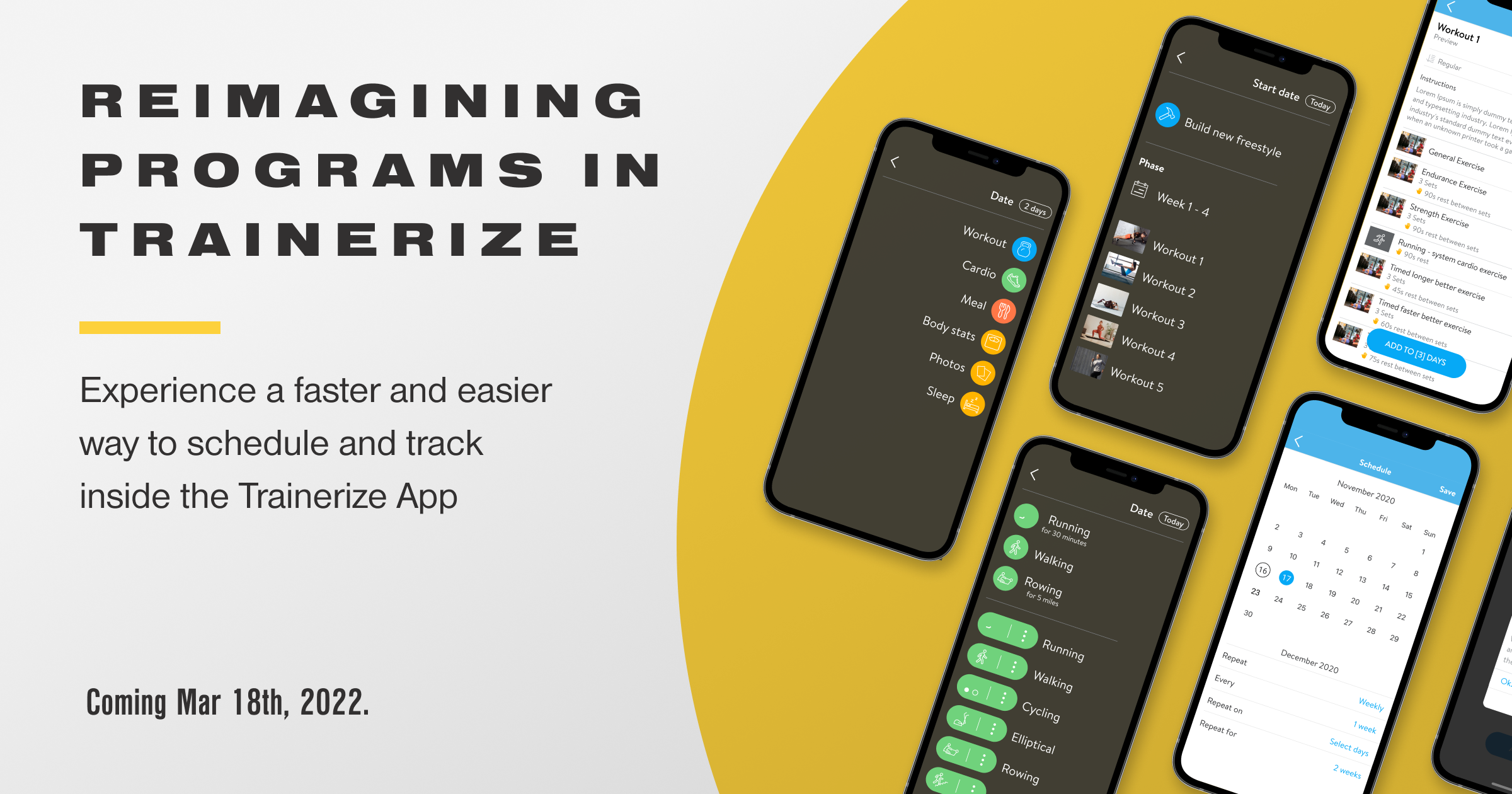 On March 18, 2022, we are introducing a new functionality to the mobile app to not only make it easier and faster to schedule and track for both clients and trainers, but set the stage for some exciting changes coming to programs in Trainerize.
We're bringing an improved flow and design on the mobile app by making updates to the various actions from the Add (+) button. This will make adding workouts, cardio activities, progress photos, meals, and sleep faster and easier.
Keep reading to learn more about the changes on mobile and don't forget to share the news with your clients! Feel free to send them the link to this article. 
Dropping March 18th – First Round of Program Improvements 
Here's a summary of what has changed for both the client and trainer end on the mobile app.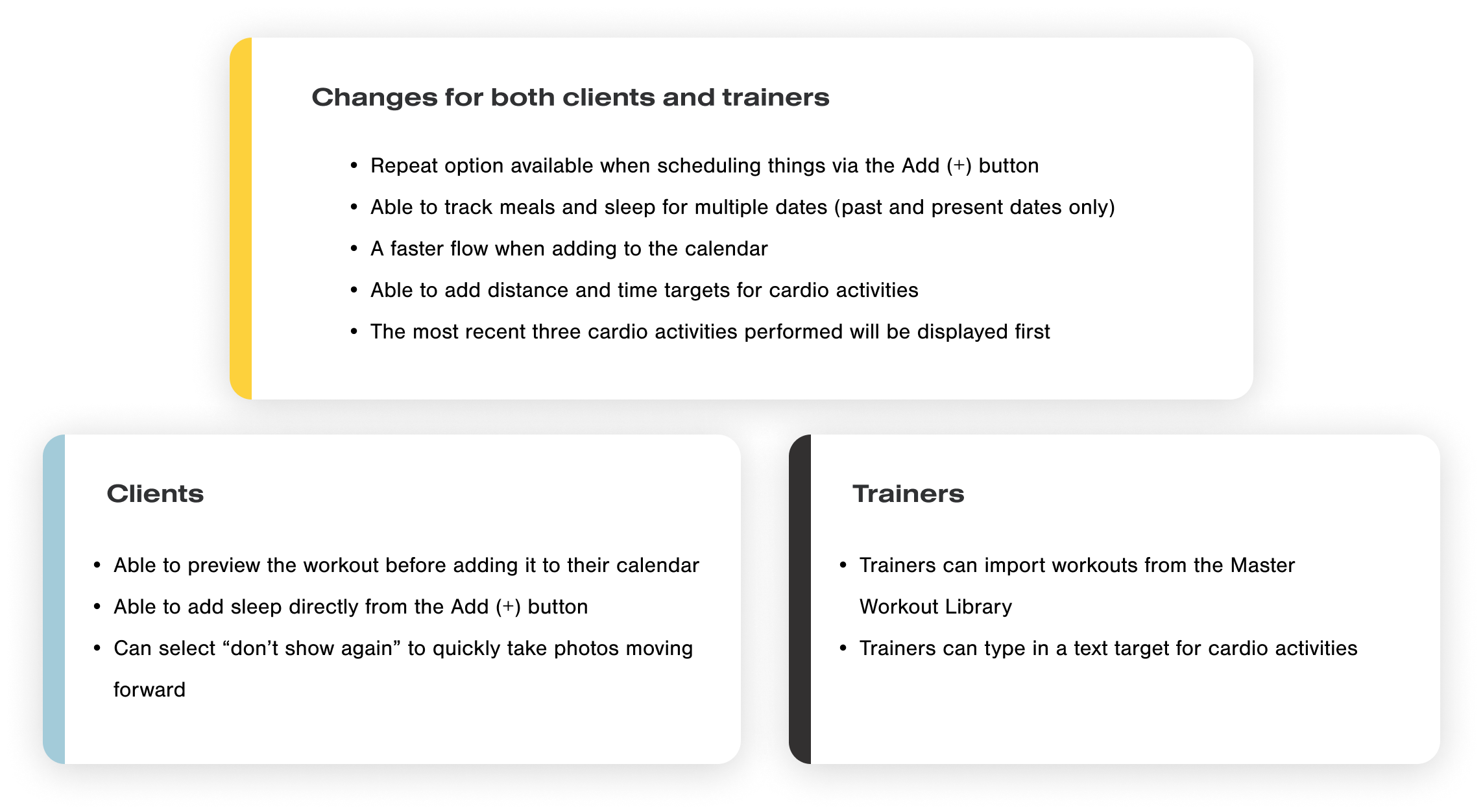 Plan clients' calendars faster with new repeat scheduling functionality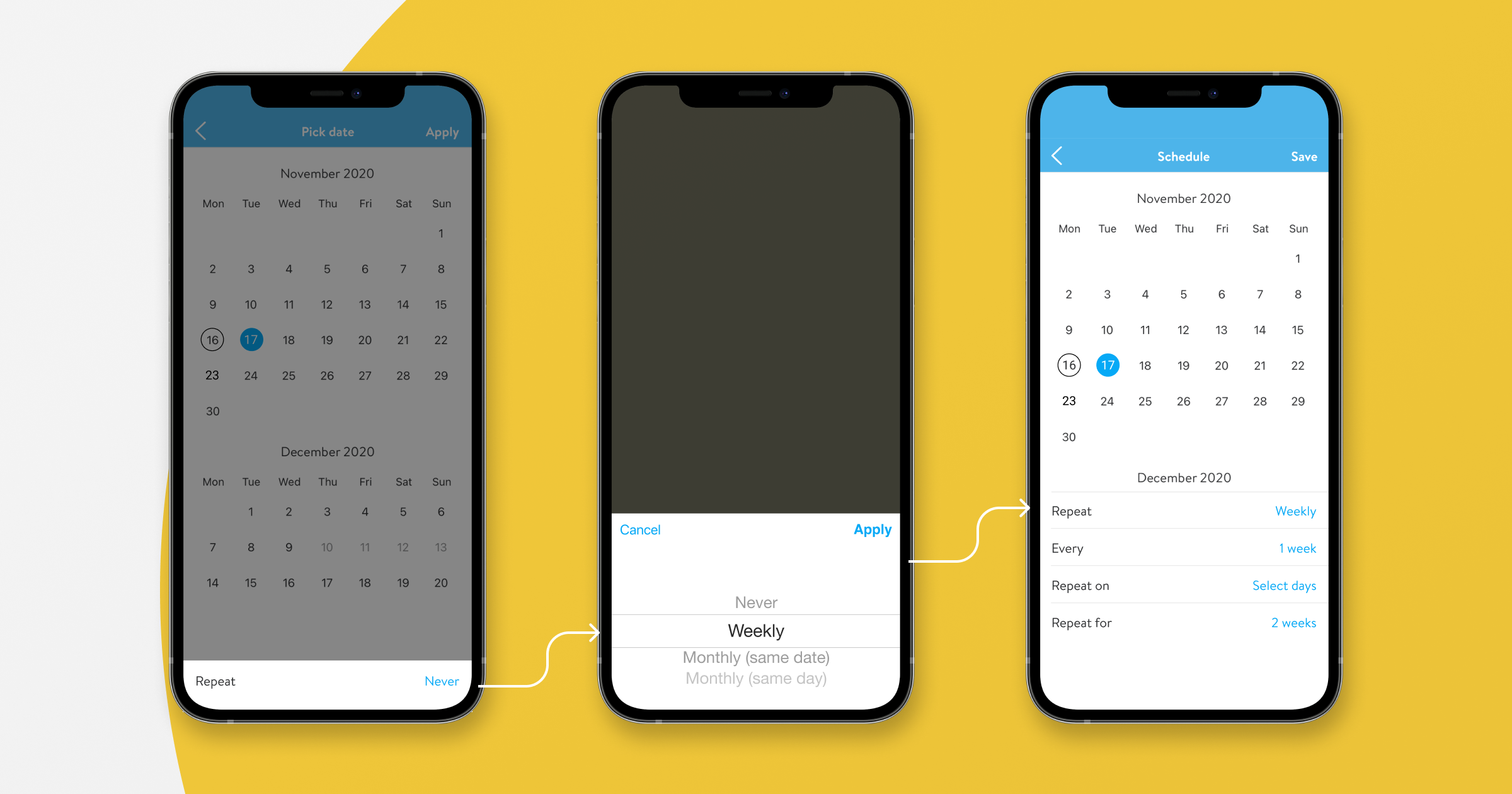 We're bringing over a loved feature from the web to mobile to make scheduling a client's calendar a total breeze. With the new repeat functionality, you and your clients can easily schedule workouts, cardio activities, progress photos and more to repeat at chosen day(s) of the week, for how long, and until when–saving you and your clients precious time.
Select multiple days to quickly track workouts, meals, sleep, and more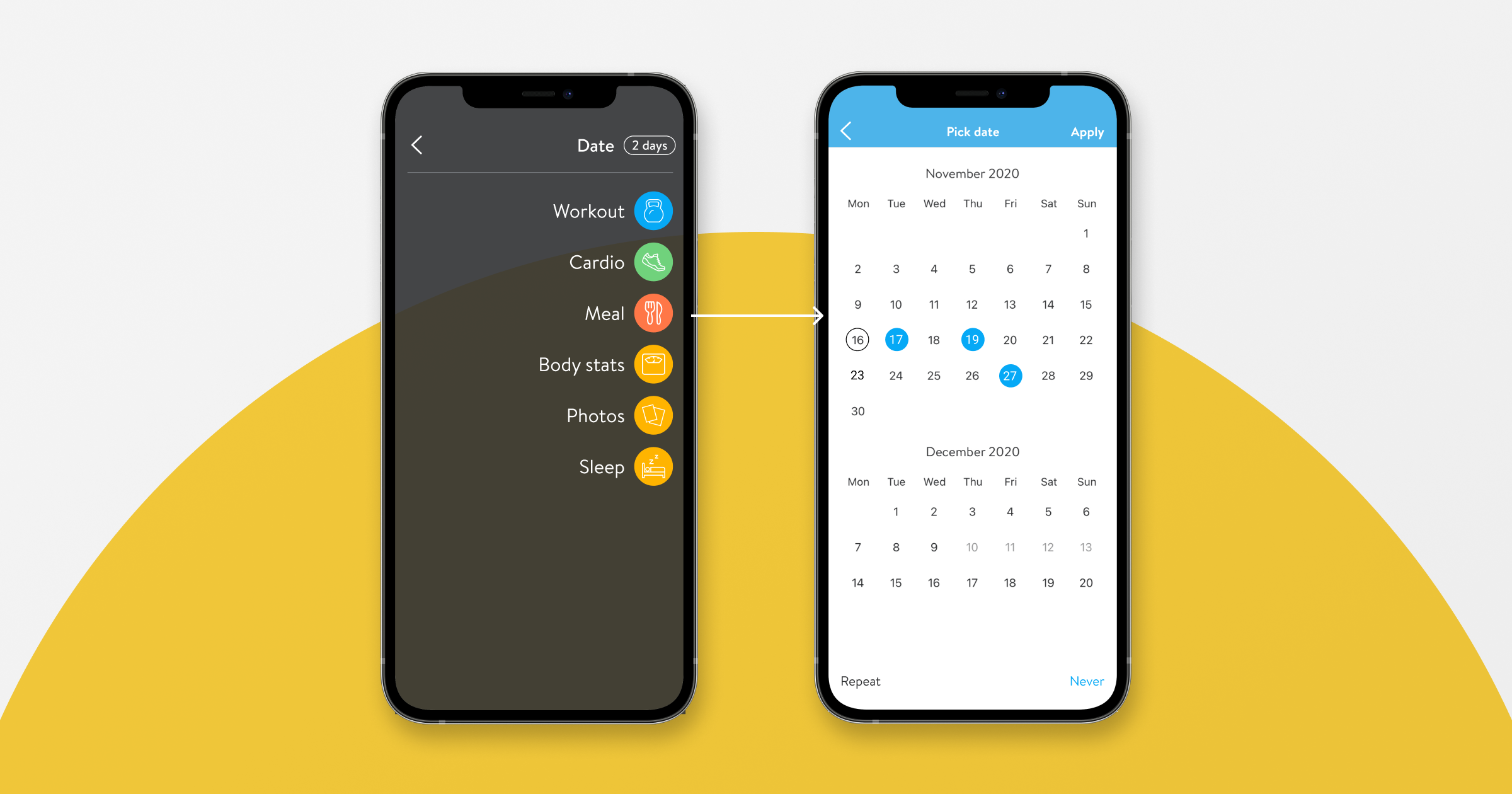 Do your clients love to eat the same meal multiple days of the week? Or perhaps they've slept the same amount of hours throughout the week? If so, there's now a faster way to track their meals, sleep, workouts, progress photos, and body stats across multiple days! 
When clients add a meal, they can select all the days they've eaten that meal, and once they've added the meal, it will show up tracked for all the selected days! 
With sleep, clients can now easily track their sleep via the Add (+) button instead of clicking on the sleep tile. And just like meals, they can select multiple days to track the same amount of sleep at once. 
Keep in mind: Clients are only able to select the past and present days to track their meals and sleep, as it is currently not possible to track a future meal or sleep. 
Schedule and track workouts and activities faster on the mobile app
Say hello to a more seamless experience when adding to the calendar on the mobile app depending on what day(s) are selected! This improved flow will make it faster and easier to schedule and track for both trainers and clients. Take a look at the new flow below when adding to the calendar.
If a single date is selected that has passed already,

it will display it as completed and allow you and your clients to input the stats if it were a workout, for example. You no longer need to hit start first to complete it. 

If a future date is selected,

we'll simply add it to the calendar and no longer display additional screens. 

If multiple dates are selected,

it will also just be added to the calendar.
Easily add workouts to clients' calendars by importing from your master workout library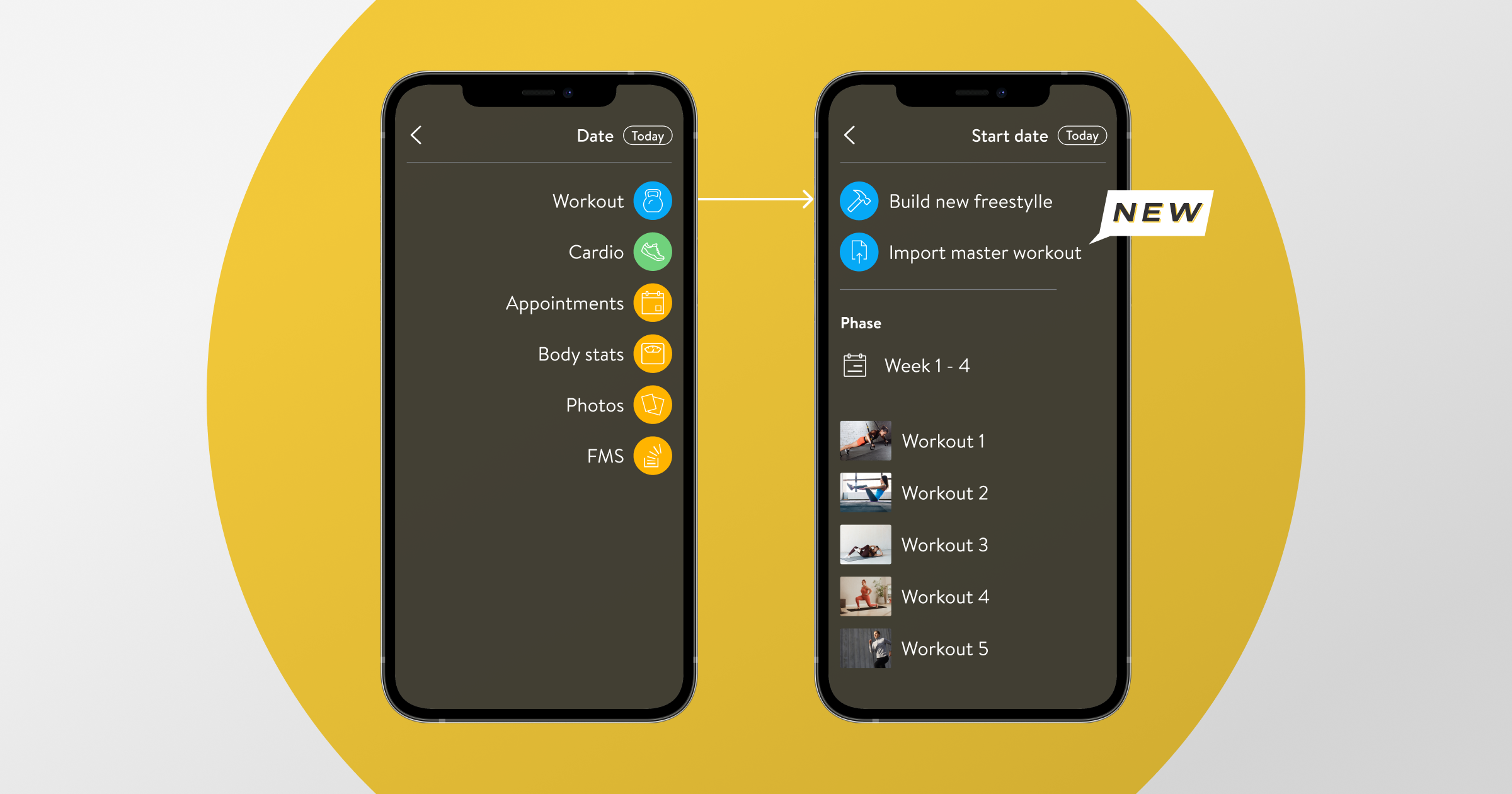 We know that adding a workout to a client's calendar is an incredibly important (and frequent) action for trainers. Which is why we've made some small improvements to adding workouts on the mobile app to make it even easier!
Previously you could only add workouts from a client's training phase or create a workout from scratch as a freestyle workout. But now, as a trainer, you can quickly add workouts on the fly by importing workouts into your client's calendar directly from your Master Workout Library. This lets you program their calendar with a lot more ease and in less time! 
Clients see a preview of the workout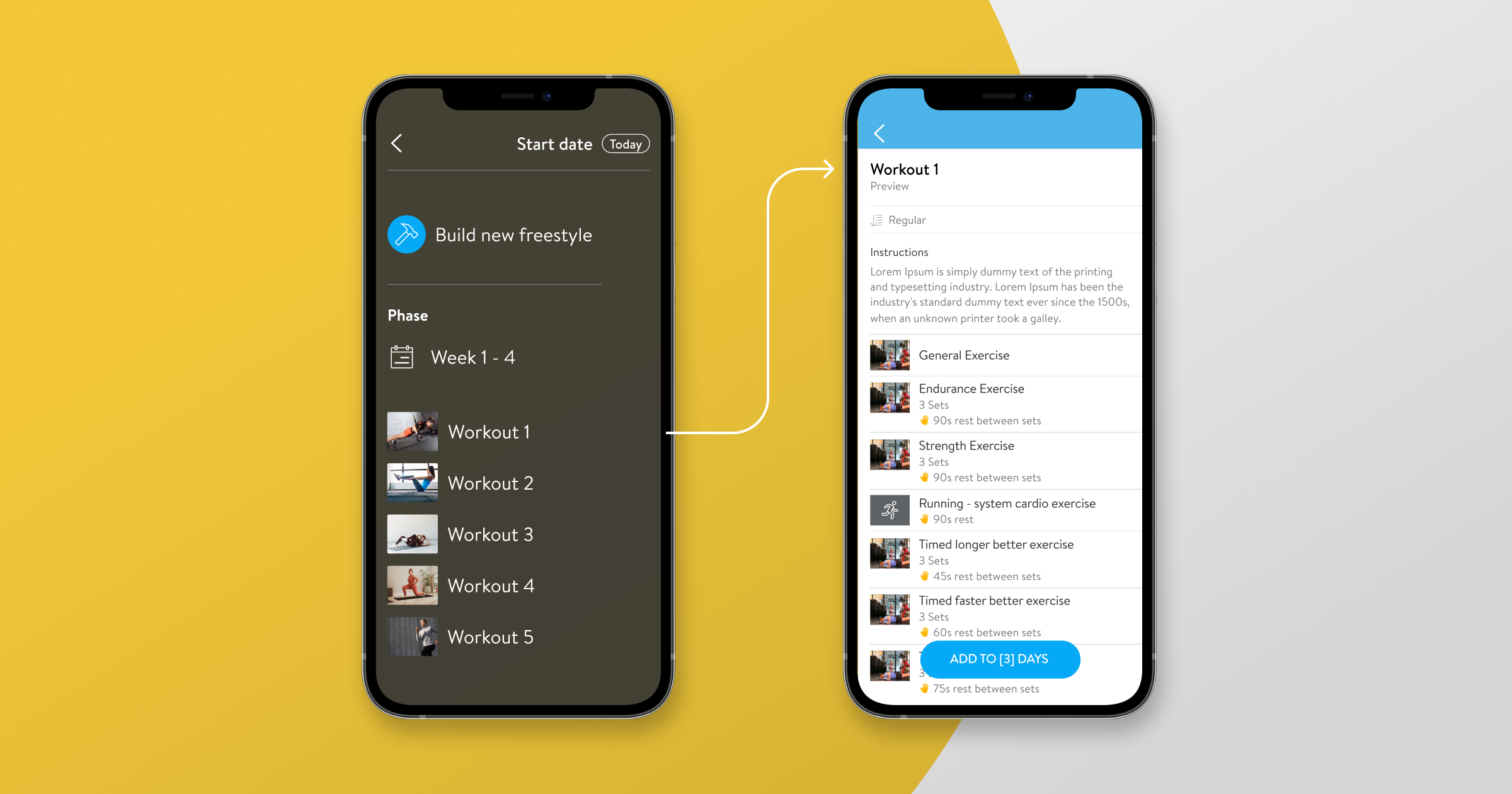 When your clients add in a workout, they can also preview the workout to see what exercises they'll be doing before adding it to their calendar. That way there won't be any surprises and they feel confident and excited to tackle the workout entirely!
Motivate clients with targets & a faster way to hit start on cardio activities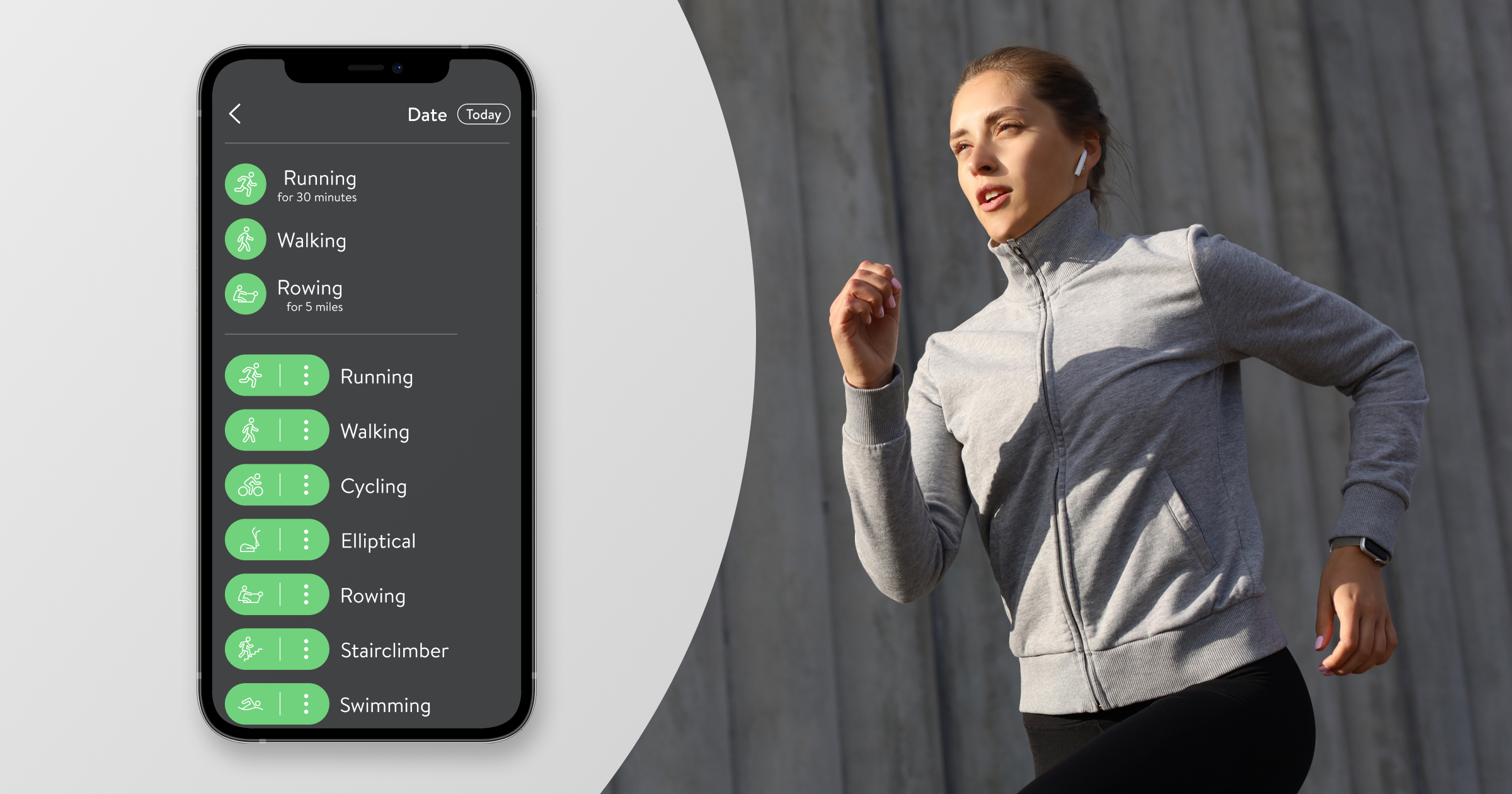 Going for a run is great, but having a goal, like running 2 miles or 30 minutes is even better. 
That's why, when you and your clients add or start a cardio activity, there's now an option to add a distance or time target by clicking the three dots. You'll motivate and push clients to crush their workouts and ensure that they're putting in the work to reach their fitness goals!
TZ Tip: Want to add a target other than distance or time for your clients? As a trainer you can type in your own target for clients to truly customize their training. 
Lastly, clients can now quickly hit start on their favorite cardio activities! Their top three most recent cardio activities will now appear at the top of the list for easy access.  
There's more to come!
Stay tuned as the ability to stack multiple programs at once and offer on-demand programs and libraries will be available to try in beta in the coming weeks!  
Let us know what you think?
As you know, we're always listening to you—our amazing #TZtrainers. We love using your ideas and feedback to help make Trainerize the best app possible for your fitness business.  
Help us shape the future of the programs in Trainerize by letting us know which features you'd like to see here! Or if you have other features you'd like to see added, submit an idea or vote for your favorites in our ideas forum!