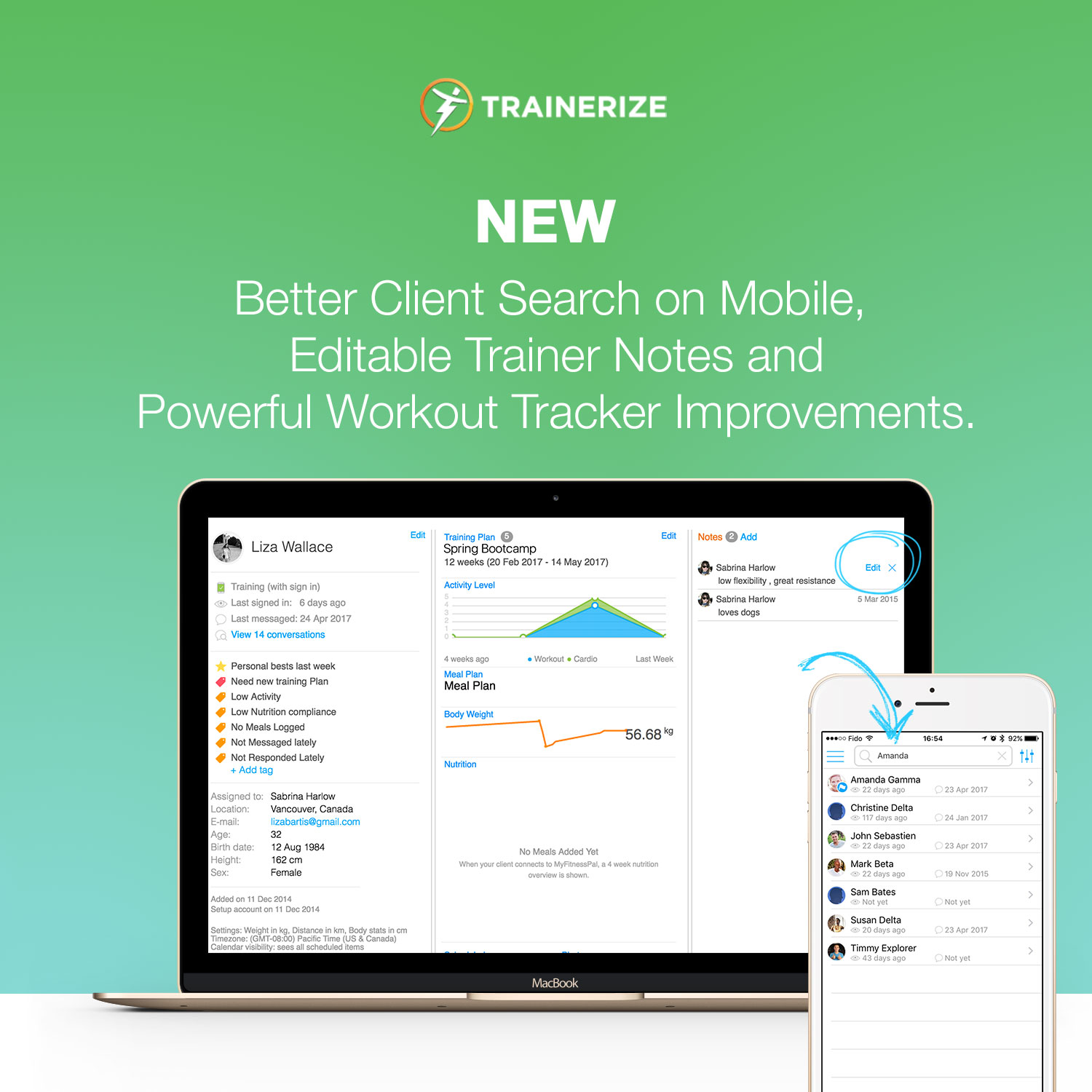 We've added some exciting new features to help personal trainers streamline daily client engagement through more a powerful mobile workout tracker, client search functionality, and trainer notes.
UPDATED MOBILE WORKOUT TRACKER EXTENDED TO iOS DEVICES
Apple folks, your turn has come! We've extended the glorious Android auto-save feature to our workout tracking iOS users. With a newly rebuilt the mobile workout tracker, trainers and clients can enjoy a more user-friendly and faster experience when checking-in or inputting workout stats and data.
Plus, your data and stats will be auto-saved in the background, so you won't lose any workout stats if you navigate away from the page or close the mobile app. In-app freedom!
IMPROVED MOBILE SEARCH 
We've updated the client search menu on your app to behave and feel more like the web app. It's now easier than ever to browse and filter clients using your established custom tags on your mobile app. You can also search through all accessible clients on mobile based on your permissions as opposed to seeing only your assigned clients.
EDITING TRAINER NOTES
We've made it possible for trainer notes to be edited by owners, administrators and managers. This is incredibly useful when a trainer moves on, or switches positions – their notes can be updated and maintained by a new personal trainer to avoid a break in a client's personal training progress.
BUG FIXES
We've made other additional bug fixes and performance improvements to the Trainerize messenger as well. Take advantage of the photo messenger to maintain stronger relationships with your clients and make them even more accountable for their workouts!
These updates are too tempting not to try! Don't forget to update your apps to maintain peak performance.
New To Trainerize? Learn how one personal trainer grew his fitness business with 480% in one year with Trainerize!