August might just be the best time for beach volley, picnics and drinks on sunny patios, but for us it's much more than that! Although we've been enjoying amazing summer days, we've been extremely busy at the Trainerize HQ, and we're really excited to share the details of our latest release.
Here's what we updated:
Trainerize and Meal Planning – Together at Last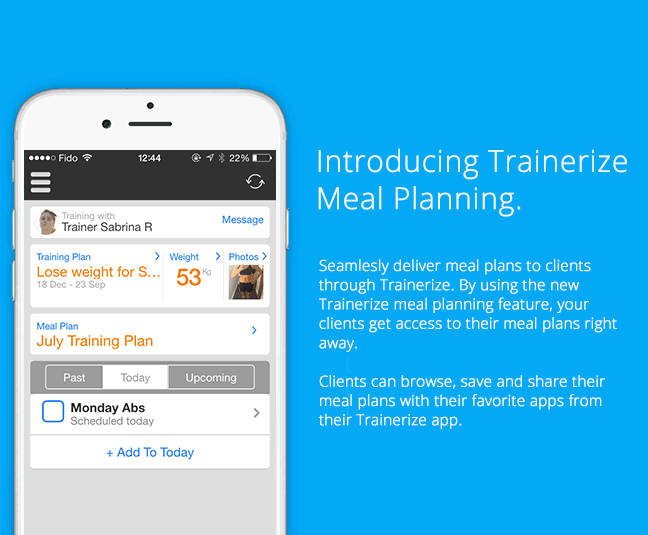 With the new PDF meal planning feature trainers to provide meal planning guidance to clients right through Trainerize. This is an amazing feature that will help trainers share their pre-built meal plans with clients in just seconds.
How it works:  We've made this feature available to trainers and clients by adding a "Meal Planning" section inside the Trainerize account.  This section is available from the client profile and it's also visible on the top Menu Bar. Trainers can start sending meal plans to their clients right away by uploading a meal plan in PDF format. The PDF will show up in your clients' dashboard instantly.
The best thing? Clients can access and follow meal plans from their Trainerize mobile app, anywhere (yes, including at the grocery store or at work). The meal plan displays in full view, so clients will be able to scroll, zoom in, print and even save the meal plan to their computers or devices if they wish to do so.  Learn more about the PDF meal planning feature.
But that is not all, meal planning in Trainerize gets even better.
No meal plans? No problem. Connect to Evolution Nutrition and access hundreds of professional meal plans.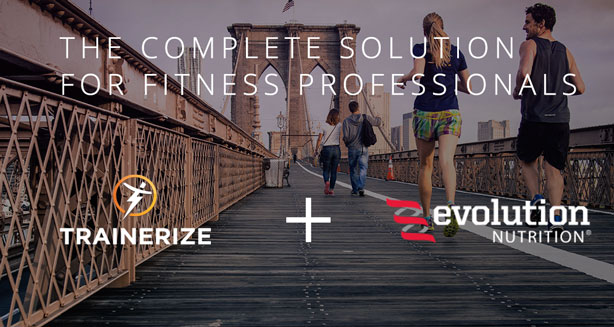 We are really excited to announce that Trainerize has partnered up with Evolution Nutrition. You can now choose from up to 750 professional meal plans that you can send to your clients right through Trainerize.
"With access to a professional nutrition component, personal trainers can now guide and motivate clients in Trainerize from both an exercise and meal planning perspective." said Sharad Mohan, CEO of Trainerize. "Giving personal trainers access to professionally designed meal plans through Evolution Nutrition will result in a whole new level of engagement between personal trainers and their clients. This partnership will enable trainers to deliver a complete, holistic coaching solution to clients, and will also result in trainers being able to better promote and monetize their services".
How it works:  We've made this feature available by expanding the Trainerize add-ons marketplace with the Evolution Nutrition Add-on. Trainers who wish to access professional meals plans can now sign up for a new Evolution Nutrition account or connect their existing one.
Already using Evolution Nutrition? Connect your account and sync your existing clients from Trainerize. You can also sync your Evolution Nutrition clients and add them to Trainerize.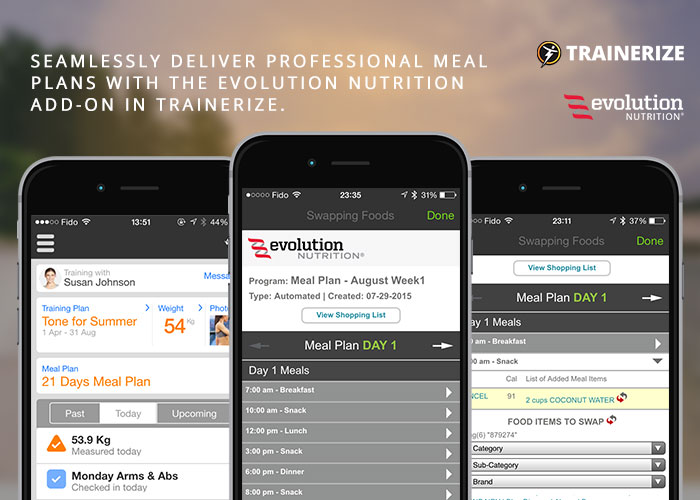 New to Evolution Nutrition? You can create an Evolution Nutrition account by connecting from the add-ons page. When you're done, you need to sync the Trainerize clients for which you want to build meal plans. After customizing and saving  their meal plans in Evolution Nutrition, the respective client meal plan will instantly sync for your clients in Trainerize .  Should you have more meal plans that you want to make available for your clients at various points in time, you can do this by pressing "Sync Clients" again and selecting the plan you want your client to see from the drop down next to their name.
The best thing? Evolution Nutrition meal plans can be accessed from both the web and the mobile app, the same way as regular built-in meal plans.  In addition to that, when opening the meal plan, clients will be given the options to "View Plan" or "Swap foods". This way clients can replace certain foods and further customize the meal plan to their preference or dietary restrictions. Swapping foods is done in such a way that doesn't affect the overall meal plan. Clients can only choose foods that are similar in nutritional value. Clients also get the option to View the full "Shopping List" for their respective meal plans.
We hope the new meal planning features will ease and improve the workflow in which you are delivering meal plans and  impacting clients' nutrition and lifestyle goals.  By adding nutrition, we are committed to expanding Trainerize into an advanced all-in-one platform that better supports your personal training needs.
Take your Fitness Business to the next level.
Start your free 30-day trial of Trainerize.