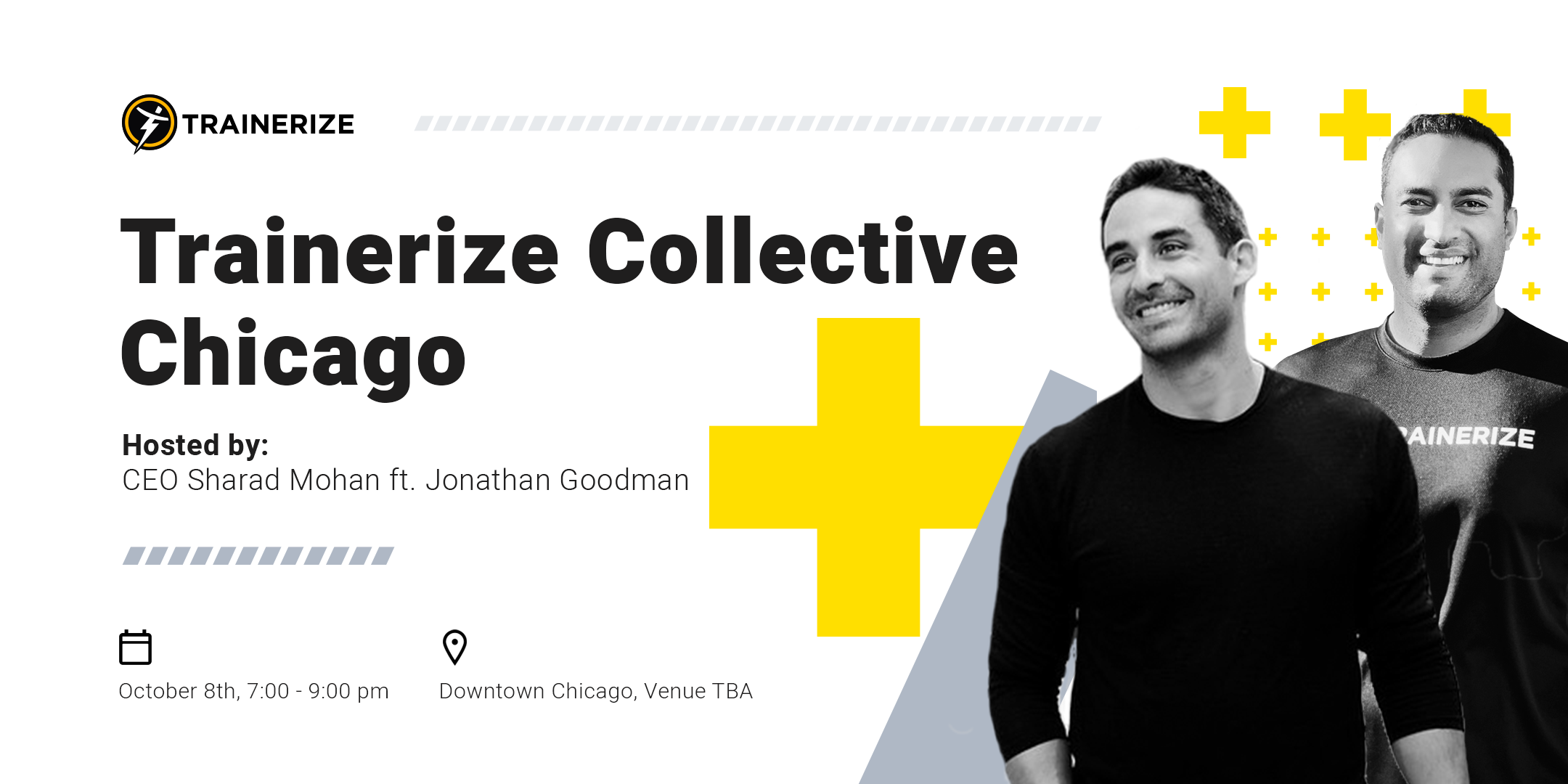 ATTENTION CHICAGO TRAINERS!!

The first-ever Trainerize Collective meet-up for personal trainers, coaches, fitness professionals, and online trainers is happening on October 8, 2019 in Chicago! And you do not want to miss it.
Event details:
This is going to be an event that goes beyond "networking" and gets to the soul of the fit-tech industry. Are you a personal trainer, online trainer, wellness coach or gym owner? Perfect! This event is for you! 
Enjoy free snacks and drinks while listening to real stories about how some trainers have dominated the online training space.
Our special guest Jonathan Goodman is a leader in the online training industry and has managed to help define the niche. Jonathan will be opening up about his experience and sharing tactical advice for others in the fitness space. Mingle and learn about different ways to take your training business to the next level.

We honestly cannot wait to meet you! #trainerizecollective
Exclusive talk with industry expert, Jonathan Goodman: the founder of both the Online Trainer Academy (OTA) and Personal Trainer Development Center (PTDC)
Industry networking opportunities

On-site smoothie bar 

Goodie bags valued at ~$150

Delicious snacks and beverages

Full rebate of your ticket price at the door when you bring another trainer or fitness professional!

 
What is Trainerize Collective?
The Trainerize Collective is a series of local meet-ups that we will be hosting in places all over the world! These events are an opportunity to meet our trainers, network and create stronger communities of business/fitness professionals!
About guest speaker Jonathan Goodman:
Jonathan Goodman is a world fitness business leader who has pioneered the online personal training space. He is the founder of the Personal Trainer Development Center (the PTDC) and the Online Trainer Academy and sold tens of thousands of copies of his books including non-fiction, children, and the first-ever textbook for online fitness trainers. He writes about personal training, online training, and participates in speaking engagements all over the world.

Follow Jon on Instagram.

About Trainerize CEO Sharad Mohan:

Sharad Mohan is the co-founder and CEO of Trainerize—the company known for digitizing the fitness experience—and the driving force behind their mission to "make fitness accessible". Sharad is helping fitness professionals and businesses leverage technology to stay relevant in the digital fitness age and engage their clients and members in new ways using mobile and wearable devices. 
With 80,000+ fitness businesses using the Trainerize platform to digitize their services and offer online training, digital challenges as well as small group training, Sharad has quite a number of stories to share about online fitness entrepreneurship, the rise of the digital fitness club, and the savvy digital fitness consumer.
Follow Sharad on Instagram and LinkedIn to stay up to speed with fitness industry trends and digital fitness innovation:
Limited availability.
Don't wait because it's first come first serve!