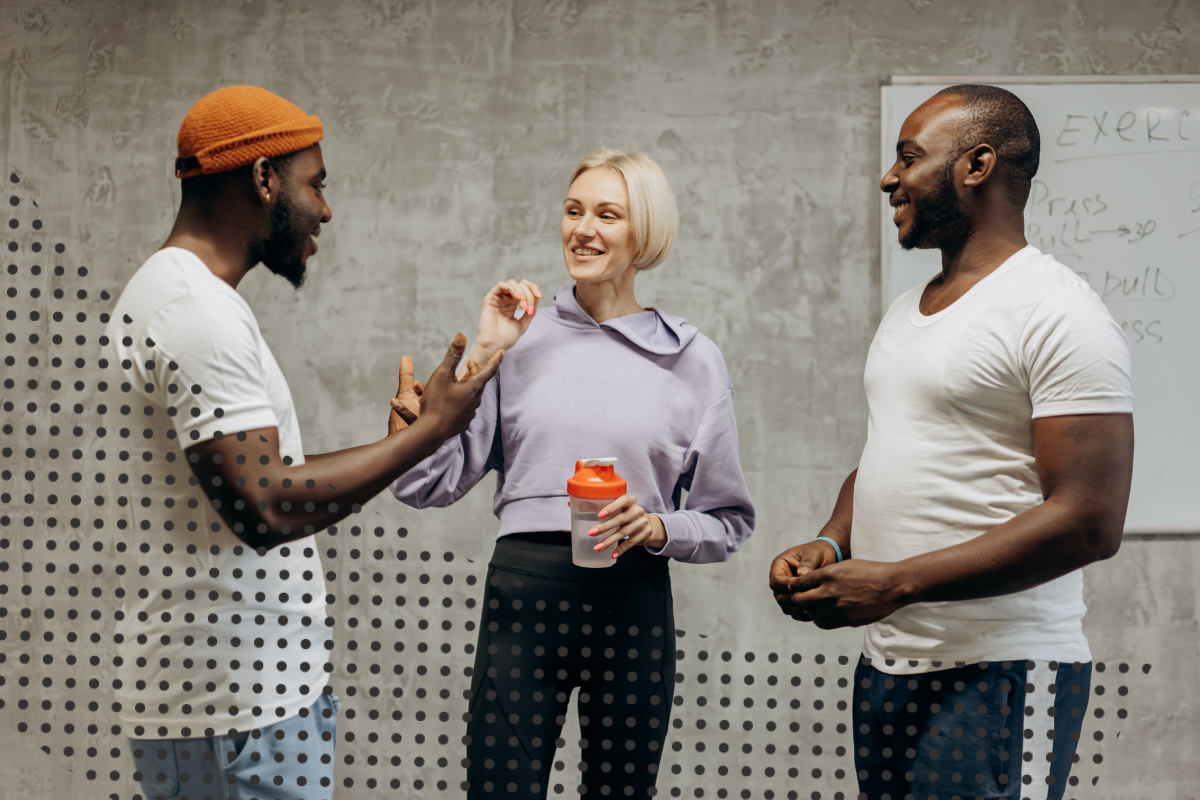 Wondering how much fitness influencers make? Here's what some of the top influencers are making in 2023.
At the tippy-top, fitness influencers make serious money. But there's one dirty little question most trainers are scared to ask: how much money exactly? 
Listen, we love pocket-watching as much as the next software brand. The rise of social media influencers has put a number of fitness personalities in the spotlight, and knowing how the most popular ones make their money can help trainers of all stripes fine-tune their business strategies. Look at the top influencers like case studies where everything goes right—and steal a few of their monetization strategies for yourself. 
At Trainerize, our whole focus is helping personal trainers scale their businesses, so we…. do know what the top-level fitness influencer salaries look like. We're happy to share, too (since you insist). Here, we'll break down why building a fitness influencer brand is advantageous, how to make money as a fitness influencer, and what five top influencers are earning. So come on, let's go! 
Why Building a Fitness Influencer Brand is Smart
If you're already working in fitness and like social media, you've probably considered trying your hand at fitness influencing. Building an influencer brand definitely isn't for everyone, and you don't have to do it to build a successful fitness business—but there are some distinct advantages. 
When you have a solid fitness influencer brand, you've got more opportunities for scaling your income. You'll be able to reach a large audience and promote products and services that help you earn passive income. If you promote a tasty protein shake to your audience, you can earn a commission or flat fee for each sponsored post or affiliate sale, for example.

You could even market your own online personal training services to your followers. Build a library of workouts directly through Trainerize and you'll be able to train clients without even being in the room. Call that passive active income… 'cause it's still fitness, you know.
🔗 Kick off your online training business!
FREE GUIDE: Get 30 Clients in 30 Days
How Can Fitness Influencers Make Money?
Okay, stop rubbing your hands in anticipation—we know you're hyped for this section. Fitness influencers have a range of strategies for monetizing their content, including sponsored posts, affiliate marketing, online personal training, and selling merch, or creating their own fitness app. Let's explore the top strategies. 
Sponsored posts
Sponsored posts are a classic quid-pro-quo. A company pays you, and you promote their product or service to your followers. For example, a supplement company might pay you to post a picture of yourself having the best time ever making a smoothie… while their jar is tastefully in the foreground with the logo visible. 
When done right, sponsored posts can entertain your sponsor's target audience and earn you thousands of dollars per post. (It's worth mentioning: creator marketplaces like Influencer Marketing Hub are useful for getting sponsored post commissions.)
Affiliate marketing
Affiliate marketing is another key strategy for earning money as a health and wellness influencer. You'll promote another company's products or services through an affiliate link, and collect a tasty commision for each sale made through the link. For example, you might promote a brand that sells sweat-resistant clothing and share an affiliate link for followers to use when buying it. You'll earn a commission for each sale made through the link, and earn enough passive income to buy more sweat-free shorts of your own. 
Online personal training
Fitness content creators (like you!) of all sizes can also cash in by offering online personal training. You'll create and sell workout plans, diet and nutrition regimes, or offer one-on-one virtual coaching through an online platform. Not that we're biased, but Trainerize makes online personal training services a piece of cake. (You can find out more here, if you're curious.)
Selling eBooks
If you're an expert with an audience, monetize that expertise by selling your own eBook. Your followers trust your advice on topics like nutrition, workout routines, and weight loss—just be careful you're offering good advice. If you thread the needle carefully, you'll have an eBook your following loves and you'll earn money through each sale.
Leading online challenges
Online challenges are another great way for fitness influencers to reach out to the crowd… while also still making money. For example, you could run a 30-day fitness challenge that includes a workout plan and nutritional guidance for a fee. Equally, you could run that challenge for free and use it to grab attention for other services you're monetizing. (Like an eBook!)   
Creating YouTube videos 
Many social networks reward creators with ad revenue, but YouTube is the most generous of all. Create regular content about your fitness journey, post it to YouTube, and you'll be able to grow their following AND earn money through YouTube's monetization program. That's major, because YouTube pays out 55% of its total ad revenue to creators—which is approx. $15 billion per year. (You won't make billions yourself, but there's a big bag out there!) 
Hosting online workshops
Many Instagram fitness influencers offer online workshops on topics like diet, nutrition, fitness, training, and mental health. Charge a small fee for entry, promote the course to your followers, and partner with another influencer to maximize the potential guest list. (And then slyly promote your other monetization strategies during the workshop!) 
So boom, there you have it: these are the top ways influencers make money in the fitness industry. Next, let's take a look at five fitness influencers who are making a killing through social media. 
Ready to earn money through online training? Try Trainerize today!
Five of the industry's highest-paid fitness influencers
Simeon Panda
Simeon Panda is a British fitness influencer with over 8 million followers on Instagram, and ridiculous muscles in real life. He posts workout videos, nutritional tips, and motivational content, and uses social media to promote his many revenue streams. Panda offers online personal training services through his website, sells his own line of supplements and fitness apparel, and has partnered with several fitness and lifestyle brands. You know one thing: that means money.
Income: $17.5 million/year
View this post on Instagram
Michelle Lewin
Michelle Lewin is a Venezuelan fitness model and influencer with over 15 million followers on Instagram—and nearly 2 million on TikTok, too. She posts workout videos, diet tips, and motivational content to her followers, and earns millions through her paid partnerships with fitness and lifestyle brands like FitPlan. Go Michelle, go! 
Income: $12.5 million/year 
@michellelewinA fab workout routine for 🍑 and🦵🏻 – And to all those girls training with me (and all guys training with Jimmy) on the app @FITPLAN_app… You are so 🫶🏻😍 It's amazing to follow your efforts and see your progress🙌🏻🙌🏻 Keep it up! (Gym @ELEV8TIONfitness – Video & music by @jimmy_lewin )♬ sonido original – Michelle Lewin
Kayla Itsines
Kayla Itsines is an Australian personal trainer and fitness influencer with over 15 million followers on Instagram. She monetizes her following through branded posts and promoting a range of custom fitness programs, including High Intensity Zero Equipment, HIIT Cardio and Abs, and Post-Pregnancy workouts. Itsines drives her following to subscribe to workouts offered through her fitness app Sweat, which sold in 2021 for a reported $400 million. 
Income: $11.46 million/year
View this post on Instagram
Joe Wicks
Joe Wicks is a British fitness influencer with over 4 million followers on Instagram, and a serious knack for healthy food. Right now, he's best known for his workout videos and nutrition cookbooks. Wicks' monetization strategy is diverse, to say the absolute least. Beyond brand partnerships, he offers online personal training services through his app, The Body Coach. Like we mentioned, he's also published several cookbooks, including the bestselling "Lean in 15" series. Wicks is winning, and we love to see it. 
Income: $3.44 million/year
View this post on Instagram
Kelsey Wells
Kelsey Wells is an American fitness influencer (and podcast host!) with north of 3 million followers on Instagram. She's been on the cover of Women's Health magazine, and gained serious attention on social media for her workout videos and motivational content. Wells offers online personal training services through her website, including customized workout plans and nutrition advice. She's even published several workout guides—like the popular 12-week PWR program. 
Income: $400,000/year
View this post on Instagram
 So, what's next? 
Now that you know what the top fitness influencers earn, you're probably feeling inspired to start creating and monetizing your own platform. (We are, too.) With Trainerize, you can create monetizable services to promote to your following, like meal plans and online training programs. 
Once you really get going, Trainerize can even help you launch your own custom branded app. Soon, you'll be selling fitness products your followers love, building diverse revenue streams, and growing your training business. We can't wait to see your influence in action. 
Ready to scale your personal training business? Start your free 30-day trial of Trainerize.