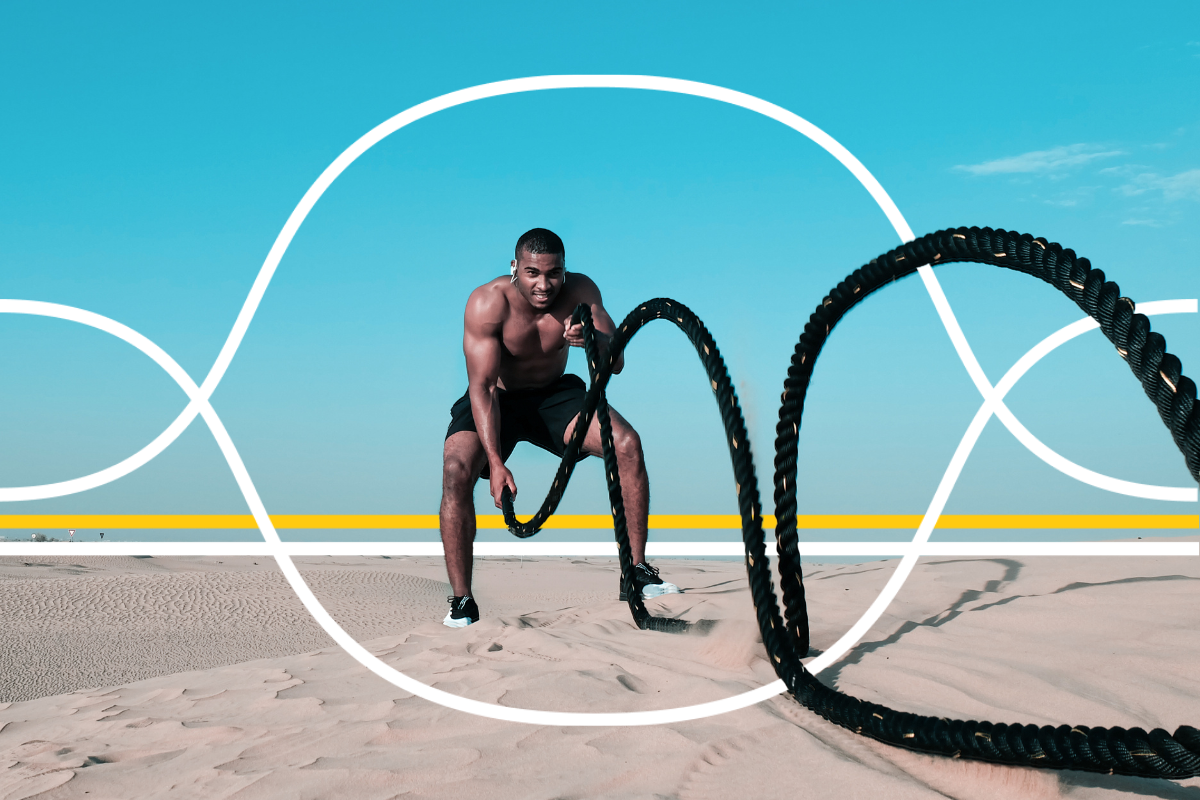 Sales and marketing go hand-in-hand in fitness (like any industry). Therefore, understanding how to create a sales funnel and how it impacts your conversion rates is key to success.
At ABC Trainerize, we specialize in helping businesses to scale using data-backed knowledge, and we can help you master the process of creating a sales funnel! Whether you plan to reach clients through a blog post or social media, learning how to build sales funnels can change your business for the better. Let's explore how to create a sales funnel and get results!
What is a sales funnel?
Sales funnels are a structured approach to marketing and client engagement that slowly move prospects from consideration to purchase. From that first interaction to the actual point of sale, a sales funnel for your fitness business should catch peoples' interest, show them your value, and nudge them to sign up. 
The top of the funnel is awareness. This is the point where people become aware that your training or fitness center exists. Next comes consideration, where you make the case that you're the best around. At the bottom of the funnel is decision-making, when people decide "yes" or "no."
Your goal is to create content that acts as a lead magnet and makes your ideal audience look at your brand and think "yes, I'll reach out!" Then you need to provide proof points and support them until they're in the gym, pumping iron next to you. That's how the sales process works in a fitness sales funnel.
Why is a sales funnel important?
A sales funnel is easily one of the most powerful tools a fitness business can use. Instead of praying "please, I'd like some athletes to train," they'll help you target people who're at each stage of the buying journey—so you've got a consistent stream of clients. (Love that.) 
In action, they help you increase awareness and convince clients to buy your athletics services. Within the fitness world, a well-defined sales funnel is your ticket to capturing the attention of future clients whether you are a personal trainer or operating a gym.
How to create a sales funnel
The way you create your sales funnel can have a significant impact on your conversion rates. Follow these easy steps and you'll make sales like nobody's business. 
1. Gather audience data
You have what every gym-goer wants, and you can feel it. That's great—but data can help you drive decisions that will get people into the gym IRL. During this early stage, your job is to learn, learn, learn! The more you know about your fitness  audience, the more likely you're to reach them and make them want to choose you. 
To gather audience data, you'll want to do plenty of research. Use tools to learn more about how to reach your audience, focusing on where they gain their information and what they are most interested in to generate buyer personas. When in doubt, partner with experts to learn what you need to know!
2. Capture attention
When you're learning how to build a sales funnel, the interest stage is crucial. Creating a sales funnel comes down to reaching your clients and making sure they can't turn away. Your funnel must be attention-grabbing if it's going to perform, and that is just a fact. 
In practice, this means creating content—likely for social media. Love it or hate it, that's how information spreads these days. Take some time to find an authentic voice that feels like "you," and share regular content that's relevant to a fitness audeince. Aim to evoke an emotion from your audience, and you'll get them clicking to learn more about what you've got on offer.
View this post on Instagram
3. Create a landing page
Next, you'll need a defined place to guide your potential client from consideration to purchase—complete with proof-points and "sign up now" CTAs. That's your landing page, and it's one of the most important components of any sales funnel. These pages are full of relevant information and will provide a setup that allows you to educate, engage, and entice. 
4. Make your value clear
Driving signups takes more than just making your fitness business sound appealing. To really win over your audience, it's essential to offer clear and measurable value. What's more compelling: "come workout with me" or "6 weeks to six-pack." 
Clarity is key. You want to convince your audience to sign up with you, and the best way to do that is to clearly convey exactly what you have to offer them. 
Focus on the facts to give them a chance to see just how much value you can truly bring, whether it's addressing specific athletic pain points or highlighting exciting new machines your gym just got!
View this post on Instagram
5. Nurture the prospect carefully
Catching someone's attention and explaining the value you offer is a powerful force, but it's also important to keep helping them along. When you're deciding how to build a sales funnel for your brand, you must focus on engaging, informing, and nurturing to guide them to that final purchase. 
6. Close the deal
Campaigns and other marketing efforts all have one goal: to close the deal!
It doesn't matter if you want them to sign up for a webinar or buy a new fitness accessory, your goal is to convert. 
Near the end of your sales funnel, you'll want to go right in and work to close the deal. You can do this by providing highly relevant information or giving them a good reason to make the leap, like offering a discount or trial. By this point, they should be ready to make a purchase!
7. Keep it smooth, keep it simple
After you have convinced them to make the leap, quickly and efficiently walk them through the final stages of the process. Whether this means leading them directly to a purchase page or helping them to better understand your gym's membership plans, stand by their side as they take these next few steps. 
Making that first sale is great, but remember, you can always use this as an opportunity to offer them more or help them to understand what else your brand has to offer! (First impressions last, so this's all about tone-setting.)
4 sales funnel FAQs
Still asking yourself: what are sales funnels? These essential questions can help you to better understand each stage of the funnel and drive signups for your gym or training services. (That's the goal, right?)
What is a sales funnel in the context of the fitness industry?
A sales funnel in the fitness industry is an approach to marketing that is designed to help interested individuals choose your products or services. Using a detailed roadmap, you can guide them to pick your brand and take some kind of action. 
From signing up for a free evaluation to scheduling their first personal training session, a sales funnel helps fitness businesses to catch attention and win over customers! (Love that for you.)
Why is a sales funnel important for fitness businesses?
A fitness business (like any business) has to convert leads into customers in order to stay alive out there. For fitness businesses, a sales funnel is the a structured approach towards catching attention, engaging prospects, and convincing them to sign up or make a purchase. That is why gyms need sales funnel. 
What content should I use at the top of the funnel?
The top of the funnel is your greatest chance to convince your future clients and customers that your brand is worth their time. The content at the top of the funnel should capture attention and make them want to learn more. Focus on facts, invitations, and any content that will make them want to click to see what else you have to share.
How do I convert interested prospects into actual paying clients?
The best way to convert interested prospects into your sales funnel is to demonstrate value and make them curious about what you have to offer. Then you've got to follow up. 
That might mean replying to your DMs with a sign-up link, or offering a free 15-minute consult during which you'll close the deal. As you close, focus on highlighting what makes you a great choice for them while avoiding coming across as pushy. The more value you can demonstrate, the better!
View this post on Instagram
So, what's next?
You've learned all about how to create a sales funnel that will add fuel to your fitness business, and pairing this with a rock-solid membership experience will improve your sales too. ABC Trainerize helps you to deliver world-class fitness programming without headaches, so you can show your future clients that you offer the best. Go ahead and show 'em what you've got—they're gonna love it!
Ready to take your fitness business to the next level?
Start your free 30-day trial of ABC Trainerize today!