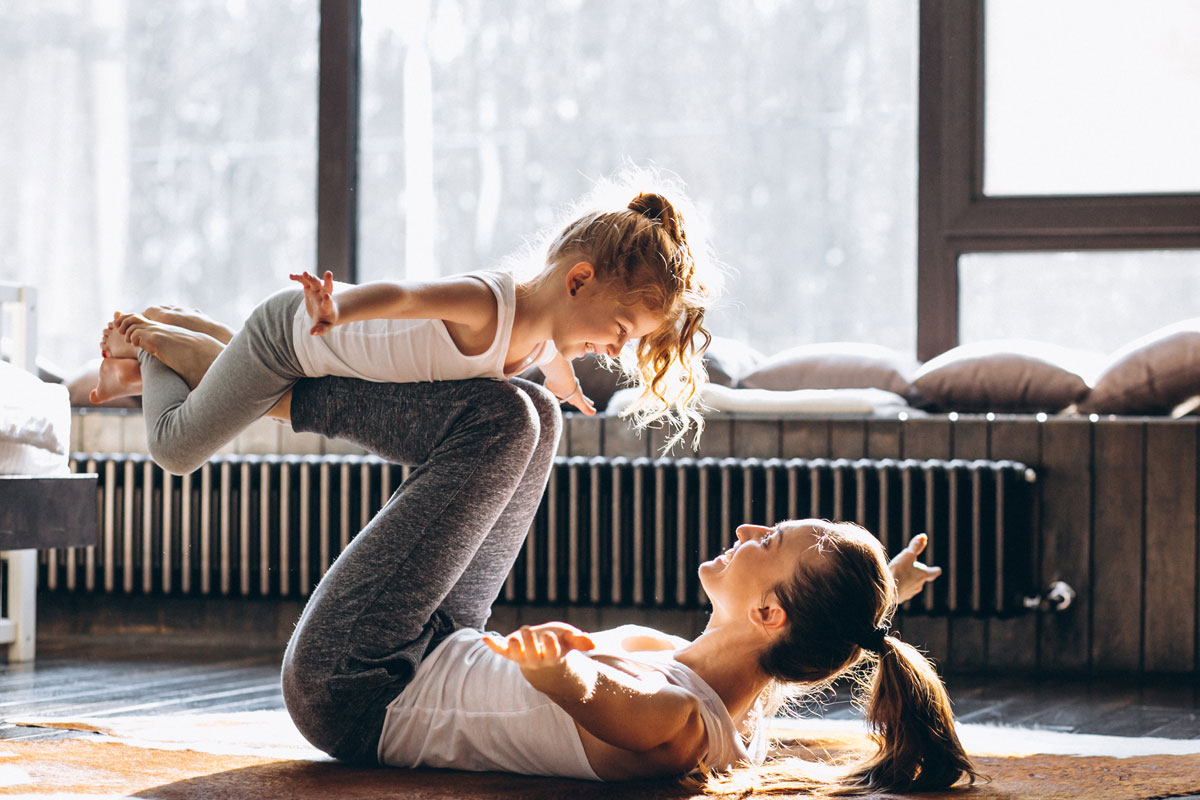 Do you have kids, and love fitness? Are you looking to start your own online fitness business? I'm an online personal trainer with kids. Here's my story, and how you can survive and thrive, just like me!
My Story
My twins are only two, and I have to admit that the first year was a blur! It can be a challenge adjusting to the shock of going from a family of two to a family of four in just 9 months.
Small tasks that I used to take care of in a matter of minutes when it was just me and my husband became tasks that I couldn't complete in an entire day (mainly the laundry—that just always felt like I battle I couldn't win) and I was struggling to stay organized and on track.
Before the girls came into my life, I had a great career as a Business Analyst at a large tech company, and I had no plans on leaving that job. The job; however, had different plans and I was laid off work just two months after I returned from maternity leave. So there I was, a new mom, dealing with the beautiful chaos of caring for twins, suddenly facing the shock of losing my job!
I was devastated! This was not a part of the plan. But isn't that the way life works? Our plans are always being adjusted, whether we are in control of the changes or not.
After dealing with the disappointment of losing my job, and not having that sense of financial security anymore, I decided to go back to my first love – fitness! I applied to be a trainer at the gym I had a membership with. I started working there in the evenings when the girls were about 13 months old. It was very difficult, but I was determined to make it work.
It was hard on everybody. My husband had to leave work and go pick up the girls from the drop-in daycare. Then he has to get them home, feed them, and put them to bed. Meanwhile, I'm at the gym training my clients, feeling all the "mom-guilt" in the world because I'm not there to put my kids to bed. On top of that, feeling all the "wife-guilt" because, after a long day at work, my husband doesn't have the opportunity to relax. Not to mention, the gym was not paying me according to the amount of work they required of me, and I found myself frustrated after just a few short weeks.
Needless to say, I quit my job as a trainer at the gym and started my own online personal training business. Now I'm an online personal trainer with kids!
Launching My Online Fitness Business Using Trainerize
A month later, I officially became an online personal trainer with kids. I launched my online fitness business using Trainerize.
Let me tell you, I made more money using Trainerize in my first month than the entire time I was working at the gym.
YEAH! Crazy, I know! Not only was I making more money, but I was able to be home for my family. I could work around the needs of my family.
However, working around my family's needs and schedule limits the amount of time I have to take care of business matters. I've found that having a "flexible schedule" is best. Having a strict schedule is just extremely unrealistic with two tiny humans.
Streamline your Online Personal Training Business.
Start your free 30-day trial of Trainerize.
Creating a Flexible Schedule
What do I mean by "flexible schedule"? I don't plan my entire day down to the minute like I used to. Instead I have a list of tasks that I assign to each day of the week. As an online personal trainer with kids, within the day I have certain times that I block off for business tasks. That time frame falls into three categories: early morning, midday/lunch/nap time, and post bedtime. Those are the time frames in my day that I have to myself to focus on checking off all the things on my list, without interruptions or distractions, and without taking away from the time I spend with my girls.
What a Typical Day Looks Like as an Online Personal Trainer With Kids
I'm up at 4:30 am to make it to my work out by 5 am, and then I'm back home by 6:15 am. Once I'm home, I check and respond to emails and client messages from overnight. I check Trainerize to see who completed their workouts, and who missed it and do a quick overview of which clients I have to check-in with for that day. Once that's complete, I get breakfast for the family. The next time I work on business stuff is when the girls go down for their nap. During nap time, I make a few calls to clients for weekly check-ins, but I mainly use this time for programming, consultations with new clients, and other important business calls. Later that night, between the hours of 7:30 pm – 10:30 pm, I finish my client check-ins, do online marketing, update social media, blog, research, etc. It's a schedule, but it doesn't feel like it has to be so perfect that it actually causes me more stress.
As a parent, we're taught that scheduling is important, but we know that being flexible is just as important. If you want to thrive and survive as an online fitness professional, you have to have a healthy balance between the two, because no two days are going to be exactly the same. Once I adopted the flexible schedule, I was far less stressed, and it seems like I get more done.
No matter how much you plan, life is going to happen. You have to have enough wiggle room in your schedule to allow you to adjust and adapt. If your daily schedule is stressing you out, lighten your load, or adjust your schedule to allow more freedom to improvise.
Becoming an online personal trainer with kids is achievable. You can do it! Start today with Trainerize.
Entrepreneurship has never been easier.
Start your free 30-day trial of Trainerize.