Running a successful fitness business is no walk in the park.
You're busy all. the. time. Working hard to deliver amazing training experiences; hustling to bring in new clients; and keeping your eyes peeled for opportunities to grow and scale.
That's why Trainerize Pay comes with built-in Automation: so you can quickly and easily cross off a whole bunch of tasks on that never-ending to-do list of yours—without any of the heavy lifting or manual admin time! 
With just a few clicks, you can automate a whole range of tasks—from delivering training programs to clients, to changing messaging options and much more—and we've just made Automation for Trainerize Pay even better.
TZ TIP!

Already using Automation for Trainerize Pay?
You'll notice some big changes to the UI—all designed to streamline the product setup and automation process and let you do more! Throughout this update, we've marked those updates with *NEW* so you can quickly skim through and see what's changed.
Let's dive in and see what's new! 👇👇👇
A New Way to Set Up Automation
To help you get more done, we've just introduced a more intuitive and easy to use automation setup screen. (This is one of the first few steps toward a BIG update coming to Trainerize later this year, where we'll be releasing a new version of the app—fully rebuilt from the ground up!)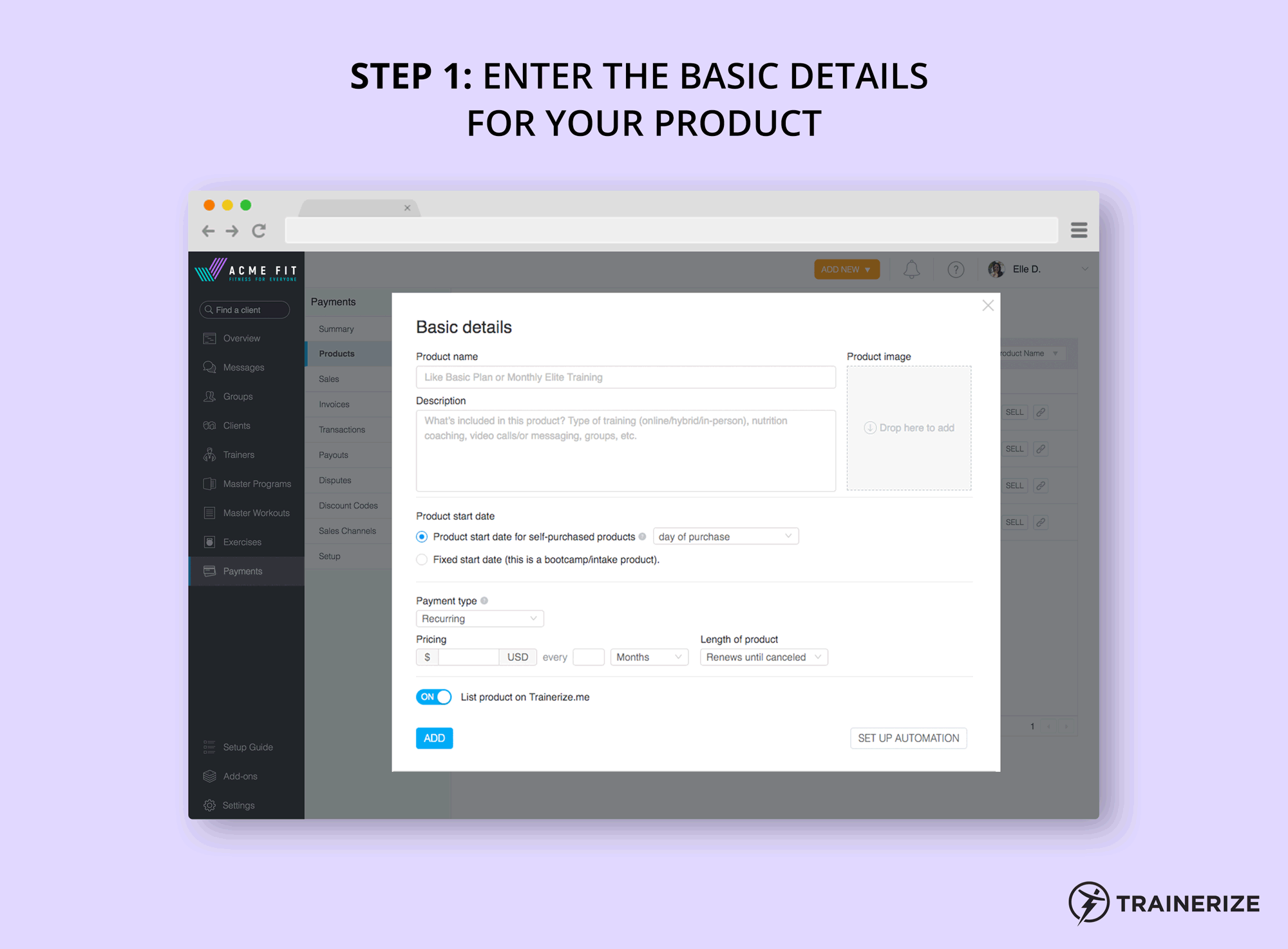 Now, in just two simple steps, you can create a product and set up automation.
Fill in the basic details for your product ✅

Add automation 🤖
This more streamlined process for building products was designed so you can create and sell products faster than ever.
Plus the automation setup screen now features an intuitive "timeline" design that illustrates how the automation will run chronologically from the date of purchase, to the product start, then finally to the product end.
It's all about bringing that client experience full circle and helping you do even more. 
More Ways to Automate
Of course, we didn't just streamline the automation setup process—we also made it more powerful by offering you even more ways to automate.

There are now even more options for the actions you can trigger and we've expanded automation to not only run when a product is purchased or when a product starts, but also when a product ends. That means you can now automate the entire client buying journey from start to finish!
Here's what you can do with Automation!
First Purchase
Give your clients an amazing experience from the moment they hit that buy button. 🛒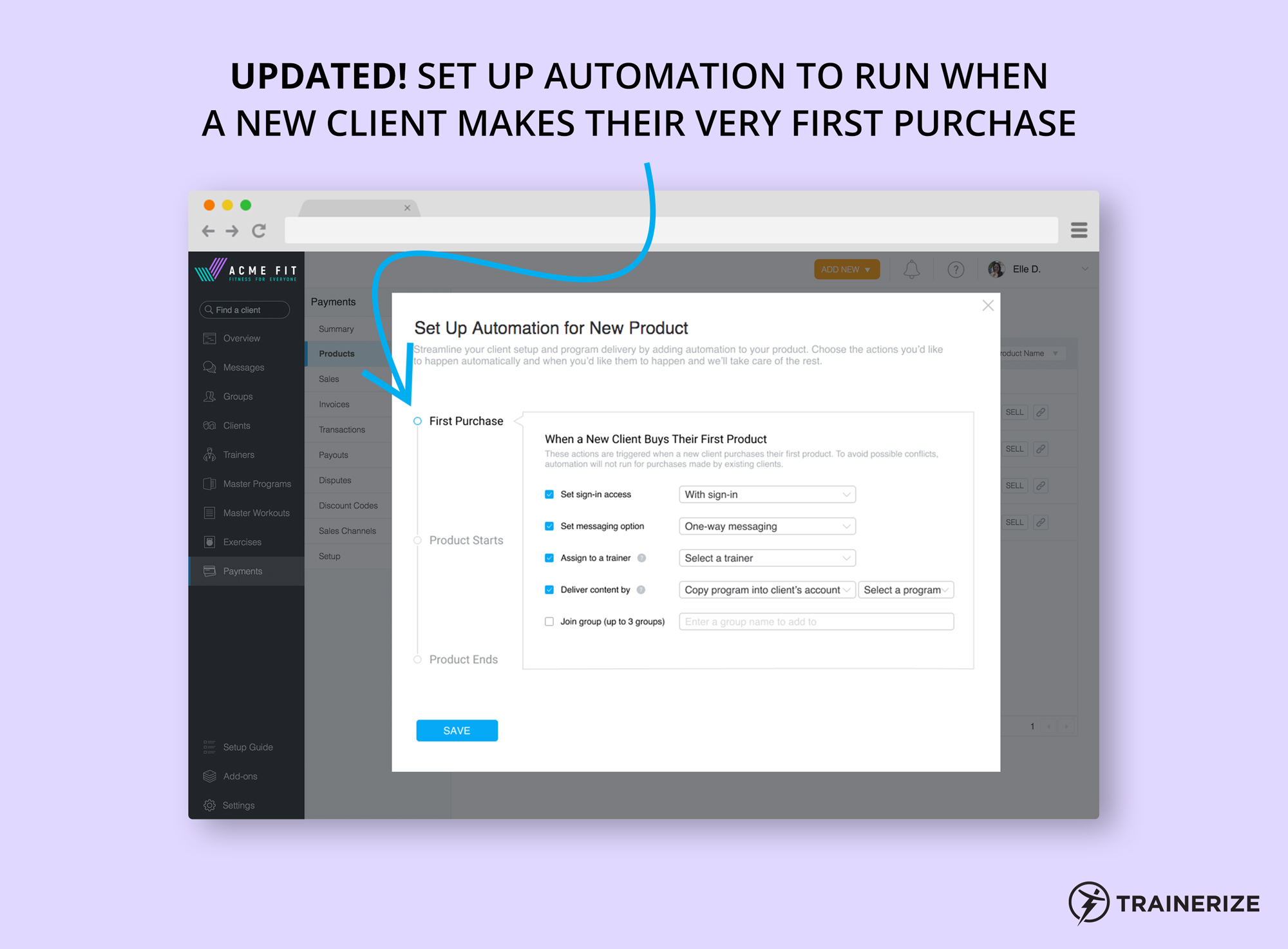 By using "First Purchase" automation, you can let your clients explore the Trainerize app, offer them a prep program, let them communicate with you leading up to the start of their product, or connect them with other clients through groups. It's a perfect way to welcome new clients to your business and set them up for success in their training.
Here's what you can automate and set into motion the moment a client's purchase goes through:
Set sign-in access *NEW*
Set messaging options *NEW*
Assign to a trainer
Deliver content
Join groups
Product Start
Thanks to the magic of Automation, you have the ability to start every client's training experience with a bang! (Ok, maybe less of a "bang" and more of a silent whoosh of ease and excitement! But it's still so good, you and your clients might still be tempted to toss some confetti. 🎉)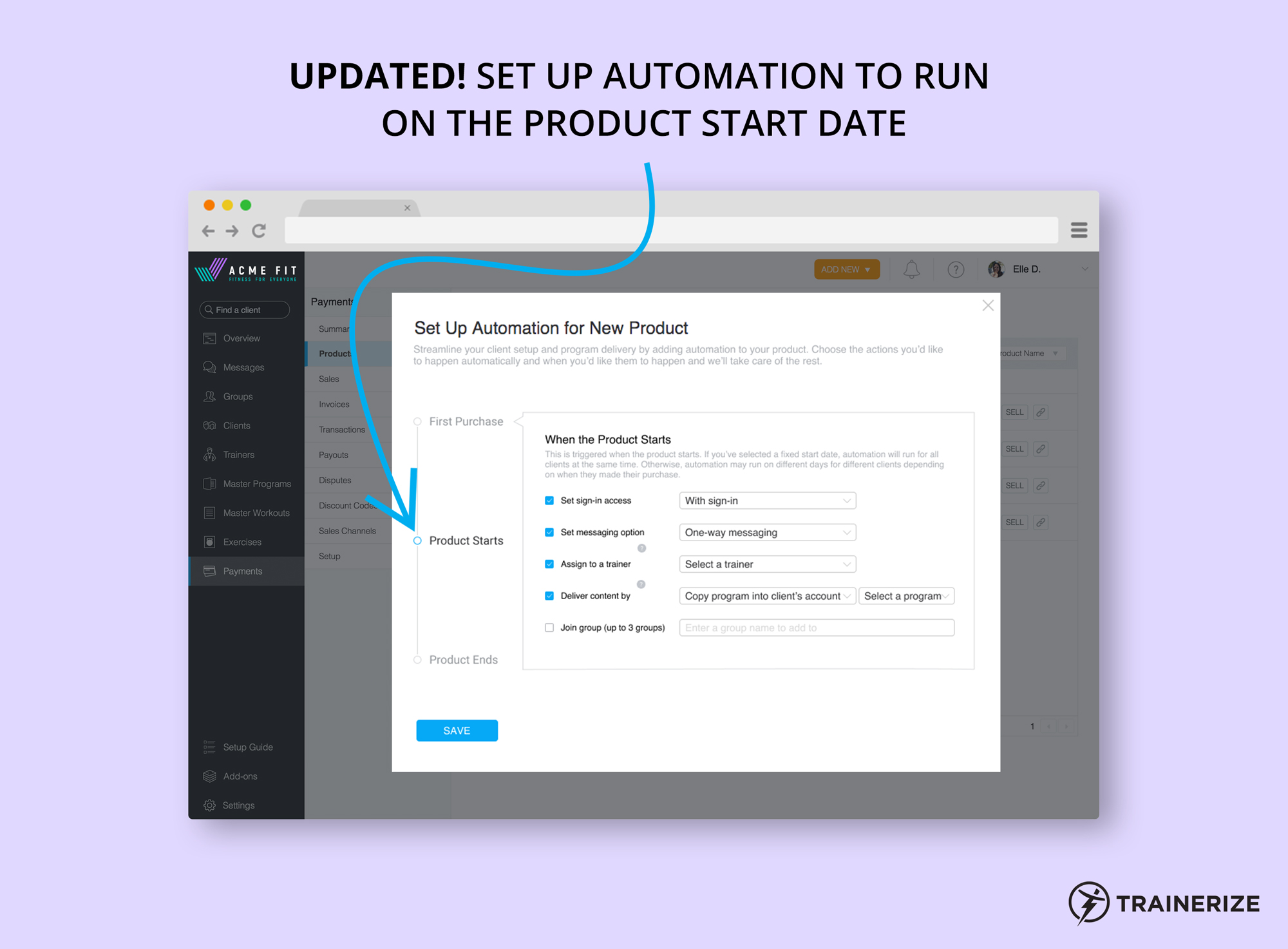 To kick off your clients' training without all the extra admin work, you can set the following actions to trigger when a client's product starts or becomes active:
Set sign-in access *NEW*
Set messaging options *NEW*
Assign to a trainer
Deliver content
Join groups
Product End *NEW*
Product end date automation is a brand new piece of Automation in Trainerize Pay, helping you bring your client's buying and training experience full circle. 🔚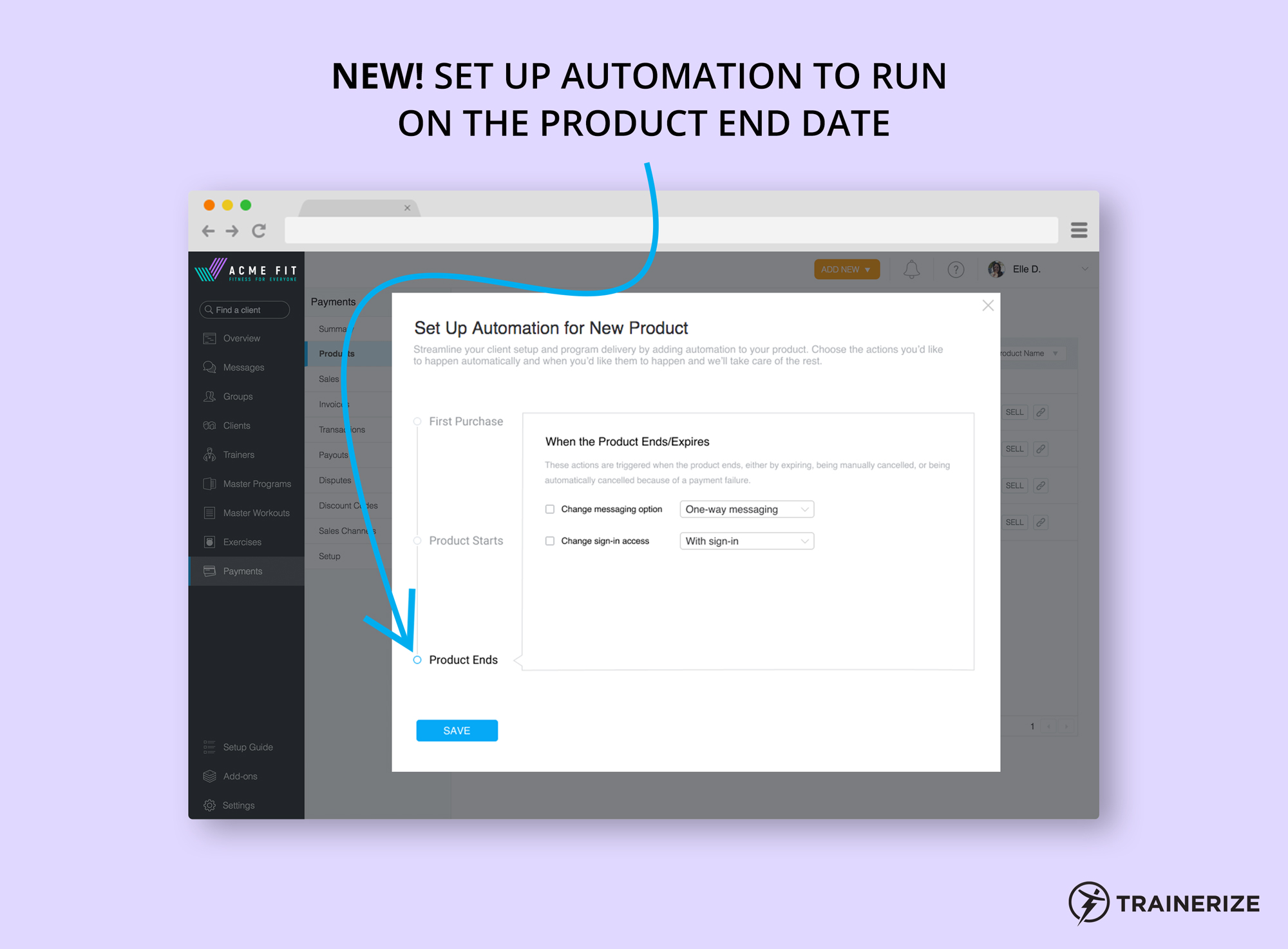 Use these triggers to tidy up any loose ends and manage client permissions when their product ends.
With product end date Automation, you can:
Change sign-in access
Change messaging options
Yet another way we're working to make Trainerize the most powerful online training platform available! Stay tuned for more product updates coming later this summer! There are lots of BIG things in store.
P.S. We love to hear from you! We're always listening to you, our trainers and fitness clubs using Trainerize in their businesses! Tell us what you think about the new features and what else you'd like to see in Trainerize!
If you're ready to do more in less time, give Trainerize Pay and its built-in automation a try.
Sign up for your free 30-day trial of Trainerize to get started.