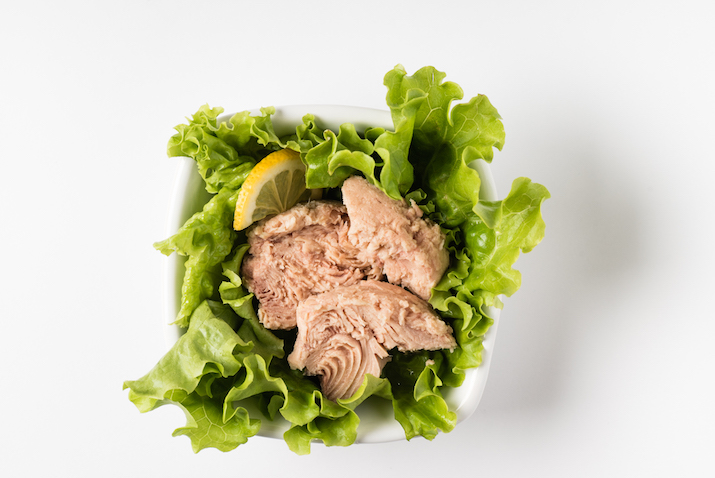 The perfect nutrition plan is about calories, carbs, fat and sodium, about lean proteins and veggies and finding just the right ratios to achieve fitness goals, but that's not all.
The perfect nutrition plan, in order to be effective, also has to include some darn good food that you and your clients can look forward to eating.
That's where recipes like this Tuna and Black Bean Salad Wrap come in.
It's an easy fit into most nutrition plans with lean protein, healthy fats and not too many carbs PLUS it's packed with flavor and quick and easy to make.
Tuna and Black Bean Salad Wrap
Makes 6 Servings
Ingredients:
1 can (15 ounces) black beans, rinsed and drained
1 can (11 ounces) tuna in olive oil, drained
¾ cup fresh tomatoes, peeled, seeded and chopped or canned diced tomatoes
1/3 cup finely chopped red onion
1 Tbsp minced Serrano peppers
1/3 cup extra-virgin olive oil
2 Tbsp fresh lime juice
¼ cup chopped parsley
¼ cup chopped cilantro
1/8 tsp each, salt and pepper
6 large butter lettuce leaves
Directions:
In a large bowl, combine beans, tuna, tomatoes, onion, peppers, oil and lime juice. Toss gently, being careful to keep tuna in bite-size pieces.
Cover and refrigerate for at least 1 hour. Add parsley and cilantro; season with salt and pepper. Spoon tuna salad into lettuce leaves. Fold up leaves and eat taco style.
Nutrition Information (per serving)*: 250 calories, 16 g fat, 2.5 g saturated fat, 25 mg cholesterol, 400 mg sodium, 12 g carbohydrates, 4 g fiber, 1 g sugar, 16 g protein, .75 cup vegetables.
* Recipe and nutrition information may vary by products (and/or brands) used.
Looking for an app to deliver personal training and meal planning together in one platform? Try out Trainerize for free for 30 days.