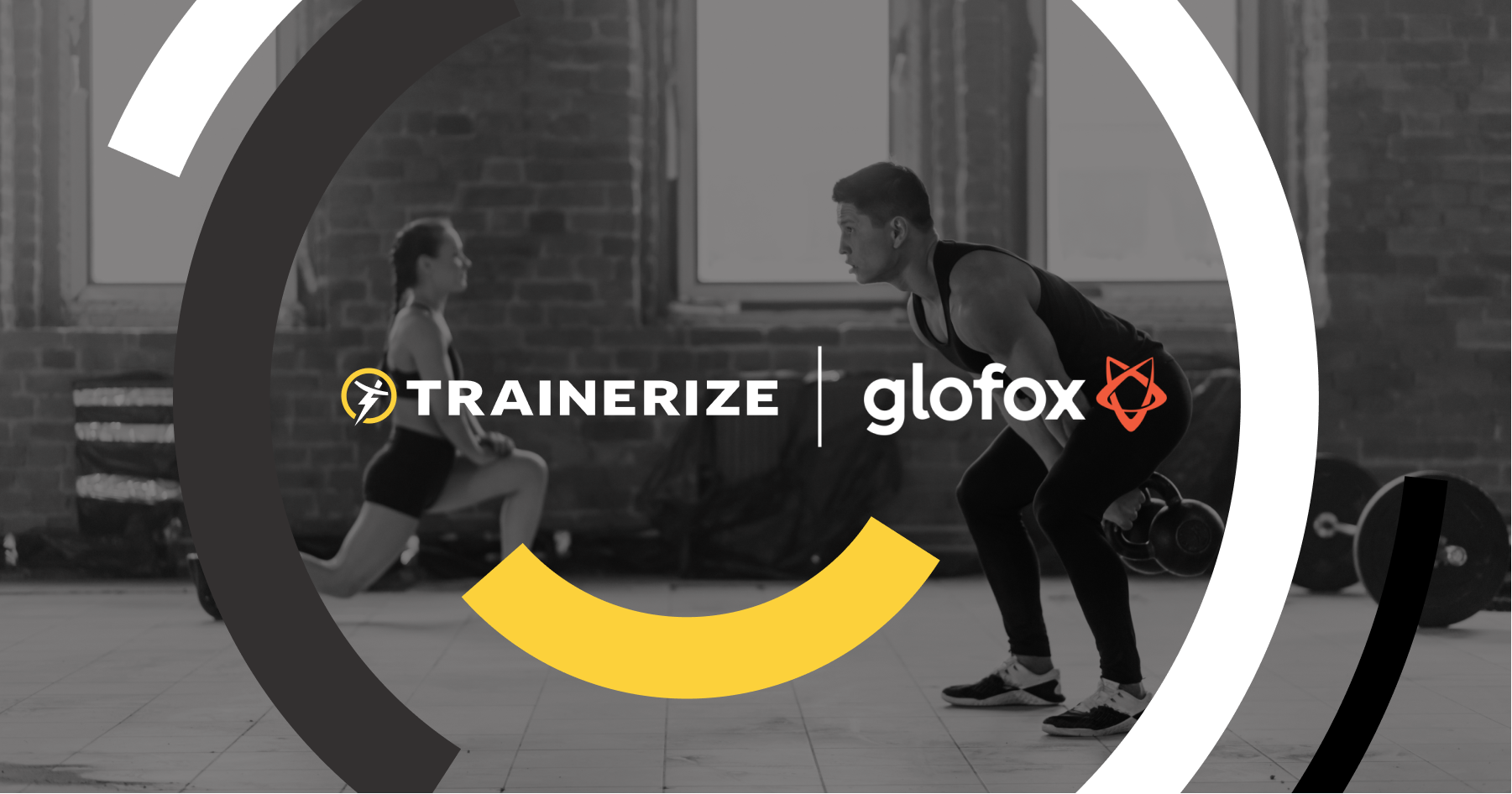 Post-pandemic, hybrid fitness is gaining popularity, combining in-person classes with online coaching options. For so many of you who have tapped into the world of online training with Trainerize, you know firsthand how powerful digital coaching can be. You can offer a complete 360° coaching experience, including fitness, habit, and nutrition coaching, and meet clients wherever they are, be it in-studio, at home, or on-the-go. This is the power of Trainerize. 
While we absolutely obsess with all the ways we can help you take your studio online, we want to also help you elevate your in-person studio experience. With a basic class booking feature now available in Beta, you can use Trainerize for all your in-person class booking needs. 
However, for those seeking more advanced tools to manage their studio, staff, members, and everything in-between, Trainerize has partnered with Glofox, a leading member management software as part of the ABC Fitness family, to provide the ultimate hybrid training experience for your members, no matter where they are.  
Taking your studio to the next level with Trainerize x Glofox 
This exciting new partnership with Glofox combines the best of both worlds to help you deliver the ultimate member experience both in and out of the studio. Convert more leads, manage members and bookings, and sell memberships through Glofox, then watch your members in Glofox seamlessly sync to Trainerize to easily deliver online coaching.  
Why you'll love using Glofox to manage and grow your studio: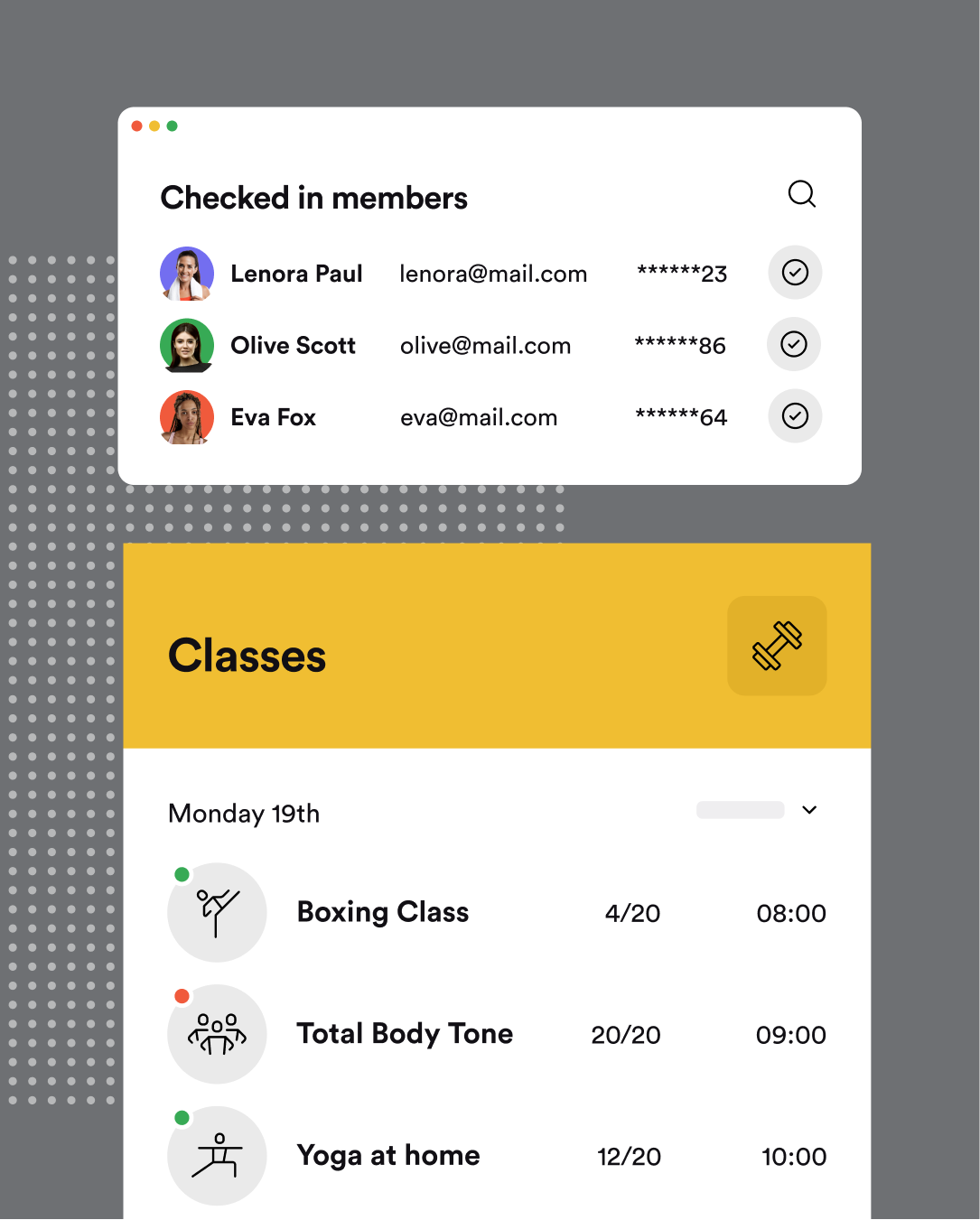 Effectively run and manage your in-person studio with advanced scheduling and membership management tools
Streamline your members' check-in process, provide members with up-to-date information on class schedules on your website, make informed decisions on class offerings with detailed class performance reports, and so much more.
 
Drive revenue and growth with automated member communication
With powerful automated email and SMS workflows, studios can more easily convert leads, expand their customer base, and improve customer retention.
How it works – Discover the Trainerize x Glofox integration
We're excited to introduce to you the start of the Trainerize x Glofox integration, beginning with a simple, yet powerful feature. You'll be able to sync Glofox members in real-time directly into Trainerize, where they'll show up as Pending clients. From there, you can activate them as a Coaching client to deliver digital coaching and trigger an email invitation for them to access your app.  Check out this help article to learn more.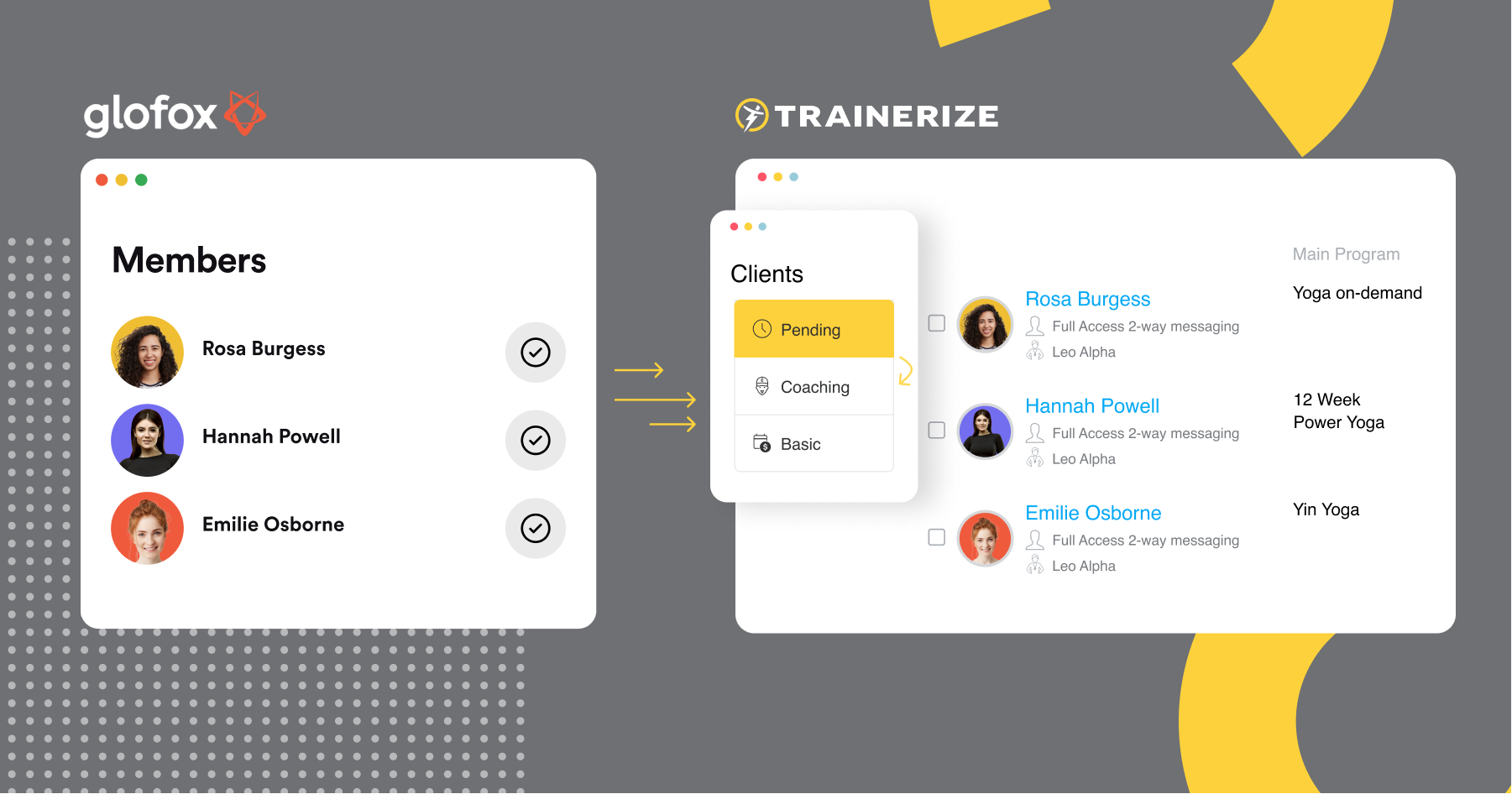 Note: The integration is currently available to Trainerize customers on a Studio plan and member syncs are one-way only, from Glofox to Trainerize.   
Interested in elevating your studio member experience with Glofox?
You will need to have a Trainerize Studio plan and Glofox Gold or Platinum plan in order to access the Glofox integration. If you're interested in learning more about all the ways Glofox can help take your studio to the next level or want to start using Glofox, get in touch with our friends at Glofox. 
Already have Glofox and you're a Studio customer? Get in touch with the team at Glofox and we'll work together to help you get set up!  
Stay tuned, there's more to come! 
This is just the beginning! We're looking at building even more powerful integrations between Trainerize and Glofox in the near future, like the ability to sync your Glofox memberships and deliver product automations in Trainerize so you can deliver digital programs instantly! Plus much more, stay tuned! 
As you know, we're always listening to you—our amazing #TZtrainers. We love using your ideas and feedback to help make Trainerize the best app possible for your fitness business. Help us shape the future of Trainerize by letting us know which features you'd like to see! Head over to our ideas forum to submit an idea or vote for other favorites!