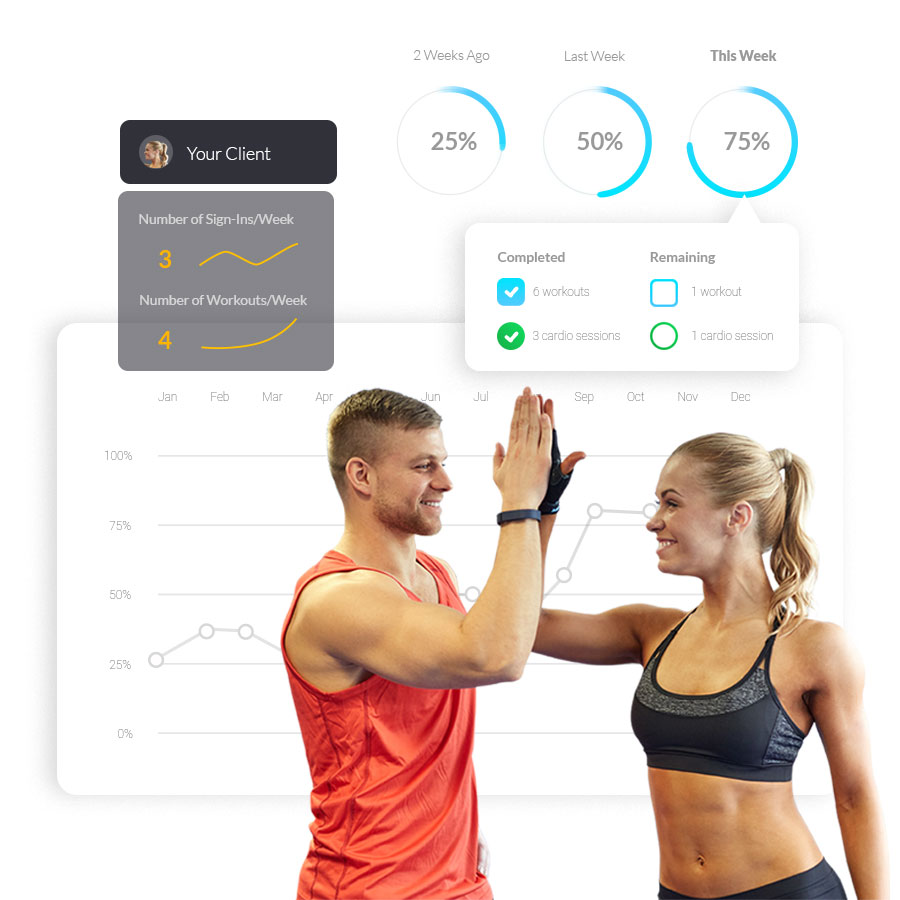 Accountability is a precious commodity. It's what keeps us moving forward, pushing toward our goals, and catching ourselves whenever we start to slip. Sadly, when it comes to personal training clients, it's often in short supply.
That's why, as a fitness professional, a big (ok, huge) part of your role is helping clients make fitness a priority and inspiring them to be their best selves every week, week after week.
To help you do this, we're releasing new and improved client engagement and compliance metrics, so you can easily see if your clients are sticking to their programs or falling off course and use that information to drive consistent results while also building long-term healthy exercise and nutrition habits.
MEASURE CLIENT ENGAGEMENT
The first step on any client's path to healthier habits—especially if they're signed up for 100% online or hybrid training—is (no surprise) using their training app!
After all, that's where all the good stuff lives, like their training program, nutrition plan, groups, and messages with you.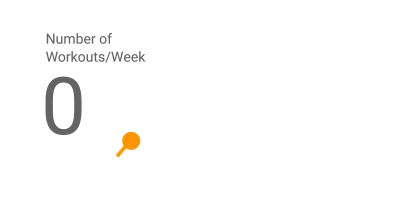 To see how often clients are using the app and to get a real sense of how engaged they are in their personal fitness journey, trainers can quickly review two new client metrics: number of sign-ins per week and number of workouts logged per week.
You can find both new metrics from the client page of your Trainerize web app by clicking into the engagement tab at the top of the screen.
TZ Tip
Keep it interesting! Give clients a reason to open the app. Drive engagement by scheduling regular check-ins or auto messages into their programs. Make sure to ask them questions so you can spark conversation and give them even more reason to keep using the app.
MONITOR CLIENT COMPLIANCE
In the world of fitness, the name of the game is consistency. And now, thanks to our new and improved compliance metrics, it's easier than ever to see how well your clients are sticking to their training programs and nutrition goals.

For instant feedback on how your clients are doing, real-time compliance scores offer a snapshot of your client's exercise or nutrition for the week so far.
To dig a bit deeper into how a client's doing, check out their compliance trendlines, which lets you look at a client's compliance scores for a period of up to 3 years.
TZ Tip 
Start client compliance off strong! One of the best ways to keep clients on track is to make sure the client believes in you and the program you've built for them. And when it comes to making your clients "believe", nothing's better than first-hand proof.
Share client success stories and before/after photos whenever possible (and only with client permission) to demonstrate what you can help others achieve if they follow your guidance. After all, they say seeing is believing.
HOW TO USE COMPLIANCE SCORES
To really get the most out of compliance scores, you need to know what they mean and how to use them.
It can be helpful to think of them as a barometer for how well matched a client's training programs or nutrition plans are to their individual needs, wants, abilities, and existing habits.
Your goal is to find the sweet spot where your clients are being challenged enough that they'll see progress, but not so much that they'll become demotivated and pack it all in. Generally speaking that translates into a compliance score of 75-90%.
If your clients aren't falling inside that range, it's time to start tweaking their training programs or nutrition plans.
Download our free guide:Using Compliance to Drive Client Resultsto learn how to modify your client's training based on their compliance score and help them crush their fitness and nutrition goals.
This upgrade is just one part in a bigger plan to make bring a 360-degree approach to fitness to Trainerize! So stay tuned for a huge launch coming later in 2019 focused on helping clients set goals and build habits.
KEEP AN EYE ON TRAINER PERFORMANCE
It's not just trainers who can get in on the engagement and compliance fun. Now, personal training managers, admins, or business owners can also see the average engagement and compliance metrics for each of their trainers.
These aggregate stats offer a quantifiable way to measure how well a trainer is keeping clients engaged in their fitness journey or motivating them to stick to their programs or nutrition plans.
Find your star trainers, or look for opportunities to strengthen your team and support trainers who might be struggling to keep clients on track. With our new reports, it's all possible.