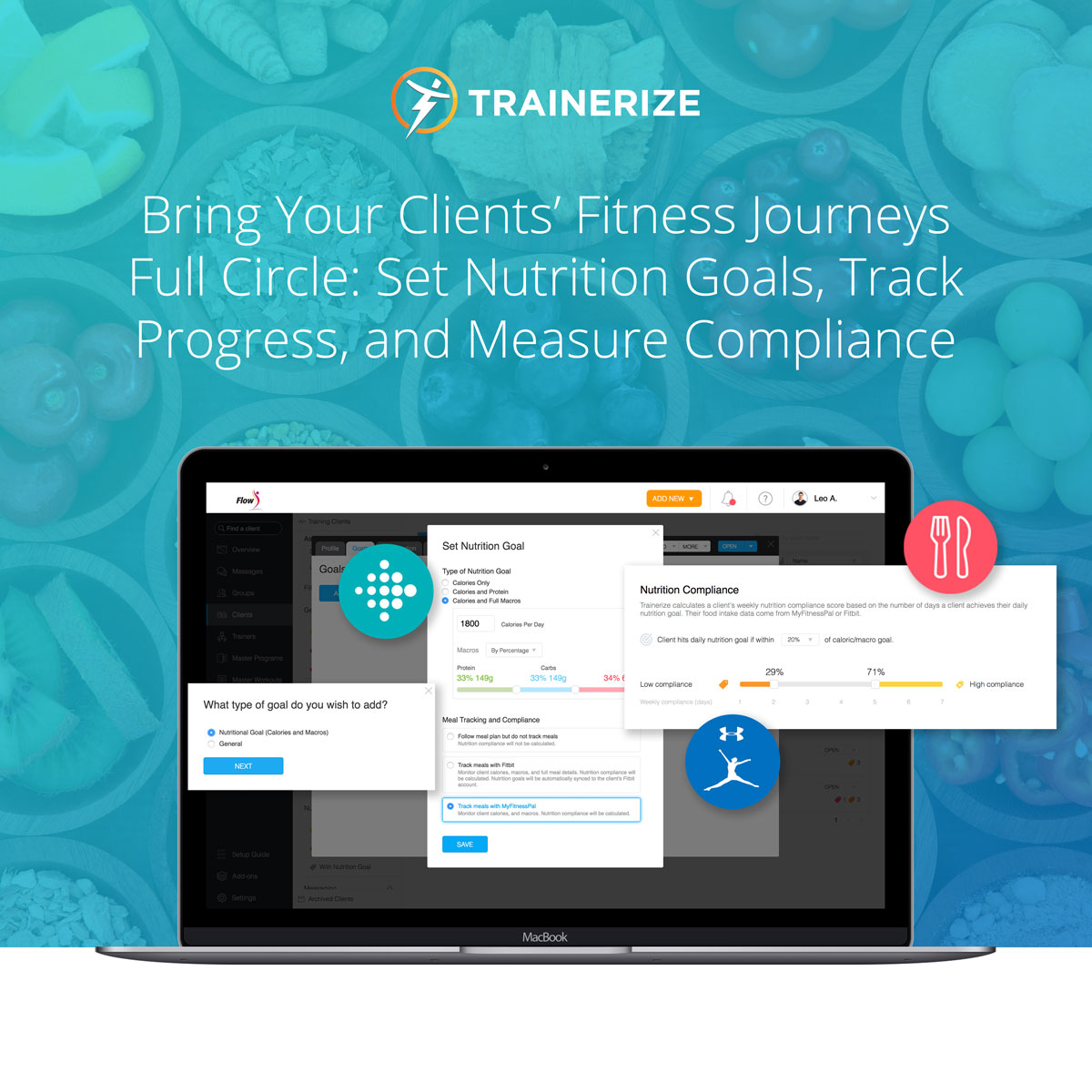 You may have noticed that at Trainerize, we often refer to fitness as a "journey". That's because, like you, we know there are no shortcuts to getting in shape or living healthy lives.
It takes hard work, careful planning, and commitment for a client to see real change, and that won't happen overnight.
That's why we're giving you the features you need to support your clients every step of the way starting with setting nutrition goals, tracking their progress, and monitoring their compliance.
It's how we—and you—are bringing your clients' fitness journeys full circle.
Setting Goals
It all starts with individual client nutrition goals.
Based on your clients' needs and desired results, you can now add a nutrition goal to their profile that includes target daily macros and calories.
NEW: SET NUTRITION GOALS IN TRAINERIZE
To add a goal, open a client's profile, navigate to the "Goals" tab and then enter the desired macro breakdown and caloric intake. For clients using Fitbit to track their meals, this goal will be automatically synced to their Fitbit App too, making it easy to stay on top of their nutrition at all times.
By setting a goal, you'll be giving your clients clear and consistent expectations that will make it easier for them to adjust their habits, plus you'll have something to check your clients' eating habits against on a daily basis, which helps you stay on top of their nutrition and quickly intervene if they need some support or advice.
Tracking Progress
With your clients' goals set, next up is tracking your client's nutrition progress.
While clients often think in the long-term, focusing their energy on their final result they're striving for, fitness professionals like you know that a fitness journey is made up of a million small steps. That's why it's important for your clients to track their progress every step of the way—on a daily basis—including all the food they eat.
To help clients capture those daily snapshots of their nutrition, Trainerize comes with two convenient ways for clients to log their daily food intake and share the results with you: the Fitbit Integration and the MyFitnessPal integration.
When you set your client's nutrition goal, make sure to select an option to track meals using either Fitbit or MyFitnessPal. Clients will be automatically invited to connect their apps to Trainerize and start logging their meals.
Fitbit
With the Fitbit Integration for Trainerize, clients using Trainerize can connect their Fitbit accounts and sync their nutrition information straight into their profile. Data synced includes calories, macros, and full meal details.
To track meals, all your clients need is the free Fitbit app, but if you have clients using Fitbit wearables and wifi devices, there's also an option for them to share their steps, resting heart rate, and body weight.
Watch this video or check out these help articles for information about tracking nutrition with Fitbit.
MyFitnessPal
With the MyFitnessPal integration for Trainerize, clients can connect their MyFitnessPal account to Trainerize and share their meal macros and calories.
As your clients log their meals, you'll receive real-time updates on their consumption, and at the end of each day, Trainerize will let you know if your client was successful in achieving their nutrition goal or if there's still some room for improvement. Then you can either celebrate their achievements or offer them the gentle nudge they need to get back on track.
Watch this video or check out these help articles for information about tracking nutrition with MyFitnessPal.
TZ TIP: Make the most of the nutrition tracking features and keep clients on track by setting up auto messages in your clients' programs reminding them to log their meals. For clients that seems to forget more often, schedule in some extra reminders just for them!
Measuring Compliance
The third part of this update—and the final piece that brings your clients' fitness and nutrition journeys full circle—is compliance.
Compliance is a measure of how well your clients are sticking to their programs, including their scheduled workouts and their nutrition goals, and it plays an important role in understanding how your clients are performing.
NEW: SET COMPLIANCE RANGES FOR NUTRITION & EXERCISE
To calculate compliance, you can now set "acceptable ranges" for your clients' workouts and nutrition activity by selecting thresholds to mark what they regard as low compliance and as high compliance.
You can also add an acceptable range for compliance with nutrition goals. This lets you decide how strict you want to be when evaluating whether or not clients are hitting their daily nutrition goals.
To make it easy for you to see when your clients are struggling with their programs or exceeding expectations we've added automatic clients tags that work with the compliance range you set.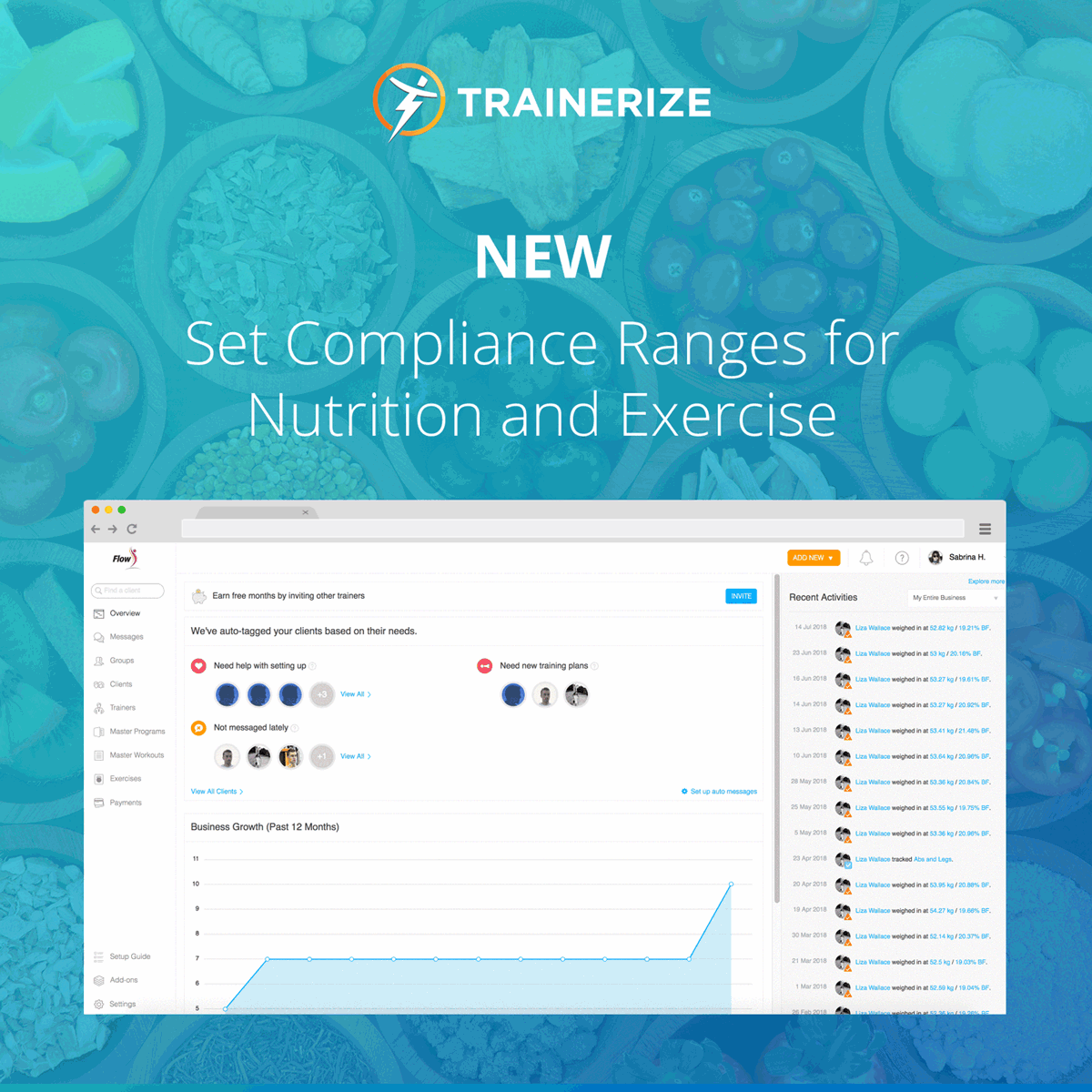 Psst! Insider info: we've got plenty more in the works to expand how you track client compliance. Stay tuned for more updates.
NEW: USE CLIENT TAGS TO GROUP CLIENTS BY COMPLIANCE LEVELS
Whenever a client falls below the threshold for low compliance set by their trainer, they'll be automatically tagged with "Low Nutrition Compliance" or "Low Workout Compliance". If a client is crushing it and surpasses the threshold for high compliance, they'll be automatically tagged as "High Nutrition Compliance" or "High Workout Compliance".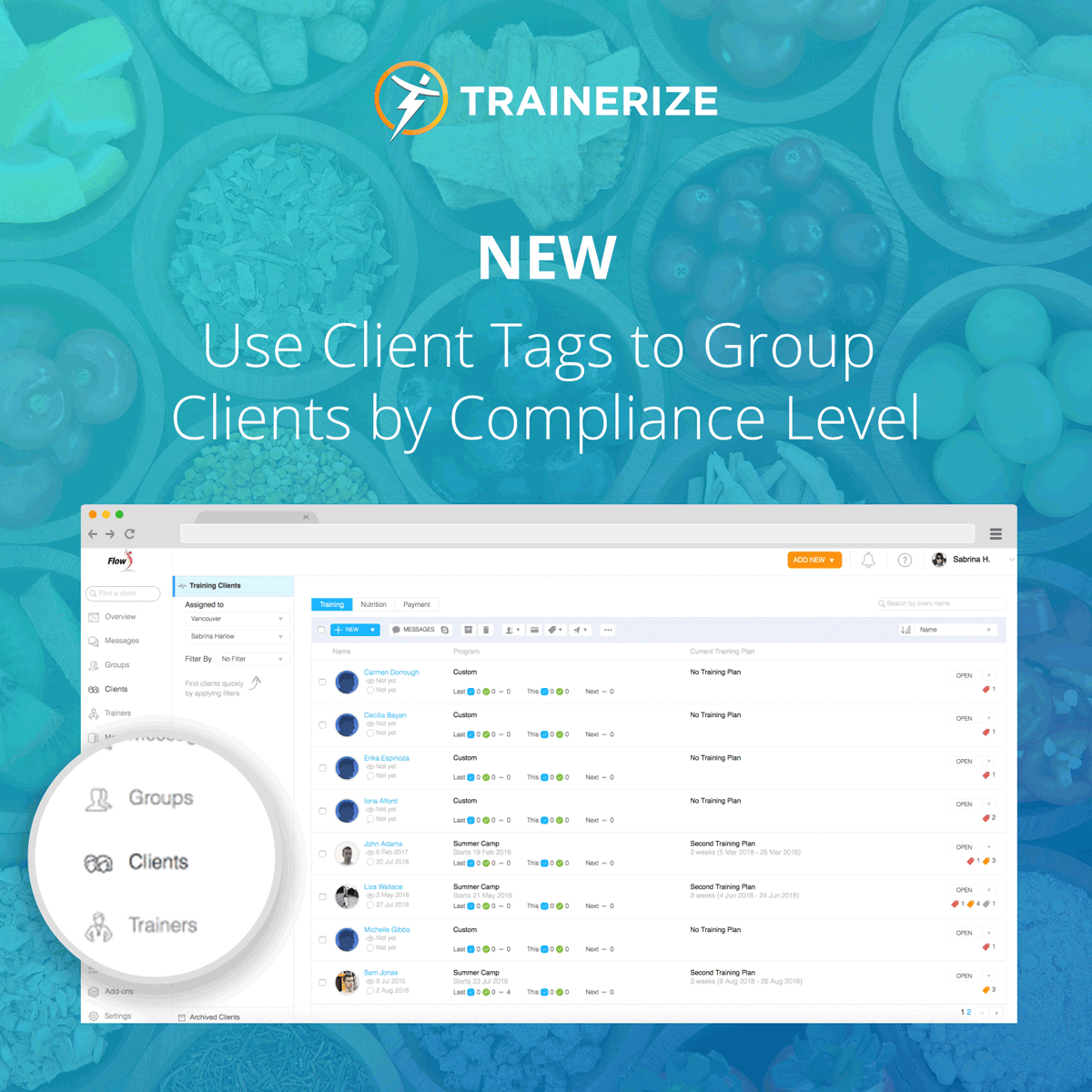 Based on those tags, you can make adjustments to your clients' nutrition goals, offer extra support, or ramp things up to give them an extra challenge.
TZ TIP: To easily message multiple clients with the same compliance tag, head into the client tab then select the tag you're looking for, select all the clients and click "Messages" to congratulate the group or give them a little push.
Deliver powerful nutrition coaching and personal training with Trainerize. 
Start your free 30-day trial today