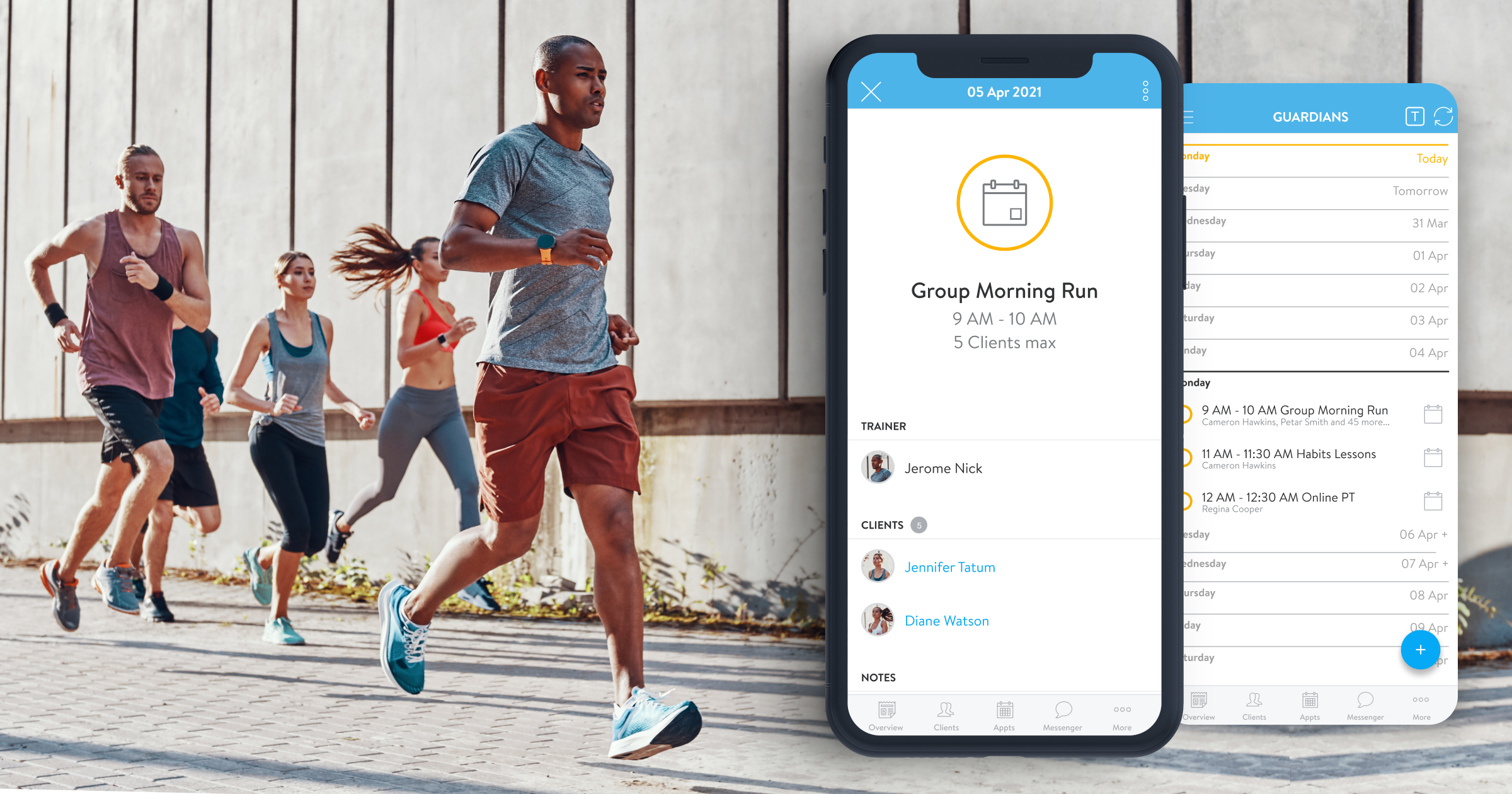 Whether it's in-person or online, you love training with clients 1-on-1, face-to-face. After all, it's what you do best. 
Plus, compared to large fitness classes, clients stay more accountable to their fitness journey when training with you 1-on-1. Why? Because they love the personalized workouts, advice, and motivation.
Now imagine, what if you could share a similar experience of a 1-on-1 personal training session, but to more people?
With Group Appointments now here, say hello to small group training! It's the sweet spot of a community-oriented fitness class without compromising on the quality of a personal training session.  
Why you and your clients will love training as a group
Whether you offer a marathon training, women's only, or HIIT performance group training program, there are many benefits to training as a small group of up to 6 or 8 clients. Luckily for you, we've listed some of the key benefits for both you and your clients right here!
More affordable – While most people would love the opportunity to get 1-on-1 face time with you—and you only—sometimes the cost of a personal training session could be a barrier. With small group training, the cost of training with you is shared between a few more people, making it much more affordable. 
Semi-private training experience – Clients will love getting an experience similar to 1-on-1 personal training with you. As a trainer, you have the opportunity to still provide personalized workouts, instruction, corrections, supervise movements and answer questions—only now in a group setting! 
Community-oriented and greater accountability – As clients train together each week, they will naturally bond more easily and feel a greater sense of community. Plus, the extra faces also help hold a client more accountable to the program. They'll likely feel more compelled to train and show up knowing the rest of the group will be there. 
Stronger relationships with clients – As a coach, small group training will let you bond and build a stronger relationship with more clients, especially those who wouldn't be able to train with you otherwise. 
More revenue with less time – Lastly, you can easily scale your business and profits with small group training. Now you can train more clients in the same amount of time as you would with someone 1-on-1.  
TZ Tip: We know how exciting small group training can be, but just a friendly reminder to first review your local COVID protocols around group fitness activities and ensure proper social distancing measures are followed. 
Now, let's take a look at what's new and how you can schedule your first small group training session via Group Appointments! 
Say hello to group appointments!
Already enjoying our Appointments feature? Amazing! You'll find it will be easy to set up your group appointment as it's essentially a similar process to 1-on-1 appointments. Except now you can create an appointment with up to 49 clients! 
If you're brand new to our Appointments feature, we promise it's simple and you'll be ready to start training clients as a group in no time! For a more detailed guide to setting up your group appointments, visit our help article.  
Note: You might be wondering, will you be able to train as a group virtually? At the moment, we're still working hard on our group video call appointment feature, making sure it's perfect by the time it's in your hands. So, know that it's coming very, very soon!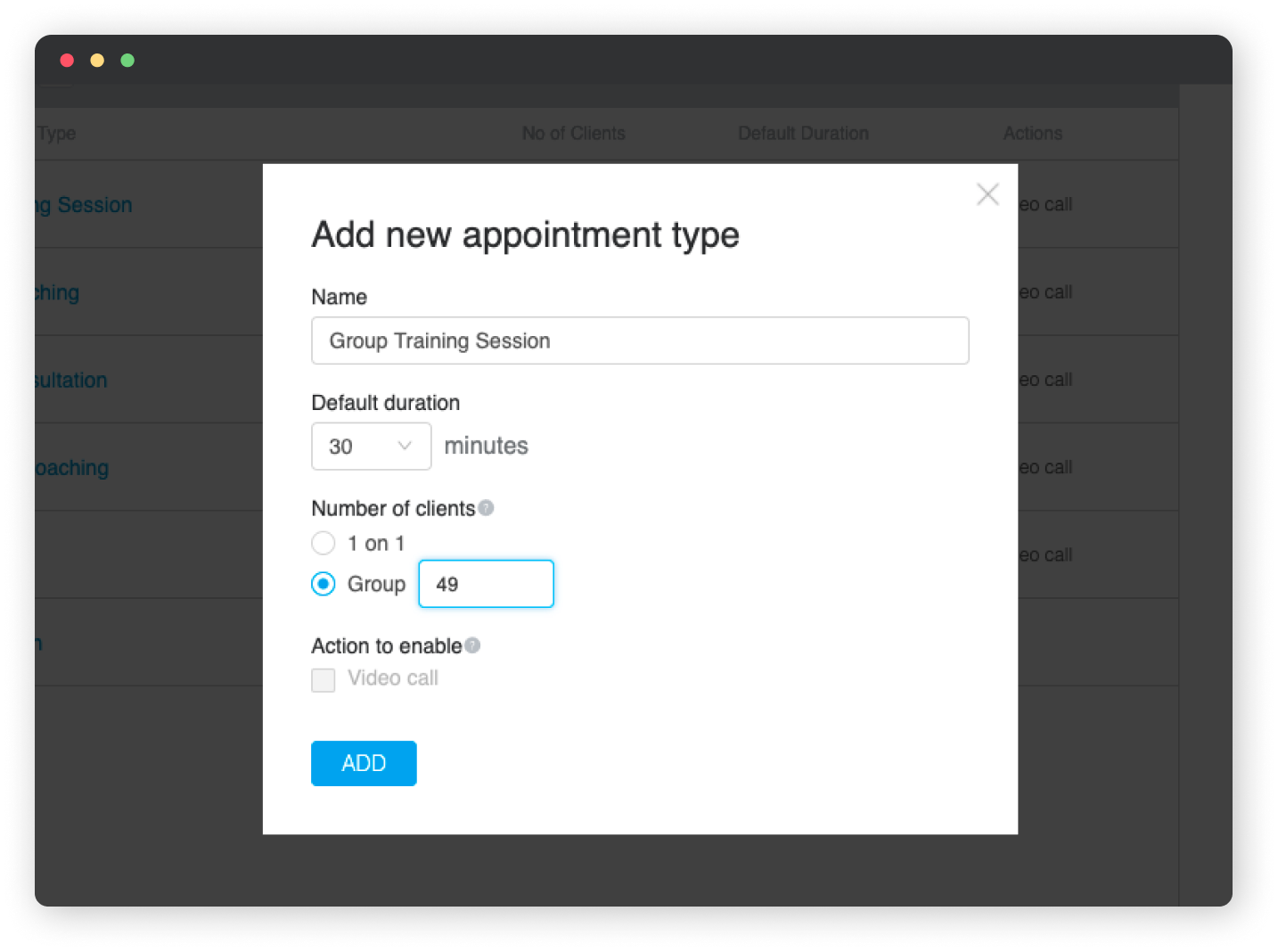 Scheduling clients in for group training is a breeze 
After you've created your group appointment type, it's time to schedule your clients in! Head over to the Appointments tab, click the "New" button or on the date you wish to schedule in the appointment. 
Here you'll be able to select your group training session, select the date, and set a repeat option if your small group training session will run each week. Last but not least, select the clients you want to add to this appointment and add in some notes! 
Once you're done, the appointment will now be scheduled into each of those clients' calendars and you'll soon be ready to kick off your first group training session!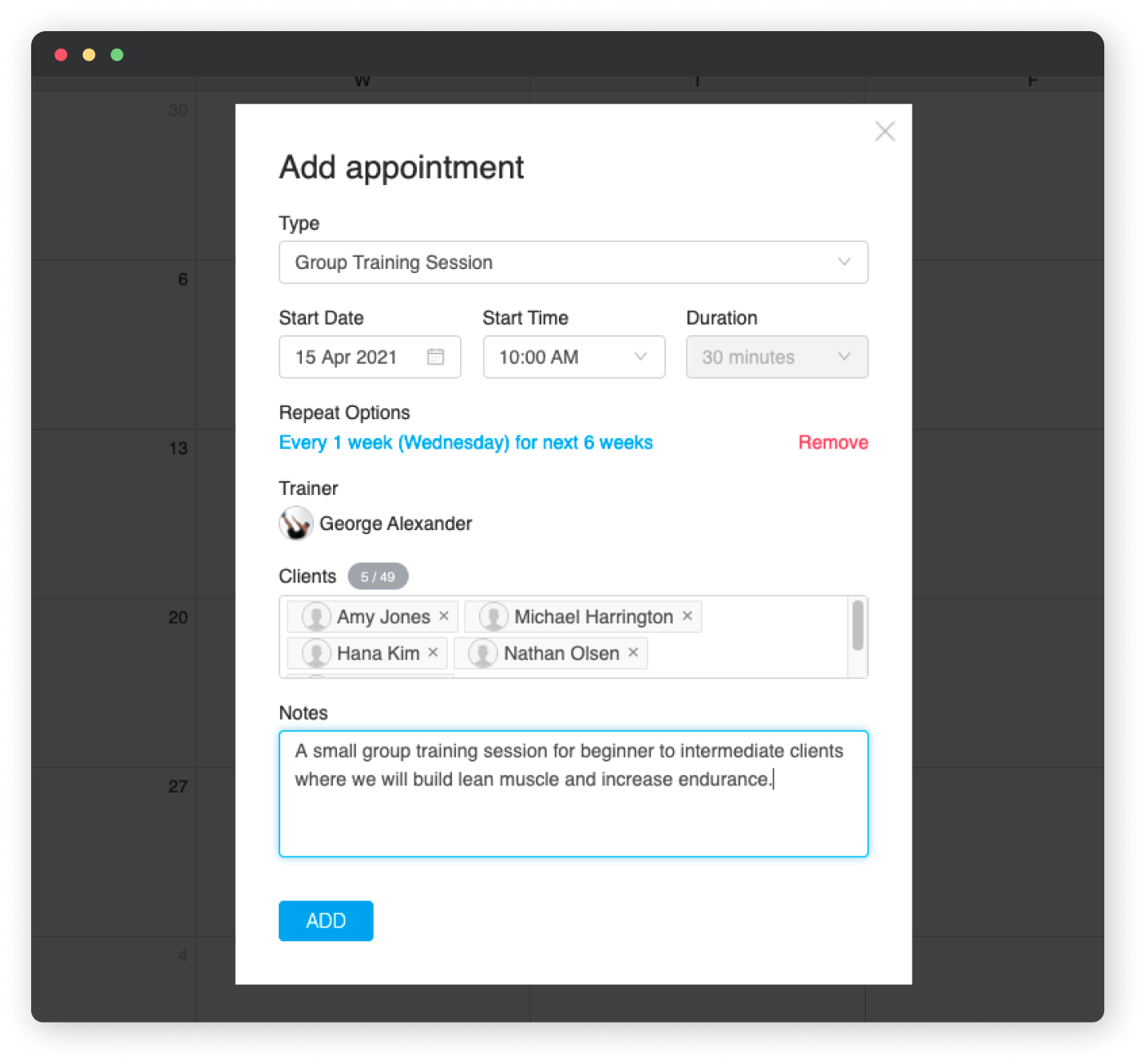 Easily view details of the scheduled appointment 
After you've scheduled in your group training session, you can easily see details of the appointment. First, by hovering over the appointment in the calendar view. And second, by clicking into the appointment. 
Upon hover, you'll see the title of your appointment, which is the name of the appointment type when you first created it. You will also see a list of the names of the clients scheduled for the appointment.
Note: Clients will see similar details, but won't be able to see the names of other clients in their appointments.
Once you click into the appointment, you can see your notes and easily search for clients. Plus, you'll be able to directly access a client's summary page by tapping on the client's name!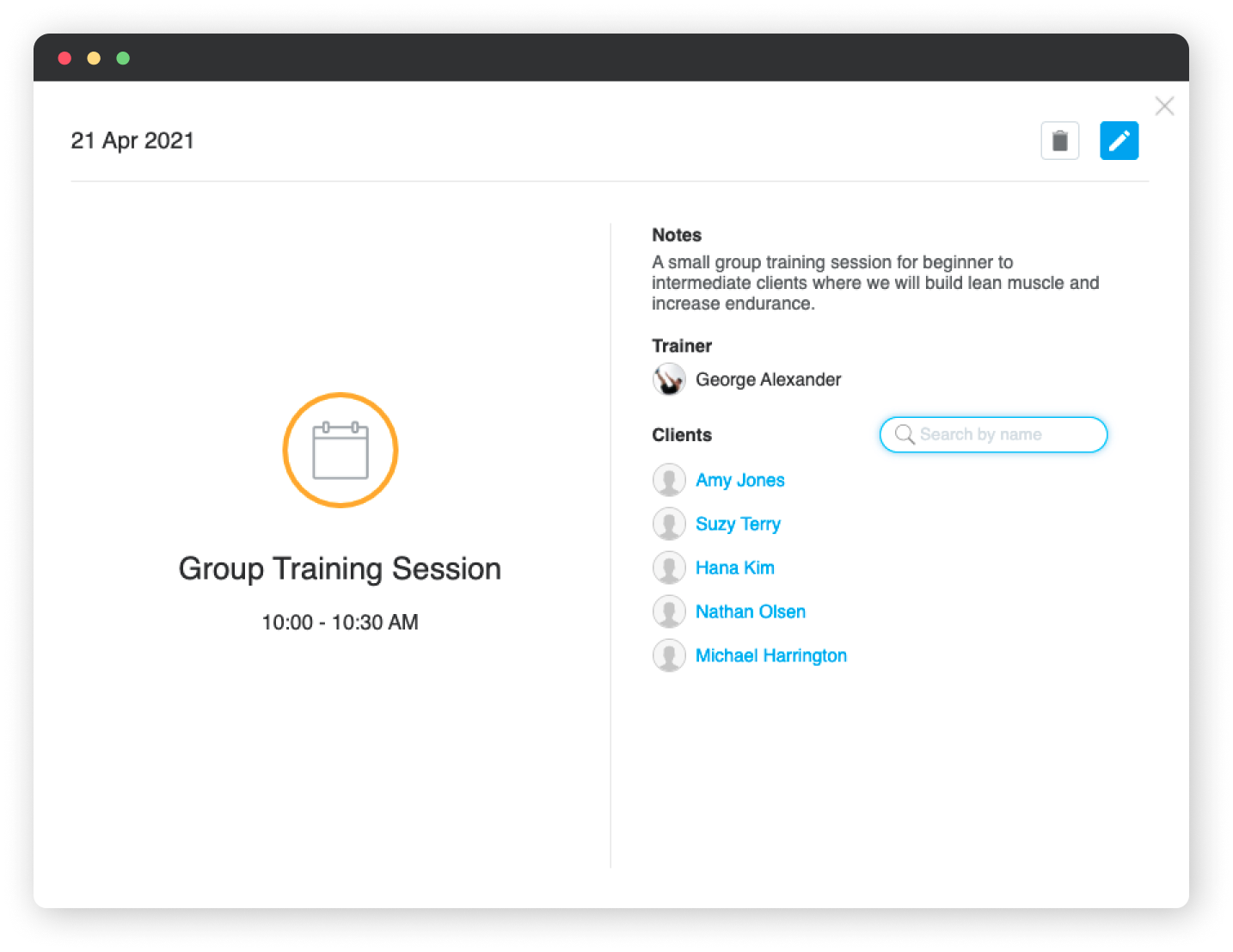 What's coming next?
We're excited to share that we'll be taking Group Appointments up a notch, with a video call feature! So stay tuned for more details to come shortly! 
As you know, we're always listening to you—our amazing #TZtrainers. We love using your ideas and feedback to help make Trainerize the best app possible for your fitness business.   
Tell us more about your experience using Trainerize and let us know what new features you'd like to see in the future. Submit an idea or vote for your favorites in our ideas forum!