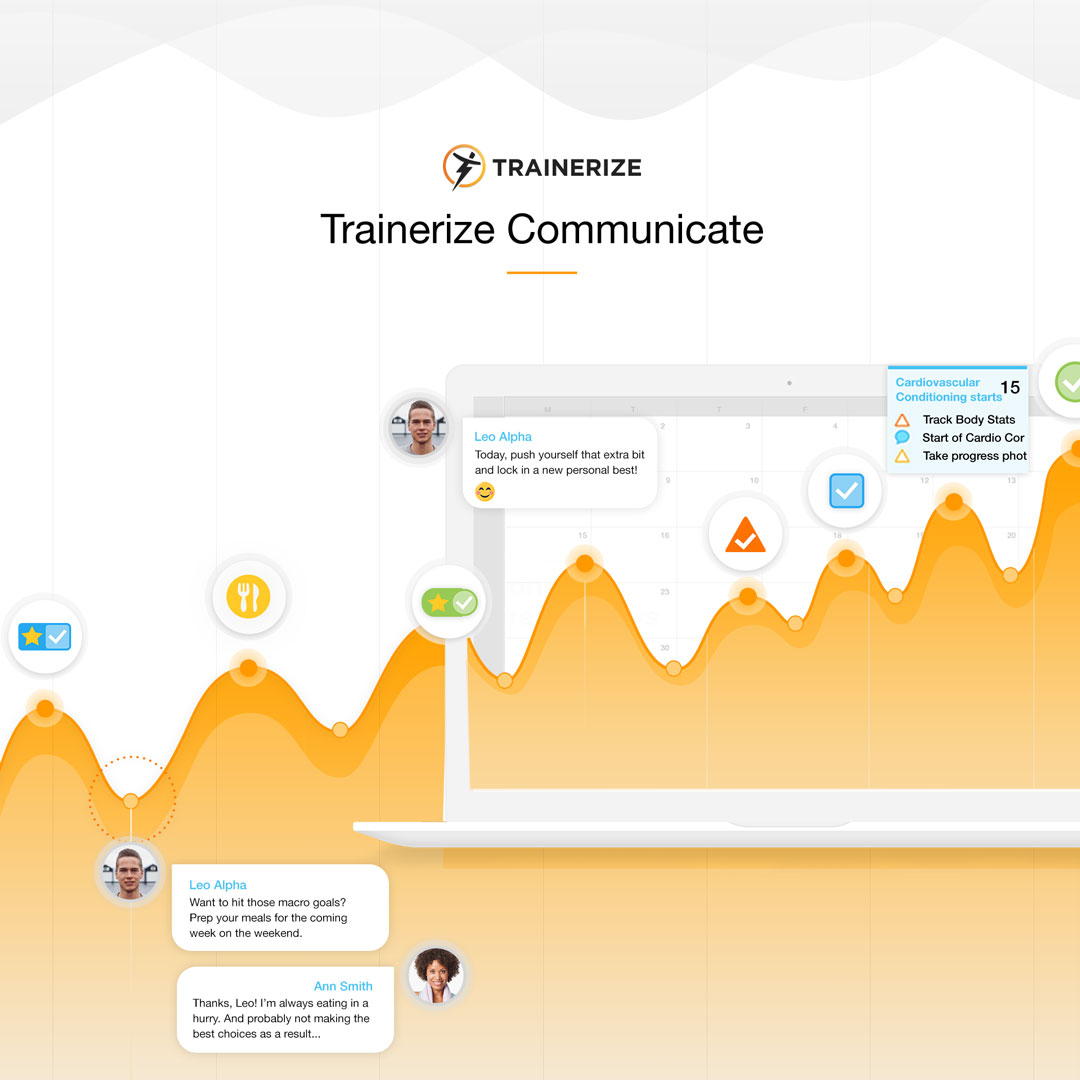 Getting clients to achieve their fitness goals takes a lot of hard work. Let's face it, sometimes even getting them to show up for a workout can take a lot of hard work.
But that's why personal trainers and the guidance and support they provide are so valuable. What fitness professionals bring to the table goes well beyond the fundamentals of working out. It's their special sauce of inspiration, hype, and unyielding positivity that keeps clients showing up, working hard, and coming back for more.
What fitness professionals deliver is absolutely pure gold. And with Trainerize Communicate, we've found a way for you to bottle that motivation magic and share it with all your clients.
What is Trainerize Communicate?
Trainerize Communicate isn't just one single feature, it's a collection of features, each giving you a powerful way to connect with your clients.
It all started with the launch of our messenger, which made it possible for clients and trainers to connect in-app, where all their training was already happening!
Next, we got a little social by introducing Trainerize Groups. This allowed trainers to connect with more than one client at the same time and turned chat groups into online fitness communities where social motivation flourished.
After that, things got a little busy with trainer accounts buzzing with activity and messages, so we introduced Trainerize Feed: an at-a-glance stream of all client and business activity that allows fitness professionals to keep a finger on the pulse of their business.
Today, we're adding another feature to the Trainerize Communicate roster: Auto Messages.
Auto Messages: Instant Motivation for Your Clients
Auto Messages are custom in-app messages scheduled into a master or custom program that deliver an instant dose of major motivation straight into the palm of your client's hand—exactly when they need it most.
Remind forgetful clients about upcoming workouts. Help nutrition-challenged clients hit their calorie and macro goals with tips on how to better plan their meals. Teach clients how to turn healthy actions into healthy habits to make fitness a lifelong pursuit. Whatever you choose to say, say it with auto messages and turn what was once just "personal training" into a high-energy, can't stop/won't stop fitness experience.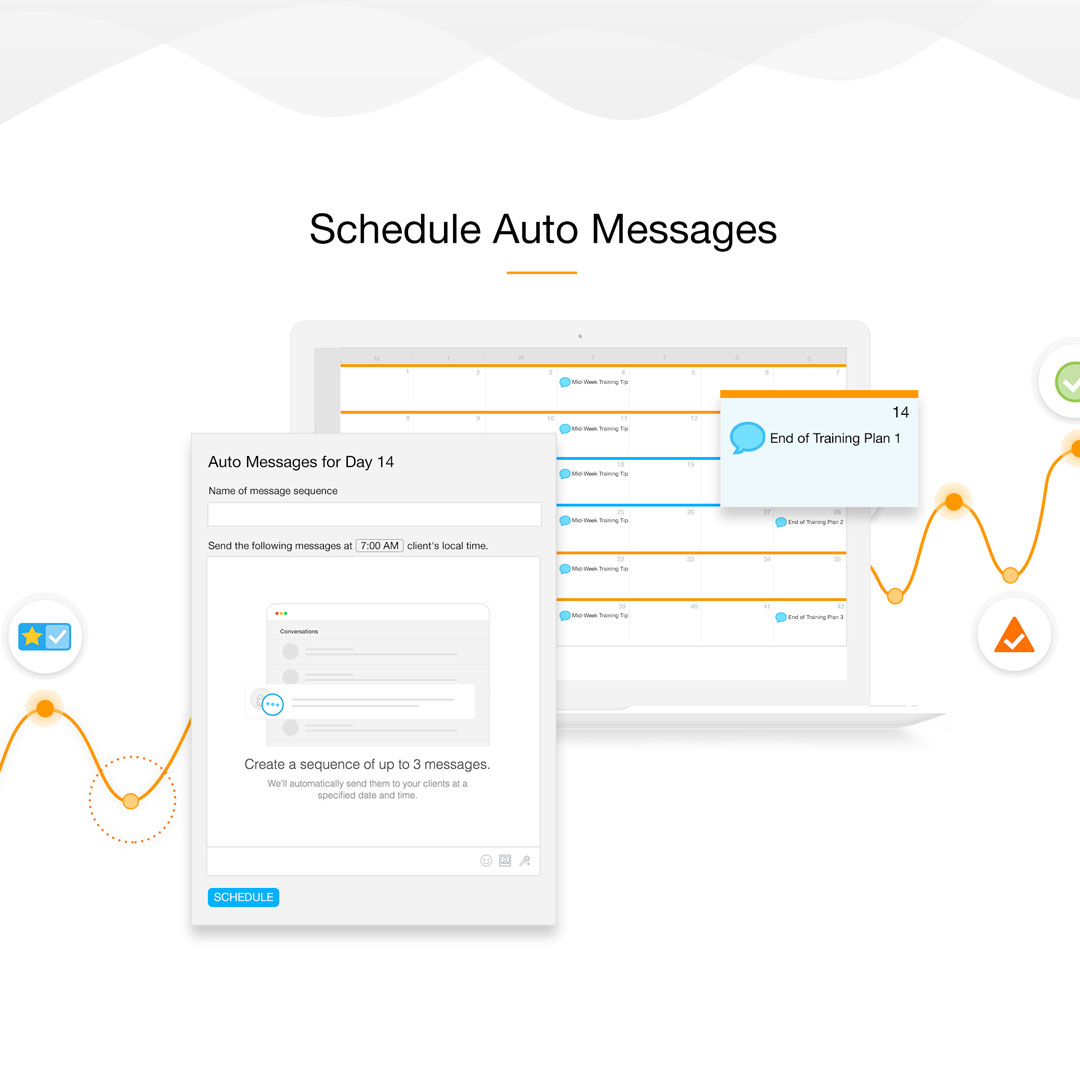 Make the Most of Auto Messages
Get Clients to Show Up
"The only bad workout is the one you didn't do." Talk about a truth bomb.
Achieving success and helping your clients hit their goals all starts with one thing: getting your clients to show up and put in the work. To prevent clients from running low on motivation, schedule auto-messages at regular intervals or at key "drop-off" times like around holidays or on weekends encouraging them to stay focused on their goals and get those workouts in.
Make it a Lifestyle, Not a Fad
Once you've got your clients showing up and logging workouts, you can start to focus on strengthening their commitment to a healthy lifestyle. Schedule auto messages that follow them throughout their fitness journey, offering timely and relevant information at each stage of their training.
Share inspirational quotes, offer tips and advice, guide them into a new phase of their training, or teach them about the benefits of specific habits or choices. The possibilities are limitless, but by bringing together the power of programs and the priceless gifts of mentorship and motivation, you can create complete fitness journeys that keep your clients invested in their fitness and training with you.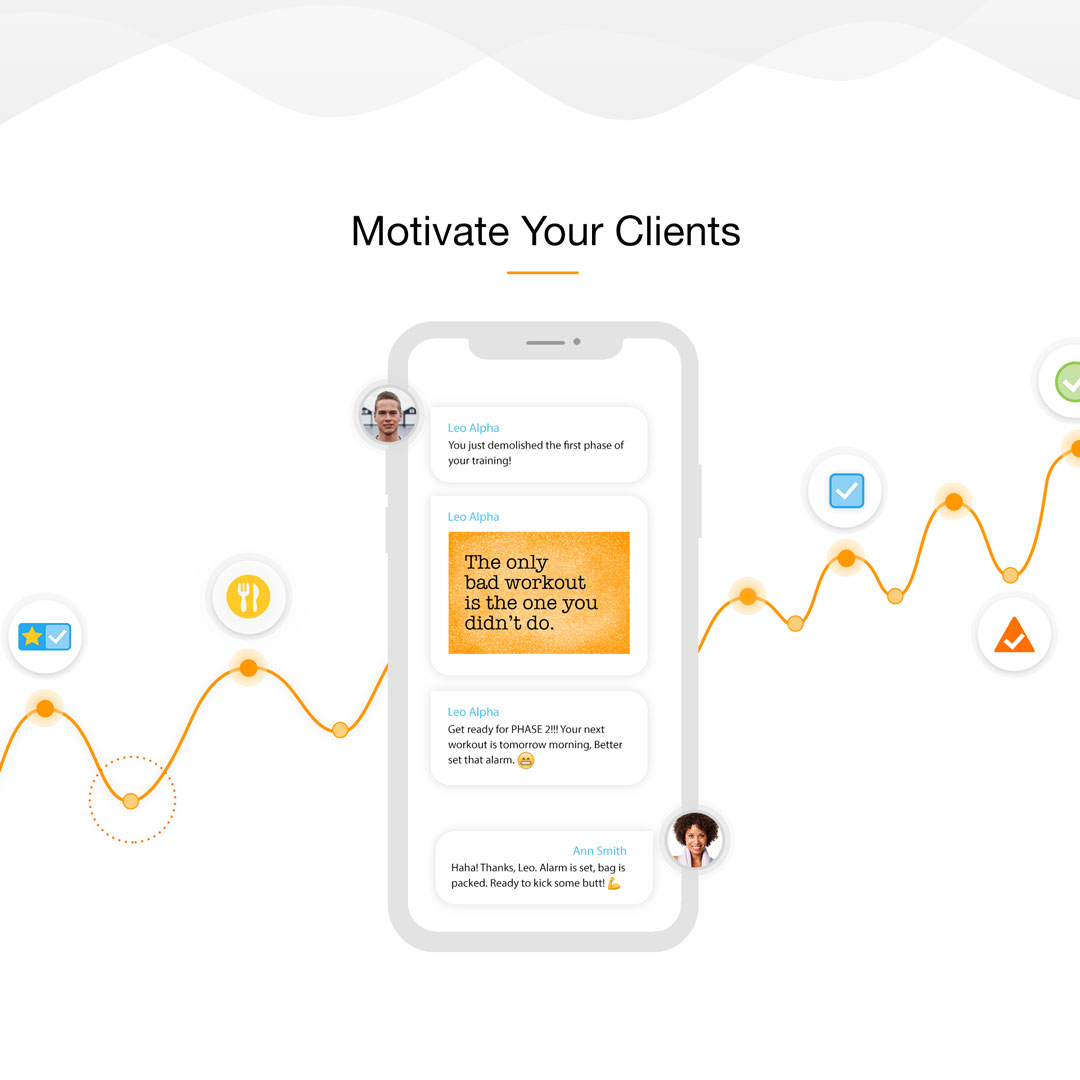 Turn Leads into Clients
Give potential clients a taste of healthy living and capitalize on their fresh energy by building them a free trial program, complete with workouts, cardio sessions, progress checks, and auto-messages.
From day 1, offer them inspirational auto messages to keep their confidence high, or tell them about the benefits they'll experience by training with you. As the trials draw to an end, promote packages or deals to turn those leads into paying clients. By messaging them throughout their trial, you'll be building a relationship with them, increasing your chances of converting them to a paying client.
How to Schedule Auto Messages?
You can quickly schedule Auto Messages from an individual client calendar, or from the "Calendar" tab inside a program. Click on any day on your calendar and you will see a menu pop up that allows you to schedule workouts, body stats, photo reminders, and now auto messages. Select "Auto Message" and type up a sequence of 3 messages to send as in app messages at a given time. Watch the video and see how to set up Auto Messages in Trainerize.
BONUS FEATURE: Email Automation
Also new is email automation: the perfect mate to auto messages. Using the powerful Zapier add-on for Trainerize, you can build automated email journeys for all your clients, following them throughout their training and customer lifecycles so you can stay connected to them every step of the way.
Automatically enroll your active Trainerize clients into email journeys or workflows built in MailChimp or AWeber and complement your auto messages by delivering timely, relevant content that straight to their inboxes. Trigger their enrolment as soon as they create their client account, at the start of a new training product, or the moment they purchase a product from you using Trainerize Pay.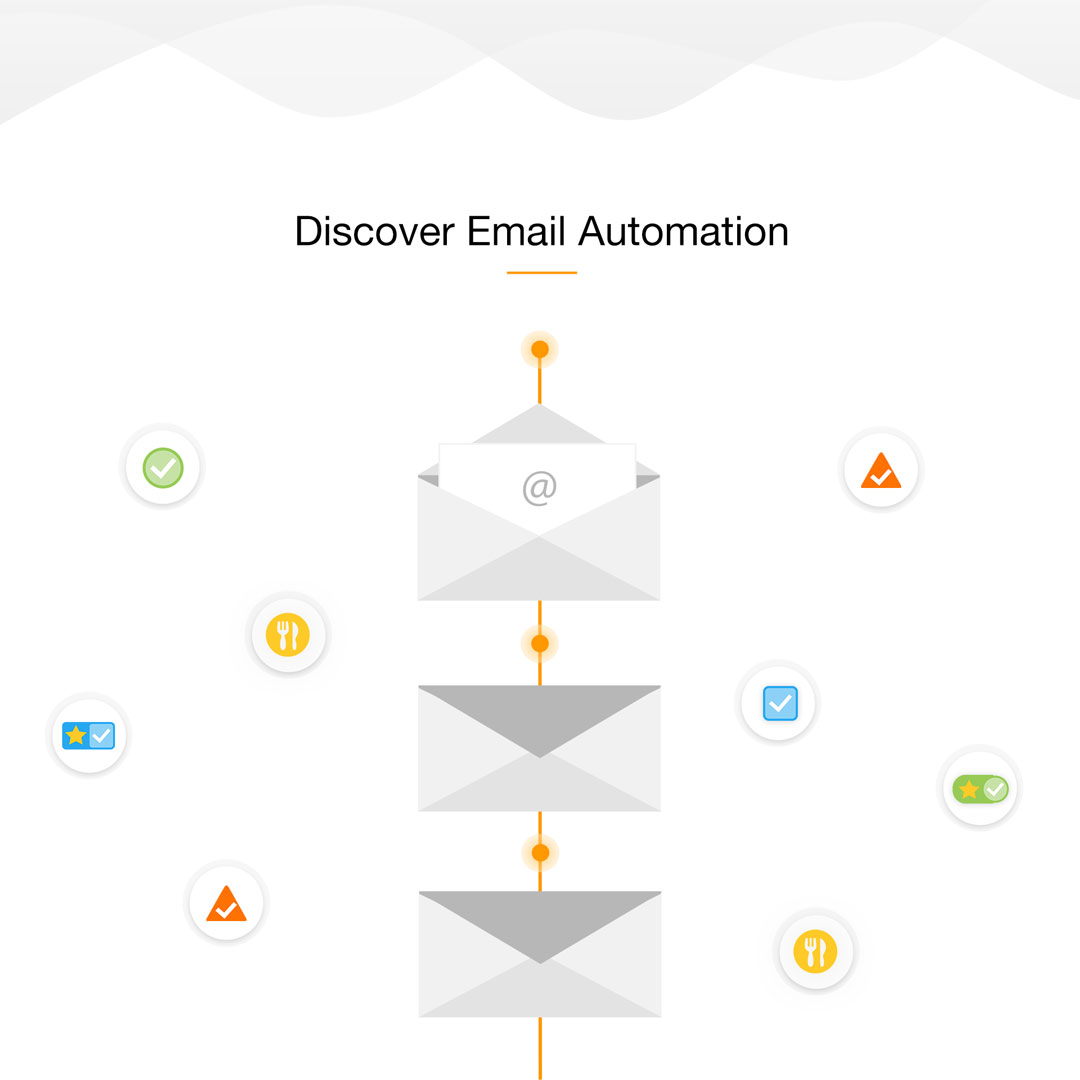 Start Communicating
Getting clients to commit to their fitness, show up, and put in the work isn't always easy, but it doesn't have to be so hard. By adding auto messages and email journeys to the way you already train, you can win your clients' hearts, inspire action, motivate change, and support them on their path to fitness—every step of the way. That's the power of Trainerize Communicate. That's the power of personal trainers, like you.
Train and Motivate Your Clients with Auto-Messages in Trainerize.

Start your free 30-day trial!