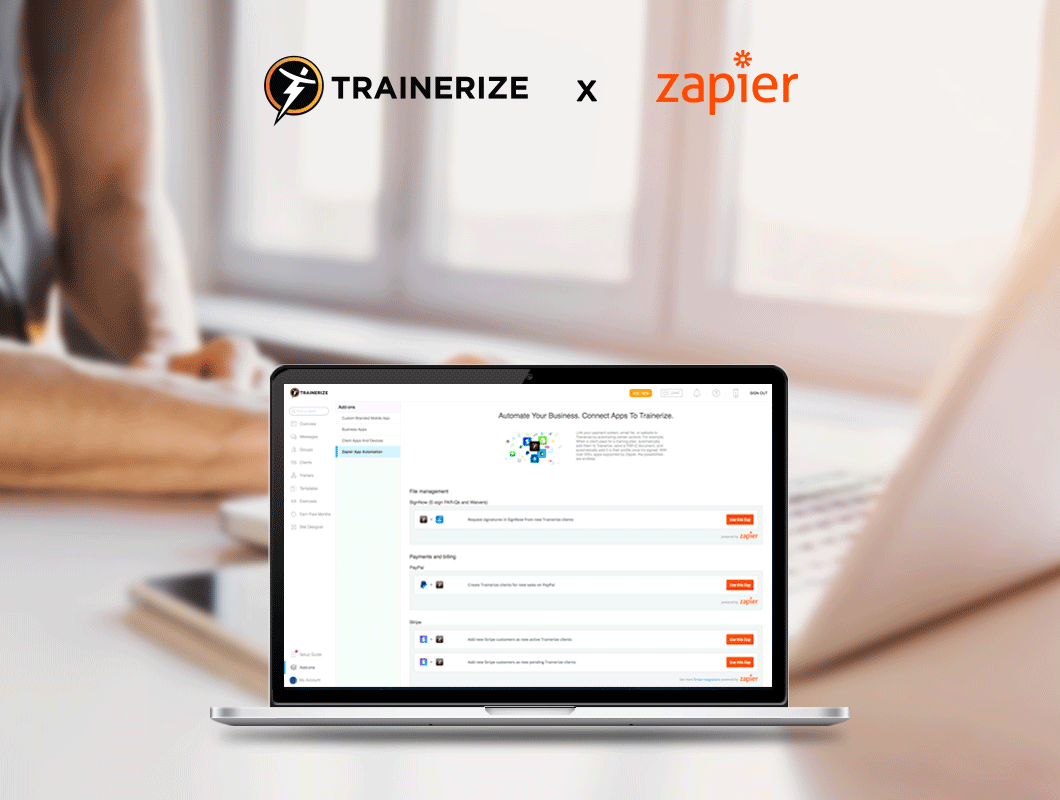 Picture this: you've just added a new online client and are ready to help them smash all their fitness goals. Now's when the real work begins, but not just in the gym. Between setting up client profiles, getting contracts signed, building workouts, and staying connected to your clients, running an online personal training business requires some A-level organization.
But what if you didn't have to do all of that admin work manually? No, we don't have a magic wand to give you, but there is a productivity hack so amazing you might think it's magic.
Zap Your Way to Increased Productivity
Meet Zapier, an online tool that connects your favorite apps and lets you build automated workflows (known as Zaps) quickly and easily. With more than 750 connected apps to choose from, Zaps are a great way to automate your business, saving you time and cutting the everyday busywork out of your business. Pick your apps, set a trigger, tell it what you want it to do, and voilà! You just zapped your way to increased productivity without even breaking a sweat.
To help you hack your way to increased productivity, we've put together a list of Zaps to get you started.
The Top 3 Zaps Every Trainer Should Use
1.

 Hit the Ground Running: Automatically Add Clients to Trainerize and Assign Both Training Plans and Meal Plans

As a busy trainer, networking and marketing your services almost 24/7/365, you're constantly finding new and potential clients. And whether you connect with them online or in-person, an important step before you can start training them is setting up their client profile.

While there are lots of ways to collect and manage client contact information, many trainers find spreadsheets or online forms the most convenient. And with Zapier, you can automatically turn those spreadsheet entries and form submissions into new clients in Trainerize, cutting out all the tedious manual data entry.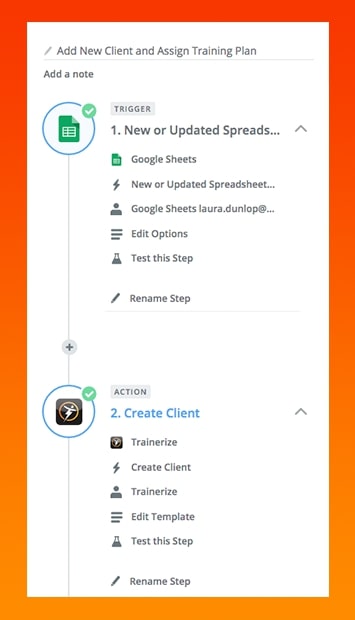 At the same that you add a new client to Trainerize, you can also use Zapier to instantly assign both a training plan and meal plan to them by copying plans from another pre-existing client.
Pro-tip: use this zap to nurture leads and sign them up for a free trial
A great way to nurture a lead is to offer them a free trial of your services. You can do this quickly and easily by setting up a Zap that automatically adds a new client to Trainerize whenever a new row is added to a Google sheet.
If you collect lead information using Google forms, you can also set up this Zap to run whenever a potential client submits their details.
2.

Welcome Clients to Trainerize with Automated Welcome Emails

It's no secret that building a positive client-trainer relationship plays a critical role in client retention and building your reputation. That's why welcome emails are so important. But trying to remember to send them out whenever new clients sign up can be a challenge, especially as your number of clients continues to grow.

Use Zapier to link Trainerize to your preferred email client so that every time a new client is added to Trainerize, they are immediately sent a pre-written welcome email.
3.

Take Care of the Paperwork

At the same time that you send an automated welcome email, why not also take care of the new client paperwork.

Connect Trainerize to SignNow to immediately send out and collect electronic signatures for Physical Activity Readiness Questionnaires (PAR-Qs) and other waivers whenever a new client is added to Trainerize.
Zapier Really Does Make You Happier
It's easy to see how these three Zaps can save you time and boost your productivity, but this is just the beginning. With hundreds of connected apps, the possibilities are endless and next-level productivity is just a few clicks away.
If you haven't already taken advantage of the time-saving and efficiency-boosting power of zaps, it's time to start. See more zaps…
Take your Fitness Business to the next level.
Start your free 30-day trial of Trainerize.