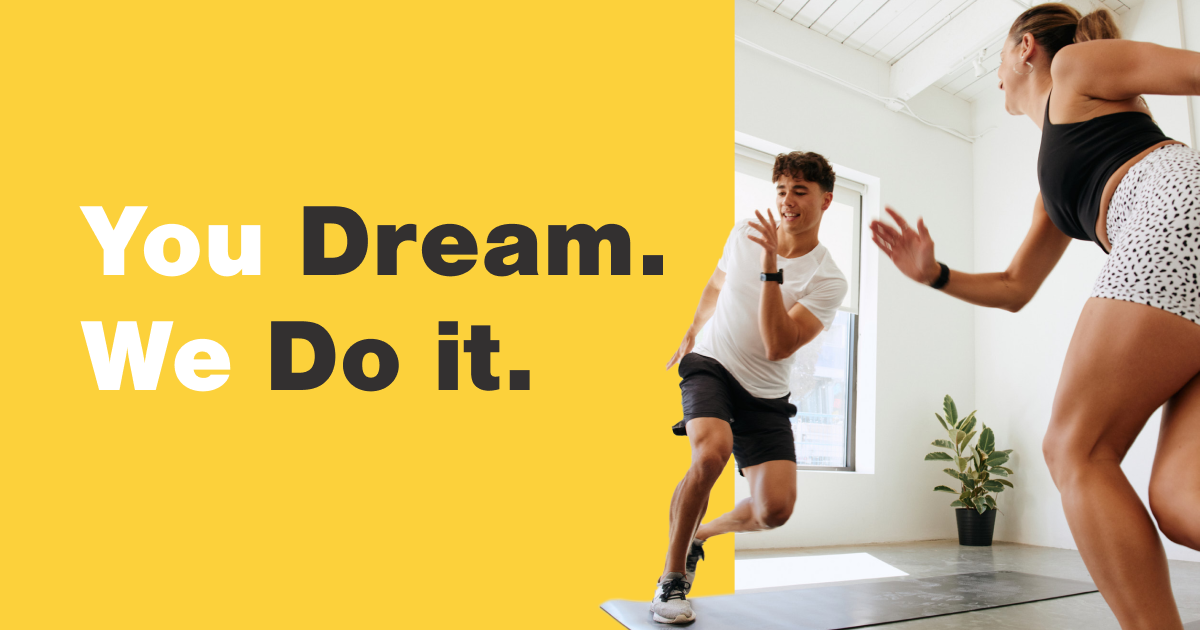 As we get closer to unveiling some exciting news and changes at ABC Trainerize, it only felt right to take a trip down memory lane to reflect on the past before welcoming a new era of transformation and innovation as an ABC Fitness platform. 
We recently shared our company journey over the years as an opportunity to reflect and celebrate how much we've evolved over the years. But that wasn't enough. If there's one thing you need to know about us, it's that being obsessed with our customers and our coaches around the world, is so engrained in our DNA. That's why we want to dedicate this post entirely to our incredible coaches and fitness entrepreneurs and look back on how we've all built up our businesses together over the years.
 
You Dream. We Do It.
For many of our coaches and studio/gym owners today, and especially back in the early days (before online personal training was even possible), the ability to run a successful coaching business online started off as a dream. When our customers eventually found us, we worked together to help turn their biggest dreams into seamless realities.  
Having more freedom and building an online coaching business from scratch
Perhaps they were exhausted from the grind of being a personal trainer in a gym and saw the rise of fit influencers across YouTube and Instagram like Kayla Itsines, Whitney Simmons, and Mike Thurston and were inspired to coach online. They dreamt of having their own coaching app one day and of building their own online business, one that gave them more time back and enabled them to coach and earn more than ever before. 
For Michelle Roots of Core Conditioning who's been a long-time user of ABC Trainerize, she too appreciates the freedom she's found by taking her business online. She says, "I don't have to work 12 hours a day anymore. When you're first starting out, you're trading your time for money. Whereas now you get a little more freedom."  
Check out the video below on how she's built a successful fitness brand both online and in-person and what advice she might have for new trainers starting out in the online fitness space. 
The pandemic and ABC Trainerize helped Garage Gym built a hybrid approach to coaching 
For others who owned a physical gym like Casey at Garage Gym, they were forced to adapt quickly when the COVID-19 pandemic hit in 2020. He realized their existing software couldn't provide the online training his clients needed and quickly turned to ABC Trainerize to take his coaching online.   
"We had a two-week window to switch everything over and get up and running. Luckily, with our old app we had started creating a lot of content and videos through YouTube, so we uploaded everything into ABC Trainerize, and from there we began building the programs for this 30-day challenge we wanted to issue to engage all of our members from home," says Casey. 
With ABC Trainerize, Garage Gym was able to continue running their coaching business and came out of the pandemic with a hybrid approach to coaching. Today they continue to thrive in both in-person and online
 
Tri-Core Wellness and ABC Trainerize: Stronger Together and Excitement for the Future 
Over the years, we've also built strong relationships with some of our customers like Chris Edwards who owns Tri-Core Wellness. Tri-Core Wellness specializes in online wellness services for individuals, employee wellness and business solutions and offers a variety of personalized, professional services from fitness, nutrition to physical therapy.  
The team at Tri-Core Wellness has been supporting our ABC Trainerize community as much as we've helped them scale their business. Not only have they been incredibly helpful in helping us shape our roadmap, providing feedback on existing and requested features, but Chris has helped many other fit entrepreneurs discover the power of ABC Trainerize by sharing his own story with our community.  
"I immediately fell in love with the platform," says Chris. "Through ABC Trainerize, I learned how to scale my business, and used the platform to take on more clients while still providing personalized services." Discover how ABC Trainerize has helped him and Tri-Core Wellness scale and grow over the years.  
Tri-Core Wellness Shares Love and Excitement for where ABC Trainerize is Headed 
As fundamental partners in our growth we invited the Tri-Core Wellness team: Chris Edwards, Owner and Managing Director, and Rob Yontz, COO, to share a little bit of what they love the most about ABC Trainerize and some exciting things they're looking forward to!  
We can't wait to continue on this journey with you and introduce you to the many opportunities that lie ahead with ABC Fitness!