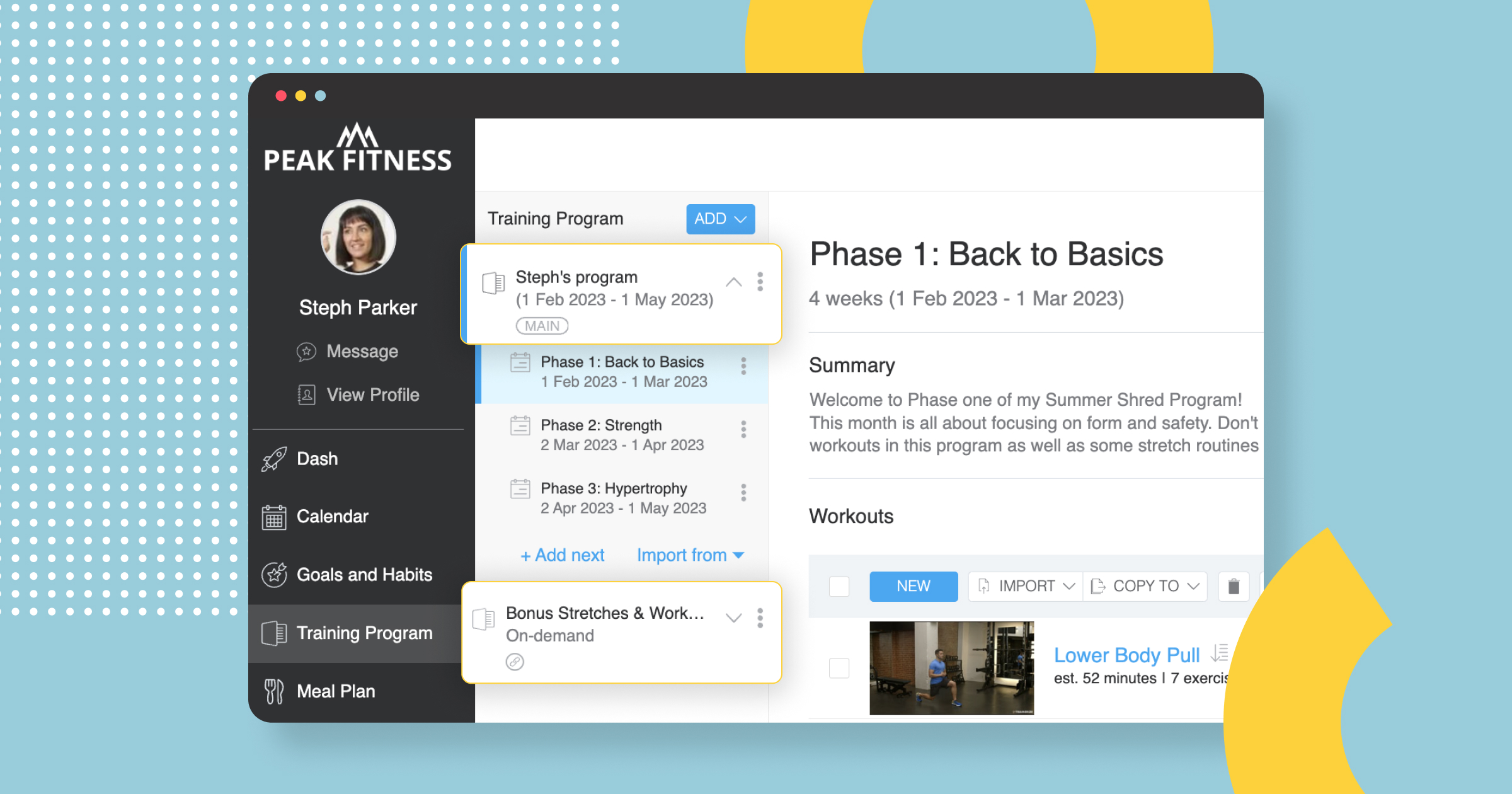 Many personal trainers will have heard the phrase "strength training as the entree, cardio as the side dish". And, depending on the type of services you offer or the type of training style you promote, your "entree" and "side dish(es)" will vary.
Regardless of what dishes you like to serve, here at Trainerize we have options that allow you to offer a variety of programming to your clients. We are all about client engagement—keeping your clients invested in their fitness journeys and connected to their trainer—which means on-demand programs are the perfect tool to help create an amazing digital experience for your clients or members.
Trainerize programs recap
Before we get into some examples of using our on-demand program feature, it's important to understand the two types of programs you can create in Trainerize:
Phased programs: A periodized program with multiple training phases. You can also schedule workouts and auto-messages into the program calendar. This is most likely going to be your "entree" program. 
On-demand programs: A library of workouts that are in no particular order that clients can complete anytime. These programs do not have an end date and are not scheduled by trainers. These are the side dishes that wonderfully complement your phased programs!

Additionally, keep in mind that you can assign multiple programs to clients and those can be a couple of phased programs only, or strictly on-demand, or a combination of both. In this blog, we're focusing on giving you examples of on-demand programs. Here are 3 ways you can start: 
1. Warm up and cool down routines

An effective warm up and cool down is not only essential for the impending workout, but in the long run too. Consistent flexibility and mobility work can help prevent injuries later on. 
Although there are many different variations to a warm up, keep things simple to start! For example, you could share an upper body, lower body and a full body warm up routine. That way your clients can pick and choose the routine that applies to them that day. For example, I like doing a full body warm up because it feels great  and I consider the first set of each exercise with lower weights to be additional "warm up" for that particular exercise anyway. However you choose to warm up or would like your clients to warm up, reflect that in your own library!
Safety and staying injury free during a workout is a pretty universal want and essential to almost anyone on this planet. So it's safe to say you could create an entire on-demand program library dedicated to warming up and cooling down and share it as an add-on program (complimentary or paid) to all of your clients.
2. Daily foam roll, stretch routines & a low impact bodyweight workout

This one may seem similar to the previous example, but there is a key difference here. On a rest day, as opposed to a workout day, these routines will come in handy. Not only are they necessary for some clients, they are also a great way to keep clients engaged and using the app on non-workout days. 
Why client engagement? Why is it such a priority for us at Trainerize — and why should it be a priority for you? Because engagement is a critical, catch-all metric. Client engagement encompasses all the interactions you have with your clients. This includes their habits and activities other than just their workout that day or on days that workouts are not assigned.
Two examples of stretch routines that my clients love are what I call an "Energizing morning stretch" as well as an "Evening wind-down stretch". This is another example of something you can build once and use for years to come with all types of clients. There are always exceptions of course, but most of my clients work behind a computer so they have similar needs. A fun, 5-10 minute stretch that gets the blood flowing is a pretty safe choice for most of them to start their day and so is my evening routine that consists of t-spine and hip stretches as well as other gentle movements to relax. Think about the archetypes of clients you have and create some evergreen routines that can be applied to all of your clients.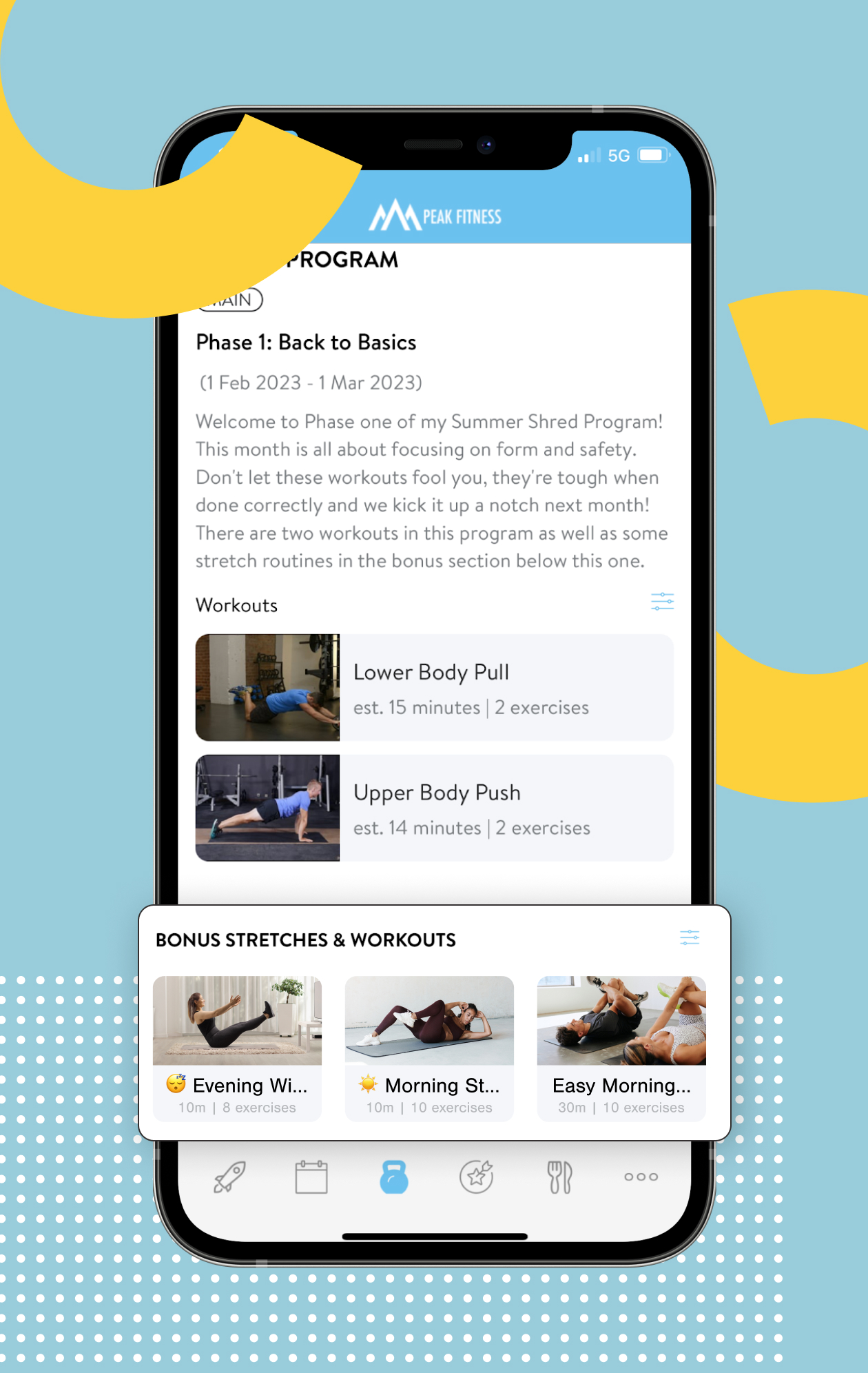 PRO TIP: Use this on-demand program as an alternative option on days that clients miss a workout! Before using Trainerize, if a client of mine missed a workout, I wouldn't see them again until their next session. Fast forward to today, I can impact my clients lives 24 hours a day, seven days a week! Here's how. 
If a client misses a workout, I remind them that: A. it's not the end of the world, life happens! And B. track one of the daily stretches or the bodyweight workout in their on-demand library instead. This way, they're not completely off the hook for that day. Just because their meeting ran late and they can't go to the gym to do a one hour workout, doesn't mean that the entire day is a write off. This keeps my clients accountable and it keeps the momentum going. I find these clients get back on track much faster because they still tracked an activity that day. 
For a lot of my clients, consistency and accountability is much more important than the type of workout they are doing. Once we've mastered that, we move onto something more complex.
3. Sneak peek of other training styles or a new program

We understand that running a business is a ton of work. We strive to make your lives as a business owner easier by providing flexibility within the platform to use it in many different ways. In this example, you're using the on-demand library as a way to offer a "sneak peek" or even a free trial if you will, to current clients. Whether some of your clients are in a rut and need change, or you're running a challenge on the side, create an on-demand library that consists of a couple of new workouts, workout styles or whatever it is that you want to introduce to clients.
For example, where I live there is a 10 km run for charity every year that my local clients and I like to run together. To entice clients to participate in the run, I throw in a few running focused workouts for them to try on their own. If they like it, we talk about perhaps opting in for my running program (that I sell as an add-on).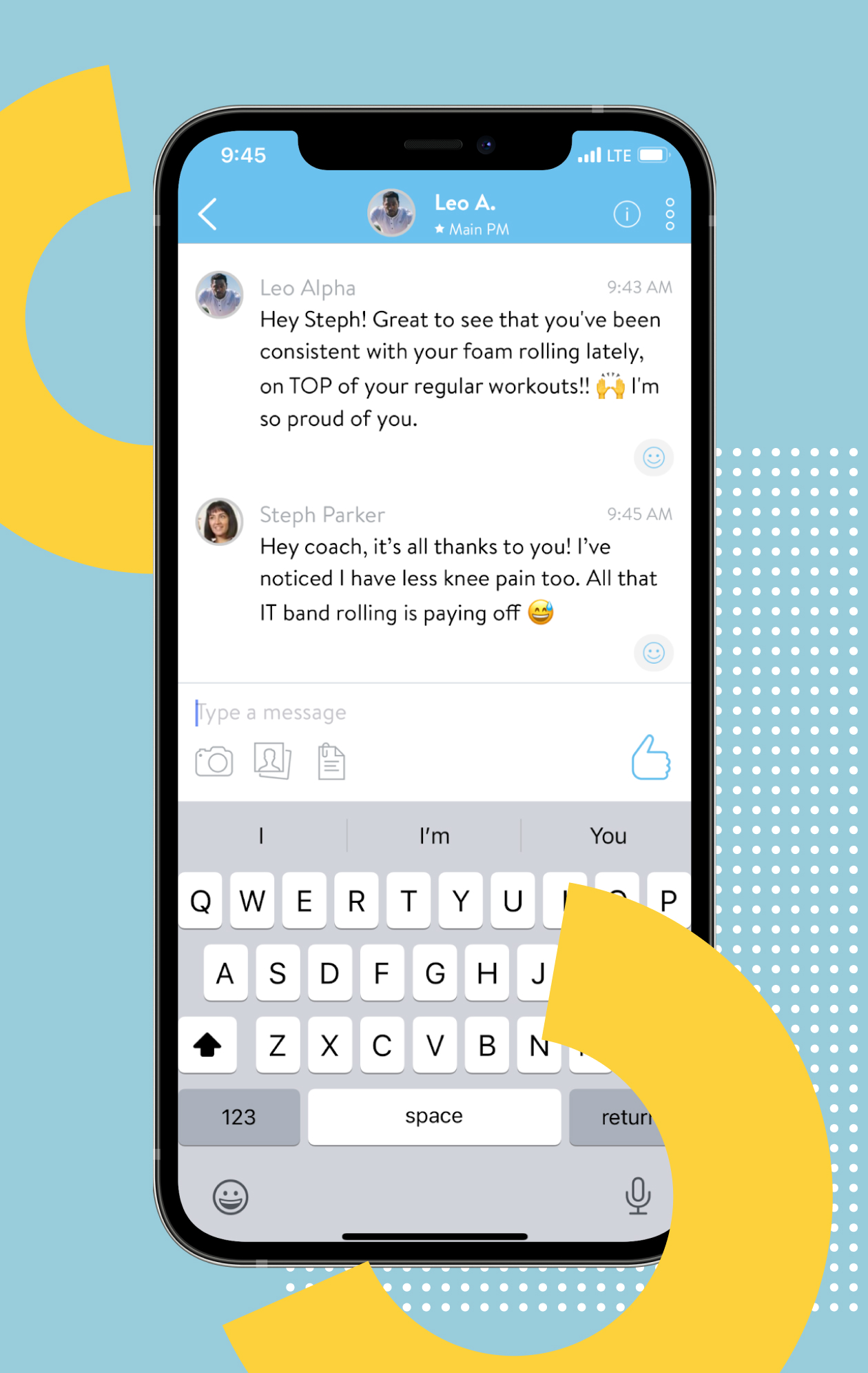 Whether you want to use the on-demand programs to complement your main program or you want to sell on-demand programs as additional add-on products, the possibilities are endless. Regardless of what you choose to do with this feature, the most important thing to remember is to make use of it. Remember, engaged fitness communities are the future of the fitness industry!
With the right tools—like on-demand programs and the right tech—your clients will engage with their fitness (and your business) for days, weeks, and years to come!
At Trainerize, we're the #1 coaching app to better engage your clients. We offer a 30-day FREE trial…and you can sign up today!
Start your free 30-day trial today, and discover everything Trainerize has to offer!