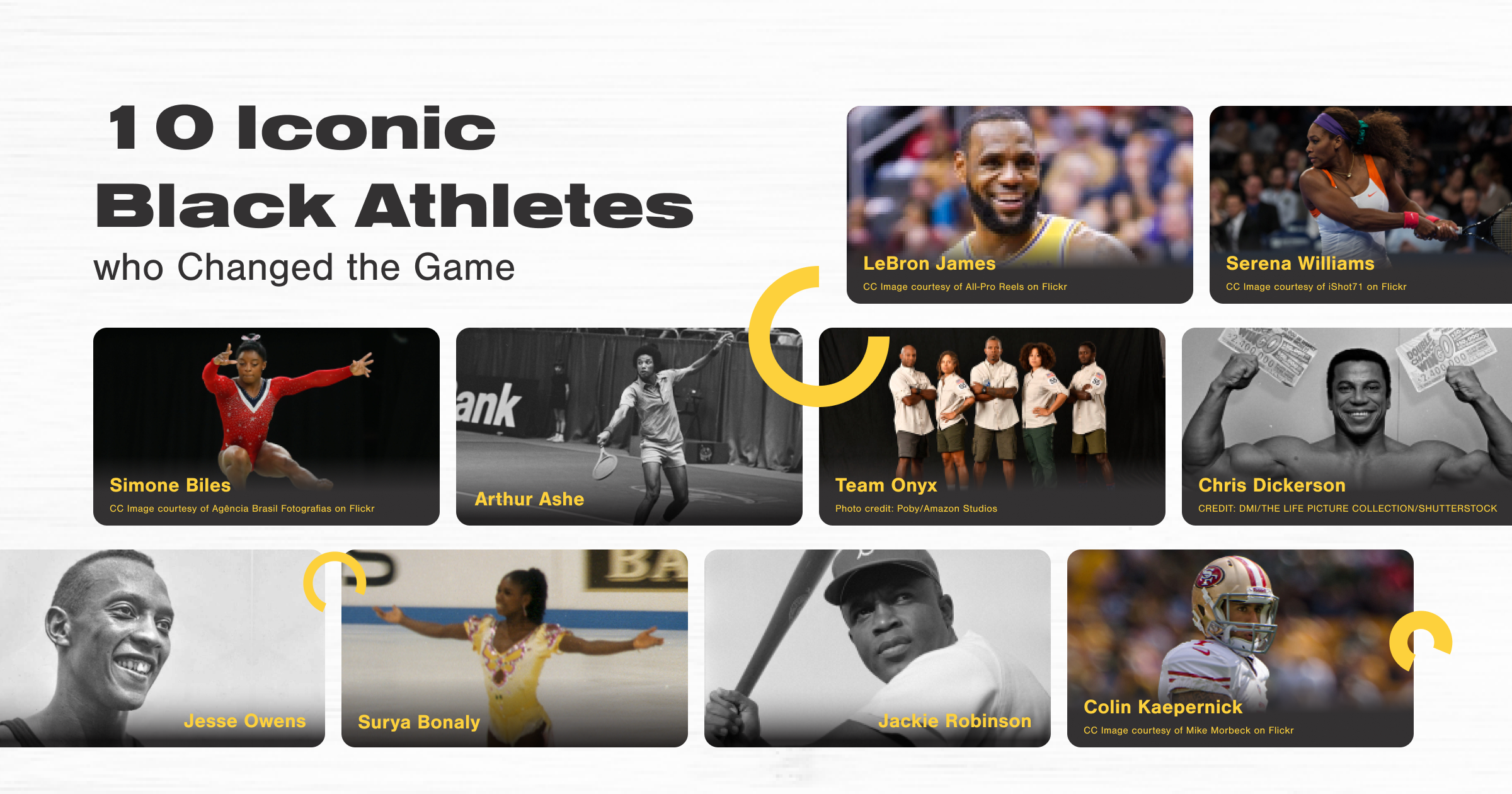 February is Black History Month—an opportunity to honor the enormous contributions that Black individuals and Black communities have made and continue to make to the world.
Today, we're celebrating the achievements of 10 incredible Black athletes. Some of these individuals are pioneers who paved the way, others elevated their sport to new heights, and some used their impressive platforms to call attention to social injustice. All have made a lasting impact and a legacy of positive change.
1. Jesse Owens ✊🏿
Though meant to be a unifying experience that helps to build a peaceful and better world through sport, the Olympic Games have not always been used as such. During the 1936 Berlin Olympics, just 3 years before the start of WWII, Adolf Hitler attempted to use the Games to showcase his abhorrent belief in the supposed superiority of the Aryan race.
In one of the most significant athletic performances of all time, American sprinter Jesse Owens disproved Hitler's racist ideology and became the most successful athlete—of any race—at the Games by winning gold medals in the 100m sprint, the long jump, 200m sprint, and the 4x100m relay. Owens became the first American track and field athlete to win four gold medals at a single Olympic Games.
After the games concluded, back on American soil, Owens was once again met with discrimination when only white Olympians were invited to the White House by President Roosevelt. Owens publicly called out this act of discrimination, though no action was taken until 2016 when President Barack Obama hosted an event for the athletes' families to commemorate their achievements.
2. Jackie Robinson ✊🏿
In a moment that transcended sports and became one of the defining moments in American history, Jackie Robinson signed with the Brooklyn Dodgers in 1945. He made his Major League Debut in 1947, becoming the first African-American to play in the major leagues and breaking the so-called 'color barrier'. That year, Robinson became baseball's first-ever Rookie of the Year and later became NL MVP, a six-time All-Star, and a World Series champion over his 10-year career.
Robinson's number, 42, was permanently retired throughout Major League Baseball, a fitting tribute to a man who ushered in a turning point in the history and the character of the game. In 1987, the Rookie of the Year award was renamed the Jackie Robinson Award.
3. Arthur Ashe ✊🏿
The definition of a barrier-breaker, Arthur Ashe was not only a tennis champion but an activist whose reach extended far beyond the court.
Ashe remains the first and only Black man to win Wimbledon, the US Open, and the Australian Open. In 1968, Ashe became the first Black man to be ranked as the world's number 1 player. Two years later, Ashe was denied a visa to play in a tournament in South Africa and dedicated himself to exposing the injustices of apartheid. Ashe later befriended black South African leader Nelson Mandela and was arrested in 1985 during an anti-apartheid protest in Washington.
After contracting AIDS as the result of a blood transfusion during heart surgery, Ashe advocated for increased funding to research the disease and was a vocal critic of the American government's treatment of Haitian refugees.
4. Chris Dickerson ✊🏿
Chris Dickerson was the first Black man to win the Mr. America contest in 1970. Dickerson, who was considered undersized for the bodybuilding industry at 5 feet 6 inches tall and 190 pounds, was also one of the first Black men to win the Mr. Universe competition, in 1982.
Dickerson, who rose from the Jim Crow-era South, blazed numerous trails throughout his career, including becoming the first openly gay Mr. Olympia.
5. Surya Bonaly ✊🏿
Surya Bonaly is a three-time World silver medalist in figure skating, five-time European champion, the 1991 World Junior Champion, and a nine-time French national champion.
She's also the only Olympic figure skater to land a backflip on one blade, an iconic feat she achieved at the 1998 Nagano Olympic Games. More than 30 years ago, Bonaly was the first woman to ever attempt a quad jump at the Olympics.
As a woman of color in figure skating, Bonaly shared that she was driven by a "motivation and determination to excel," feeling like she had to "do more than okay to be accepted."
French-born Bonaly recently served as an ambassador of the association "La France des Talents et des Couleurs," which aims to fight against racism and discrimination in sports.
6. Serena Williams ✊🏿
Serena Williams is a cultural icon. The winner of 23 Grand Slam singles titles, a six-time US Open singles winner, and the oldest woman to ever reach a Wimbledon final, her list of records and accolades is endless. As a woman of color in a largely white sport that has not always been accepting, Williams has repeatedly spoken out about the unfair treatment and expectations many Black women face in the sport and beyond.
Williams has long fought for equitable pay for female tennis players, has supported other female athletes in their fight for equal pay, and promotes marginalized voices through her venture capital firm, Serena Ventures.
7. LeBron James ✊🏿
As the most-followed American athlete on social media, no other Black athlete has as large a platform as LeBron James. James has repeatedly used his sizable platform to call out injustices within society.
In 2014, LeBron led his Cleveland Cavaliers teammates onto the court wearing a t-shirt with the words "I can't breathe". These were the last words of Eric Garner, who died in July 2014 after a confrontation with a New York Police officer, an incident that was caught on tape and sparked national outrage.
James has repeatedly spoken about what it means to be Black in America and recently helped form "More Than a Vote," a group dedicated to mobilizing African American voters and fighting voter suppression.
8. Simone Biles ✊🏿
The name Simone Biles is now synonymous with gymnastics. An otherworldly talent, Biles has won 24 world championship medals, seven Olympic medals, and has four gymnastic skills named after her. But her impact goes far beyond medals and records. During the 2020 Olympics, Biles made the decision to withdraw from competition in order to protect her health, serving as the public face of a cultural shift in the demanding sport.
In 2018, Biles shared that she was a survivor of sexual abuse by the USA Gymnastics national team doctor, and has since called for accountability for her and her fellow survivors by USA Gymnastics, the USOC, and the FBI. Biles is also a vocal advocate for women in sports, Black women, and foster children.
9. Colin Kaepernick ✊🏿
Colin Kaepernick and his powerful act of protest marked a turning point for an entire generation. In 2016, the then San Francisco 49ers quarterback began kneeling during the national anthem before NFL games to protest racial injustice in America. Kaepernick's peaceful protest effectively cost him his football career and by 2017, he was out of the league, but the ripple effects of his actions are still being seen and felt across every sport.
Since that time, Kaepernick has written a book on criminal justice and released a Netflix docuseries. Last year, a book called The Kaepernick Effect: Taking a Knee, Changing the World, examined how the former quarterback-turned-activist propelled a new generation of athletes to take a stand against racial injustice.
10. Team Onyx ✊🏿
Fans of Amazon Prime's The World's Toughest Race reality show will recognize Team Onyx as the first all-Black team to compete in expedition racing on a global stage. Led by team captain Clifton Lyles, a former US marine, Team Onyx features veteran adventure racer Chriss Smith Jr., competition cyclist Sam Scipio, and ultra-marathon runner Coree Woltering.
Competing for the first time together in the televised 11-day race, the team's primary goal was to "show African-Americans and other people of color that they have a place in the outdoors and that sports like adventure racing are not off-limits for people of color".
While only a small number of inspiring Black individuals are featured in this list, it goes without saying that there are so many others who are also deserving of recognition for their achievements and who have helped move the world forward toward equity and the elimination of racism. While Black History Month only lasts for 28 days, Black history is history—and these recognitions and others should be front of mind no matter the date on the calendar.
Photo credits:
Chris Dickerson -DMI/The Life Picture Collection on Shutterstock
Serena Williams – CC Image courtesy of iShot71 on Flickr
LeBron James – CC Image courtesy of All-Pro Reels on Flickr
Simone Biles – CC Image courtesy of Agência Brasil Fotografias on Flickr
Colin Kaepernick – CC Image courtesy of Mike Morbeck on Flickr
Team Onyx – Poby/Amazon Studios