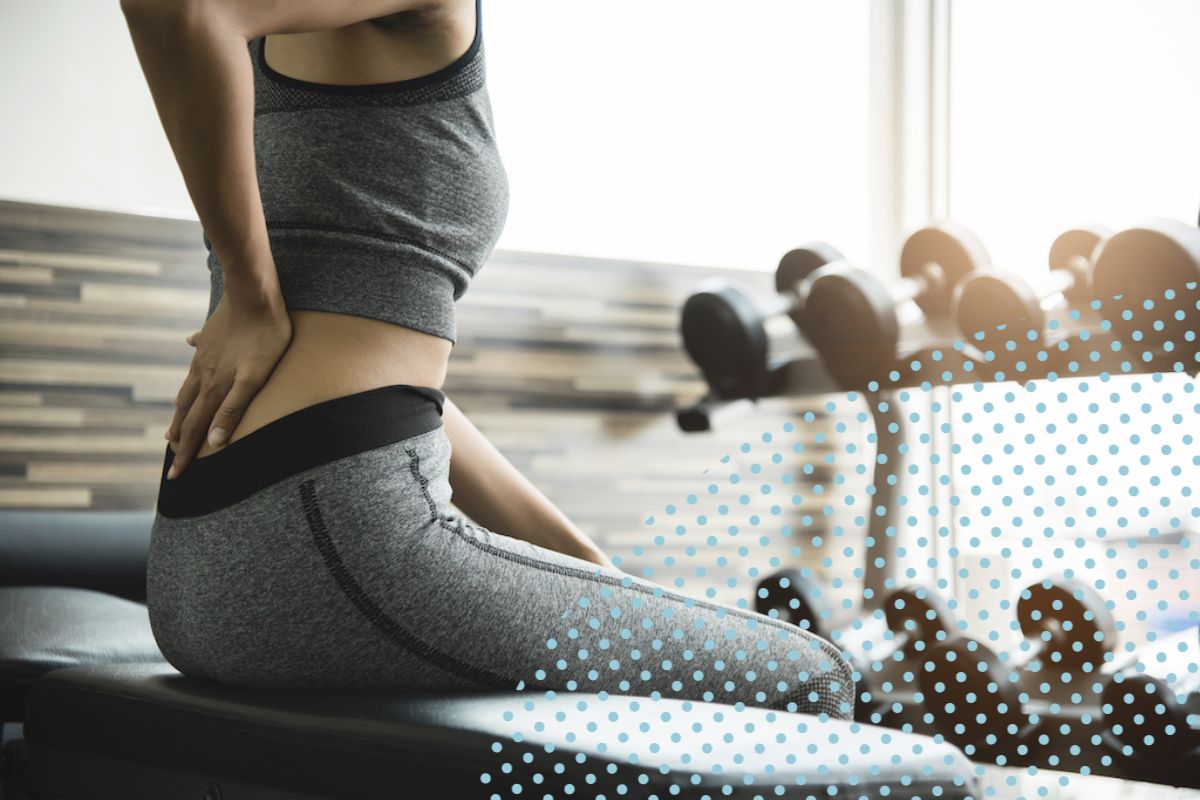 As fitness professionals, it seems like we are always on the hunt for new clients. But if you're just focusing on the everyday man or woman who wants to lose weight, you're probably missing out on clients that are in desperate need of your services.
When looking for new clients, it's important to make sure you're identifying your business niche—a specific type of client or segment of the market that you'll hone in on through marketing and sales tactics. By doing this, you'll become more focused in your approach, and will have a better chance of establishing yourself as an expert in the eyes of potential clients.
There are lots of different niches out there, many of which are currently underserved, and it's up to you to find the one that's right for your business. For me, that niche just happens to be exercise for pain relief and rehabilitation.
Exercise and Rehab
Do you know someone who's dealing with low back, neck or shoulder pain? Of course you do; we all do! According to The National Institute of Neurological Disorder and Stroke,  "about 80 percent of adults experience low back pain at some point in their lifetimes. It is the most common cause of job-related disability and a leading contributor to missed work days."
Fitness based on pain relief is an evergreen market that not many trainers are currently serviNG.
Most doctors and physical therapist advise moderate exercise 2-3 times per week to manage or end pain. But, like many clients that come to personal trainers, this group is in dire need of professional guidance to help them get back into the gym and find exercises/stretches so they can live a fit lifestyle. This makes them a prime group to target and should make it easier for you to market your services to them!
Is this Niche for Me?
Working with this particular market; however, requires particular care and a focused approach to exercise and training. This may not be the niche for the trainer who is all about explosive or military boot camp style exercises.
As a trainer who works with clients seeking pain relief, I know that it takes a trainer with heart and patience to serve this demographic. It's not your typical quick 6-week weight loss program. Pain relief takes more time, dedication, and client education to see results.
If you're looking to serve this niche market, your typical "generalist" personal trainer will not inspire confidence. A pain relief client wants a trainer with more specific and relevant qualifications. So, if this is a niche you're interested in targeting, I would strongly suggest some to continue education in Pain Relief exercises and/or kinesiology.
If you put in the time to carve out your expertise in pain relief exercise, this rehab-based approach can solidify you as that "go-to" trainer for pain management and, in turn, will make you stand out in the sea of personal trainers.
Where Do I Find Clients Looking for Pain Relief?
Believe it or not, clients looking for pain relief are pretty easy to find.
1.

Start With Your Immediate Circle

As I pointed out earlier, pain is an all-too-common health issue. So I would start out with your immediate circle. We all know someone who is dealing with a stress-induced pain condition (headaches, back, shoulder, etc.) with many of them being our closets friends and family members.
2.

Reach Out to Past Clients

Next, I would contact your past clients. Tell them about your new specialization. If they are not in need, I can almost guarantee they will refer you to someone who is in need of your services.
3.

Get In The "Pain Relief" Conversation

Third, insert yourself into pain relief and management conversations where it's appropriate. People in pain are actively seeking out remedies and solutions that can bring them relief, and often this takes the form of online groups and forums. Look for Facebook groups, Reddit threads, Twitter hashtags, blogs—anything where individuals are talking about pain relief—and share your services and expertise with them.
4.

Build a Network

I'm a big advocate of creating a network of experts that you can collaborate with.  Look into creating a Pain Management Network that includes:
A medical doctor
A physical therapist
A chiropractor
An acupuncturist
Wellness centers
and any other relevant professionals you feel would help you provide clients with the support and resources they need to manage their pain and get back into exercise.
If you don't already know people in these professionals, contact some individuals or offices and introduce yourself. This is the first step into creating a lucrative partnership. Let them know you are here to be a bridge and create the relationships necessary to help your clients (and theirs) reach their goals.
Achieve better client results by adding online training.
Start your free 30-day trial of Trainerize. 
Like I said earlier, the first step to establishing yourself as an expert in exercise for pain management is extra education in this field. But once you have the credentials, you'll still have some work to do to make sure potential clients see you as the go-to trainer when they start to experience pain.
Live Workshops
Talk about standing out amongst other personal trainers: doing a live workshop or webinar is the perfect way to solidify yourself in this niche. It's also a great way to build the "Know, Like and Trust" factor with potential clients.
These talks don't have to be rocket science. Just simple topics that peak interest such as:
How to Manage Your Back Pain
Stretching 101
Injury prevention
These classes can even be taught at the gym if you're currently working in one. Or as a joint venture with one of the practitioners in your pain management network.
If you really want to increase your reach and get your message out there on social media, livestream your workshop on Facebook, YouTube, Instagram.
Blog About It
People love to Google. Especially when they're looking for information about their condition. So, write an article (500-1500 words) about a specific topic you know your client(s) want more information about. Some ideas include:
How to manage back pain at home
5 ways to quiet inflammation
Injury prevention in the gym
If you want to go that extra mile, try making a video! Honestly, video is a great way to market your services as a trainer. You are putting your face and voice with the desired information, making you the authority and, most importantly, getting your clients to feel comfortable with you.
Can I Use Online Personal Training for Pain Relief Clients?
While there are some extra steps you'll need to take to ensure your clients are following good form, the resounding answer is: yes, you can. Just like in-person training, online training can be custom-tailored to a client's needs—including pain relief or management—and a client's progress can be carefully monitored.
If your clients are local to you and you have the option, you can always do your initial consultation/first training session in-person or you can use the hybrid model for your training. But if that's not possible, that's ok too. In that case, I would just strongly suggest you use custom exercise videos and include specific details and demonstrations about proper form and how to communicate with you if any prescribed exercises seem to be making their pain worse or they are unable to complete the exercise for other reasons.
As long as you're clear on these things, keep the lines of communication open, and monitor your clients' progress carefully, there's no reason online personal training can't work for clients seeking pain relief.
These are just a few ways to get you started on the road to marketing yourself to pain relief clients. Remember: take your time, consider your experience, build a network, and ease into the pain relief niche.
Ready to take your online fitness game to the next level?
Start your free 30-day trial of Trainerize today.