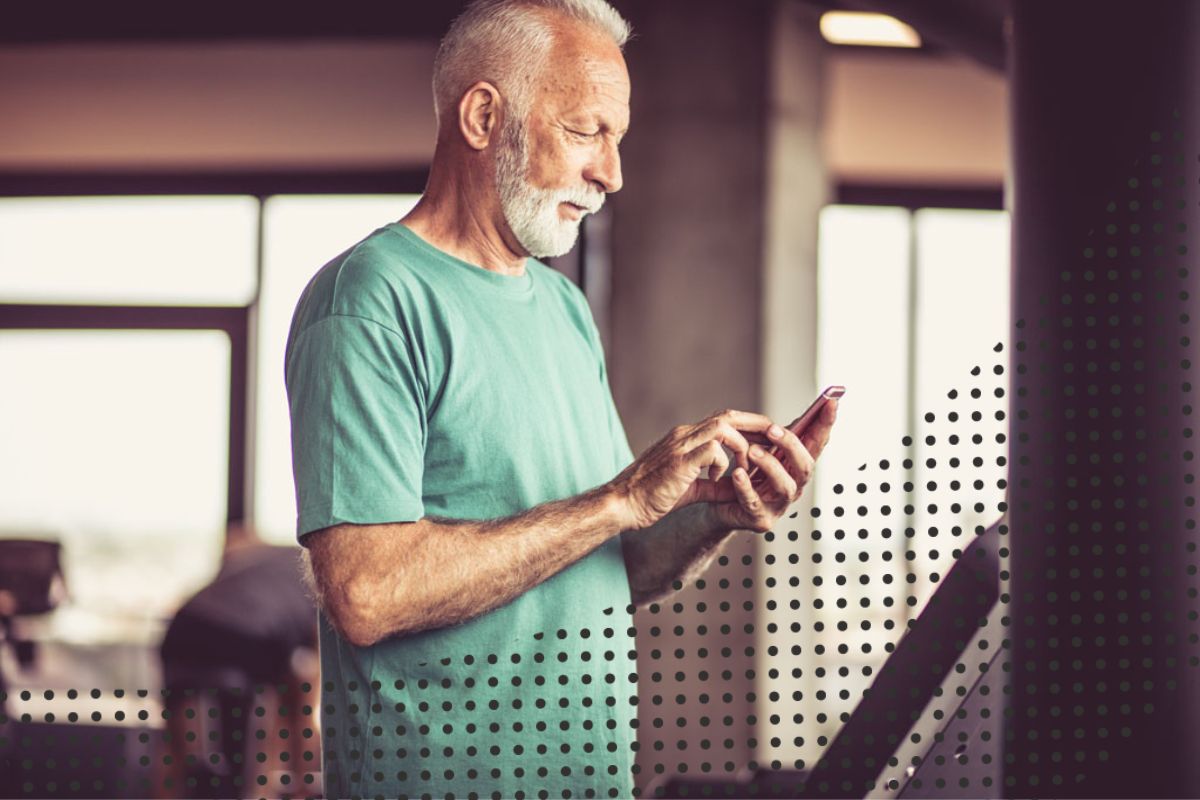 Believe it or not, online personal training is a good option for the older adult community. Scratch that. It's an excellent option! Transition your mature clients into mature online clients with these practical tips.
With its custom nature, online personal training offers the support of a fitness professional and the ability to have a personalized program, at an affordable price. And for older adults who might be unsure of their changed fitness needs that can be a huge draw.
Further, online personal training is extremely flexible! As clients travel, or perhaps go south for the winter, they can stick to their routine through an online trainer.
Unfortunately, most trainers overlook this community of people assuming they aren't active, don't want to be active, and aren't technology savvy. In my personal experience, I've found all of these to be untrue. Lots of older adults want to be active and are enthusiastic about learning new technology—they just don't want to hurt themselves or exacerbate any pre-existing conditions in the process. They also don't want to break the bank trying to afford a professional, as most of them are on fixed incomes.
We live in a technology-based culture, and most businesses have made it easy to do everything online. From shopping to watching television shows, playing games and social media, older adults are online and using apps on their phones just like the rest of us. To be quite frank, a lot of my older adult clients enjoyed the challenge of learning how to navigate the Trainerize App. Not to mention, the fact that they didn't need to leave their homes or buy expensive equipment to exercise, gave them even more incentive to sign up.
Offer clients affordable and convenient options
with online personal training.
Start your free 30-day trial of Trainerize. 
How to Market Online Personal Training to Mature Clients
Now that you know why you should be marketing your services to gain mature online clients, how exactly do you market to this niche of clients?
1.

Tap Into Your Personal Network

Start with your family first! I started with my mother-in-law, who is almost 60. After the third week of her program, she was feeling so much better physically that she couldn't stop telling all her friends about the workouts and the Trainerize App.
2.

Start Off Small

Create a short challenge (2-4 weeks) and offer it to close family and their friends for a discounted rate. At the end of the program have them write testimonials and use those to market on Facebook and other apps like NextDoor. Older adults need to know that they can do an online program and the testimonials from their peers make it seem more doable. If you're using Facebook, make sure to tag the client so that all of their friends can see and comment!
3.

Find Clients at the Gym

If you train out of a local gym, talk to the older clients there! They're often some of the most friendly clients there and are keen to learn and improve. When I worked in the gym, the older clients asked me a lot of questions. They would also tell me they wanted a trainer, but couldn't afford the prices at the gym. This is a perfect opportunity to introduce them to online training and the Trainerize App. (Always know the gym rules on soliciting clients before you do this.)
4.

Go to Them

Community Centers and Senior Residences are also great places to find clients. They usually already have fitness programs for older adults, but being able to offer the personalization and 1-on-1 support of a trainer other days of the week is an additional benefit for them. Call, and find out what the requirements are to offer a class a few times per month. Don't be afraid to initiate the conversation about online training once you've built a rapport with the staff and residents.
In most cases, older adults aren't trying to train for a marathon or to become a bodybuilder.

They are, however, trying to maintain bone density, prevent injury, manage pain, increase range of motion and maintain a healthy level of functional movement. Online training gives them the value of a fitness professional, personalized program, and 1-on-1 support without breaking the bank! It also gives them the challenge of learning something new.

Initially, I recommend you set aside 45 -60 minutes to walk them through downloading, logging in, viewing and tracking their workouts on the Trainerize App. The simplicity of features and ease of access makes learning and navigating the app so easy that it won't take them long to learn how to track and complete their workouts.

Older adults are capable of participating in online training, but, we have to make it accessible to them. Trainerize has provided a platform that allows us to bridge the gap for this underserved community and give them the same access that younger clients utilize, to live and maintain a healthy lifestyle.
Automate your business and free up your schedule.
Activate your free 30-day trial of Trainerize.