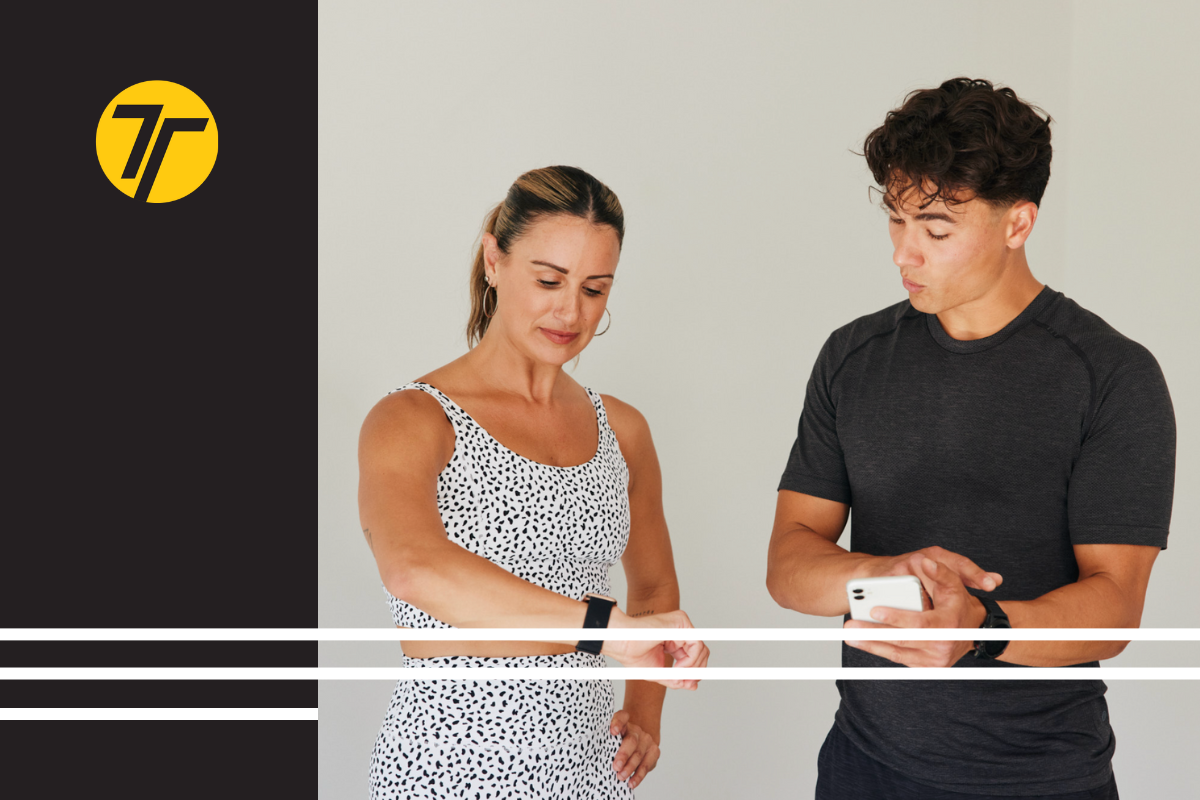 Training IRL isn't the only way to build a thriving fitness business anymore. 
Virtual personal training has skyrocketed in popularity since the start of the pandemic, and is becoming a core part of most trainers' business models. Post-pandemic, 62% of trainers plan to offer hybrid training, while 21% plan to work mainly online. That may turn out to be a smart move: online-only trainers are actually earning $8,000 more than the average annual USD salary for personal trainers. 
The point is: creating workout plans and leading classes your clients can do in their home gyms isn't some niche strategy—rather, it's the literal future of the fitness industry. What's more: by diversifying their remote services, trainers are creating real scalable products. Custom nutrition plans and video sessions can be templatized, pre-created and then distributed to multiple remote clients based on their goals. Build it once, distribute it forever. 
At  ABC Fitness, our whole focus is helping personal trainers find and keep clients (both IRL and online) and we've got a guide to the world of remote personal training on deck for you. Here, we'll break down the basics of remote personal training, the pros and cons relative to other types of training programs, and the nine best remote personal trainer apps—so you know which ones are a good fit for you. So let's go! 
What is remote personal training, exactly?
Remote personal training involves training at a distance, supporting athletes through an app or video call while they exercise in their home gym. Your clients are on the other side of a screen, so you can't physically guide them through exercises—you'll have to be descriptive, or demonstrate moves on your side of the camera. 
There's two main types of remote personal training: live training and asynchronous training. Some trainers will provide personal training or classes live to groups of at-home athletes, while some creator-trainers distribute workout courses for people to follow at their own pace. Like, remember P90x from the 2000s? That's a perfect example of this latter category. 
This approach to personal training is often more accessible, and allows participants to get expert guidance regardless of where they live. Remote trainers tend to support their clients with a blend of personalized workout plans, live video sessions, help with tracking progress, and little check-ins. (Those always help.)
The pros of remote personal training
For clients, the biggest benefit of remote personal training is the flexibility. If you prefer 6:00 AM workouts, you can find someone two time zones ahead to amp you up and correct your form. Or you need quiet, late-night workouts, you can find a trainer who delivers virtual classes through an app like ABC Trainerize.
Plus, remote personal training can also be more affordable than traditional personal training sessions. Take Kickoff, for example. They're a remote training company that delivers application-based personal training and coaching—for only $95 USD/month all-in. That's a serious upside for clients. 
There's tons of benefits for trainers, too. When you don't need to be in the same physical space as your clients, you open yourself up to a way bigger clientele—a global one, at that. And that's one of the reasons that remote personal trainers earn more than ones that only offer training in person, like we mentioned earlier. But that's not all. 
Remote personal trainers have to learn how to film themselves and stage their training studios, which is a perfect primer for getting into course creation. That's the next level of virtual training, and it's endlessly scalable once you've got that first course filmed and edited. Thousands of personal trainers have created courses through our platform, and we've watched their remote client bases literally take off.  
🔗 Kick off your online training business!
FREE GUIDE: Get 30 Clients in 30 Days
The cons of remote personal training
Remote personal training isn't a perfect fit for every client. Some clients need (or want!) the social reinforcement that comes from in-person training. That's a real benefit to training IRL, and no technology advances will fix that for this class of clients. 
Many remote personal training apps (like ABC Trainerize, it's true!) do come with community features like Groups that help you connect your clients with each other and provide some community reinforcement. But going to the gym gets you out of the house. The pandemic's been long, remote work can be stifling… and if that's you, a trip to the gym might be a treat.  
Virtual personal training isn't the perfect fit for every trainer, either. Many remote personal trainers often rely on social media to get new leads, and if you're someone who wants to keep their digital footprint small, training in-person might be more comfortable. Per-hour training rates tend to be higher in gyms than online, so if you have a jam-packed in-person roster, sticking to what's winning might be smart. 
9 of the top remote personal training platforms
Girls Gone Strong
GirlsGoneStrong is a female-focused platform that offers strength training, nutrition planning, and empowerment for women working to become their healthiest selves. Their cohorts are small and exclusive though, so you'll need to sign up if you want their support in building strength.
ABC Trainerize
ABC Trainerize (it's us!) is a versatile platform that connects trainers with their clients. We've got a diverse array of features that allow trainers to teach online classes, deliver video courses and nutrition plans, and track your progress—all in one place. Plus, we've even got Groups that allow you to connect your clients with one another, amp up their fitness wins…and keep them engaged between sessions.  
View this post on Instagram
Flexit
Flexit makes virtual personal training a piece of cake by connecting you to certified trainers, wherever you need them. You'll get 1:1 training via video call and personalized workouts that match your home gym setup, your goals and your availability. 
Aaptiv
Aaptive (proununced like "captive") has a unique value prop: audio-guided workouts. Their platform comes with a swath of different fitness programming, from strength training to meditation, yoga and pilates. You can also create personalized workouts, follow along via Apple Watch, and track your progress through all the different courses. 
View this post on Instagram
My PT Hub
My PT Hub is an online web and mobile app that helps personal trainers manage their remote and real-life clientele. It comes packed with a library of over 7,500 exercises that you can assign to training clients, as well as 600,000 foods to create detailed nutrition plans.
Zova
Shopify's award-winning Zova platform auto-tailors your workouts based on your goals, using your Apple Watch to track your heart rate and progress. If you're someone who struggles to get out to the gym, this might be perfect for you. 
View this post on Instagram
Trainiac
Trainiac hooks you up with a certified personal trainer, who'll then build a completely custom training plan for you. The monthly cost includes unlimited messaging and weekly video sessions with your trainer, which means you won't be stranded with questions before workouts.
Fitbod
Fitbod uses training algorithms to study your past workouts and create tailored workout plans that're laser-focused on your fitness goals. That's super cool, but the unique part is how the app adjusts to your strength, equipment, workout duration, and current state of muscle recovery—which makes it a great training choice for weightlifters.
View this post on Instagram
So, what's next? 
Trainers: Now that you're all experts on remote personal training, you're probably… a little bit keen to start delivering online personal training yourself. (We get it, it's awesome.) And that's exactly where ABC Trainerize comes in.  
Our dashboard is super simple, and comes packed with all the capabilities you'll need to deliver remote training services like nutrition plans and online training programs. With only a fraction of the effort, you'll be able to provide world-class . (And we love to see it.)
Ready to take your fitness business to the next level?
Start your free 30-day trial of ABC Trainerize.