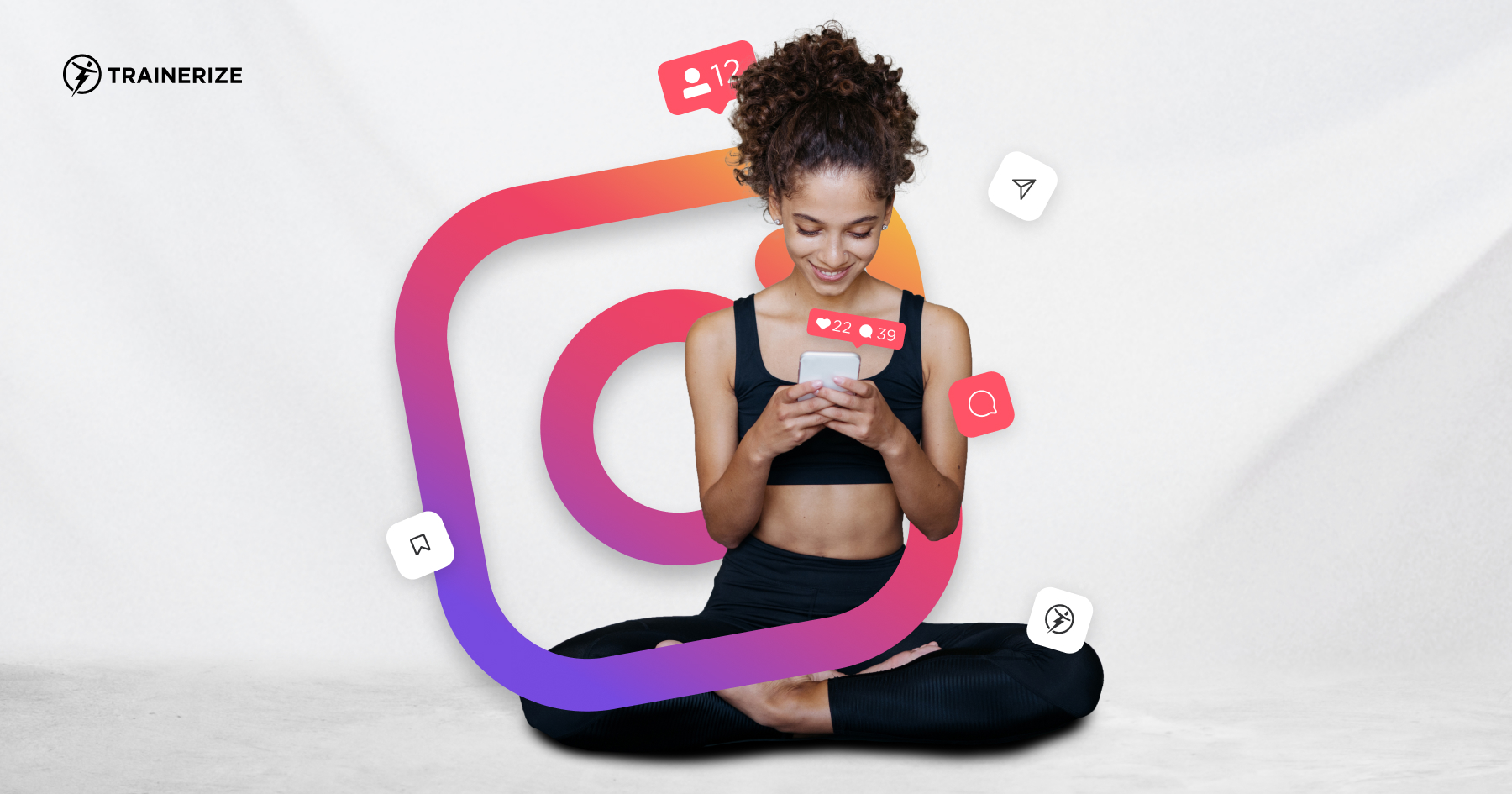 Anyone who uses a smartphone is likely familiar with Instagram—a place where just about anyone and everyone shares what they're up to via photos, graphics, videos, and memes.
But using Instagram for fun and using it for business are two different things! If you use Instagram to help your business stand out and find new leads, then you're already using a powerful tool. But we can always improve our content! There are countless ways you can organically, but quickly, grow your following, demonstrate your expertise, and represent your brand.
So let's dig in and discover some tips and best practices for using Instagram for your fitness business.
Here is our 15-Step Guide on Instagram Marketing for Fitness Professionals:
1. Fill out your profile
First things first—fill out your profile ALL THE WAY. This means adding your email, your website (more about that below!), your location, and your business category.
A little known fact is that your Instagram NAME (not your @handle) is a key searchable field in the app—so make sure to identify your niche in the name so people find YOU if they are searching for your niche! Something like "Jak | Personal Trainer" is good, but "Jak | Houston Personal Trainer" or "Jak | Trainer for New Moms" is better! Remember you only have 30 characters here.
People like Instagram because they can get to know the people behind businesses, so make sure to include a photo of YOU as your profile photo.
Lastly, remember to share what you do and how you do it in the bio section! How else are people going to discover that you provide online personal training?
2. Post high-quality photos and videos
This is key. If you're going to do ONE thing off of this list, make it this. If your feed is just a thrown-together mish-mash of blurry photos, screenshots, and quotes, it's not going to look aesthetically pleasing to someone just landing on your feed. The more beautifully and engaging the grid, the more people are going to want to follow you.
Stories, Reels, Photos, IGTV, Live—there is a lot you can do here, but you need to do it well. Use natural lighting, appealing backgrounds, and upload high-resolution images! Be mindful when uploading carousels, images can get compressed. Use light colours and build your content in 1080×1350 (best! This takes up the most space on the screen!) or 1080×1080 dimensions.
3. Find your aesthetic
Do some research first and follow some brands or fitness professionals that you would like to emulate. Try to create consistent visuals, stick to a set color scheme, and create consistency with your other channels. Keep your logo and your brand colors in mind here.
Choose a few fonts for graphics and use your brand colors in Stories (use the color picker to get it exact!). Remember to include yourself and your clients as much as possible in your posts.
4. Find the best apps for editing
If you want some extra 'zing' to your photos, some pre-editing before you edit in Instagram goes a long way. Some of our favorite photo-editing apps here at Trainerize are Aviary, VSCO, Snapseed, and PicTapGo. But there are literally thousands to choose from–and most of them are free!
Same goes for videos like Stories and Reels. For this, try InShot or Lumen5,
5. Post before and after photos
Before and after photos are your best form of marketing. They are proof that the clients you train are actually seeing progress with your personal coaching.
⚡️TZ TIP: Always, always, always get permission from your client first before posting their photos.
BONUS: Use Instagram's carousel feature to display your Before and After photos, so your audience swipes through your photos. Instagram will also show carousels to your followers more frequently than single image posts, which gives them more chances to engage. You could even include a quote or testimonial on one of the slides!
🔗 Go Beyond Social Media to Strategic Marketing:
The FitPro's Guide to Getting Your First Sale

6. Use relevant hashtags
Hashtags are great; they help people discover your content in the app. If you're not sure which hashtags to use, start by investigating what your competitors or doing, or what other brands in the fitness space are using. 30 hashtags per post is the standard for the platform.
While generic hashtags like #fitness and #personaltrainer are alright, specific hashtags are better–think #hiitworkout, or #miamipersonaltrainer. Try to include location and industry hashtags too! Try making a list in a spreadsheet and try lots of different hashtags to see which ones work the best.
You can even come up with your own unique hashtag to share on all your posts, and encourage your clients to use it, too. Or use hashtags that are commonly used in your community. This can prove to be a great way to build your brand, and with the right kind of followers you're looking for. For an exceptional example of this, check out lululemon's #thesweatlife hashtag on Instagram.
Also, if you don't want your entire caption to be filled with hashtags, drop them in the comments section. A handy trick we use at Trainerize, is keeping a copy of our most commonly used hashtags in the notes section of our mobile phone. When the time comes to use them, we just copy and paste them into the photo comments, and edit as needed by adding or removing certain hashtags.
7. Tag people!
If you share a photo of a client, tag them—both in the photo and the caption. If you train influencers, share a photo (with their permission) and tag them! An influencer could be anyone from a celebrity, to the lady that owns the juice shop in your neighbourhood, to your local news anchor. If they have a large number of Instagram followers, it will help to have them featured on your feed. They might even re-share your photo to their followers!
People are most likely to re-share Stories, so remember to always share posts to your Stories and tag the relevant accounts there too!
8. Provide value to your followers
You might feel as if you have to start posting something all the time to achieve high engagement. That's not necessarily the case. If you produce quality content and imagery that people want to consume, the followers will eventually come. (If you think "value" is just sharing gym selfies, then you're not getting it yet.)
Think of what your target audience needs help with, and share content that will support them. Educational, inspirational, and entertaining content are the three core pillars. Try offering a mix of all three types each week!
9. Create a schedule, but feel free to mix it up!
You can create a schedule of the different types of posts you would like to share, so you are not always posting the same thing. This applies not only to the content type, but also the post type. Change it up!
MONDAY: Post a quick workout Reel with a song you love to jam out to!
TUESDAY: Share a carousel of a client's progress (make sure you get their permission)!
WEDNESDAY: Share a "Day-in-the-Life" of your typical day in Stories!
THURSDAY: Provide a workout tip or demonstrate proper form for a move.
SATURDAY: Share a healthy meal option (preferably one of your own meals from your meal plan!).
SUNDAY: Re-share a great post from one of your clients, and celebrate their success.
Or, you create a schedule that includes several different types of posts and repeat it:
1: A workout photo from the gym.
2: A healthy meal.
3: Progress photos—make sure to discuss physical progress but also emotional!
4: A workout video.
5: A motivational quote or a quick tip. Create these in Canva!
6: Share something personal about your day that will inspire or entertain your audiences (your first coffee of the day, a mistake you made, or a meeting with a friend).
7: Promote a new service or program you're offering.
You don't have to post something every day, but these are ideas you can steal from and customize to make your own. If you want to start scheduling your Instagram posts ahead of time, you can sign up for  Hootsuite or Later.
10. Lay out your photos in advance
When people visit your profile, it should be visually appealing. Using an app like Later, or UNUM, helps you visualize what your next few photos will look like in your feed. This way, you avoid placing two very dark photos next to one another, or for example, two motivational quotes only three photos apart (they will stack on top of each other in the feed and look weird).
If you want to try to follow a pattern, like a checkboard or columns, you'll need to be more organized. If you want to be able to post as you like, then go for a more relaxed vibe! Just remember to keep your feed consistent so people know what they're going to get when they land on your page.
11. Create Instagram Stories
Instagram Stories are a great way to keep your brand top of mind, as the story appears right at the top of the main feed! If your followers regularly engage with the photos in your feed, your story will appear near the beginning. It's the best way to give your clients and other followers a sneak peek into your life as a trainer. So don't just use it at the gym–share stories from the grocery store, of you working on their training plans, and share some personal stuff, too, like from your home life or while you're on vacation. It makes your loyal followers relate to you as a person and feel like they are getting to know the real you. People like doing business with people they can relate to.
BONUS: Add Highlights to your profile (populated from your Stories). Include highlights for your key fitness services, client testimonials, press coverage your receive, and info about upcoming events and programs. They'll be one of the first spots new followers go, so make it count! Consider your highlights a mini website.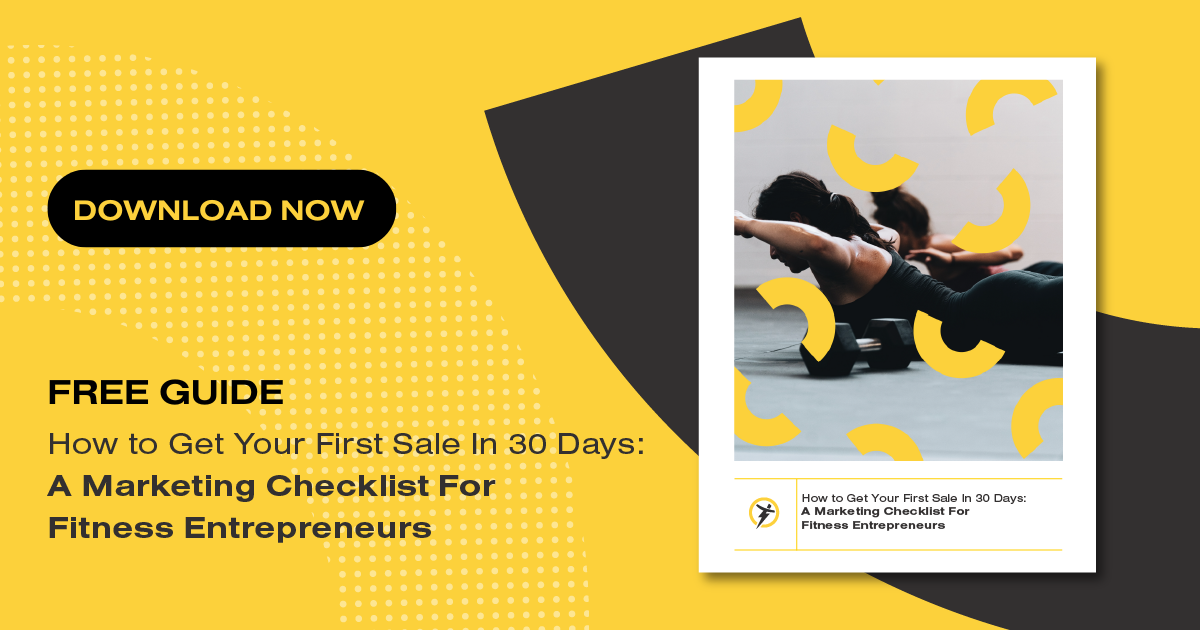 12. Add a link to your bio
Instagram is one of the least link-friendly social media platforms out there, turning any links added to posts into flat, un-clickable strings of text. But there is one place where you can add a clickable link: your profile bio. To make the most of this precious real estate, use a Linktree link (kind of like a mini landing page with a list of links, accessed via your main bio link) or create a custom landing page on your site at yoursite.com/bio.
Instagram only provides data for 30 days, so if you're going the yoursite.com/bio route, create a UTM redirect so you can track that data!
13. Host a contest
Partner up with a local business and offer your followers a cool prize for commenting, liking, sharing, or tagging friends on your posts. Or instead, make the prize a free trial of your personal training. You'd be surprised at how many new followers you will get out of this, and you'll also end up with a bunch of new people that are interested in your training services, which means more leads! If you follow these best practices, you'll definitely see some results.
14. Connect Instagram to your website, Facebook, Twitter
If you want more of your audience to follow you on Instagram, you can install a simple widget on your website displaying your Instagram photos. Once in a while, you can share your photos through Twitter or Facebook, too. This allows your followers on different platforms the ability to find and follow you on Instagram (the more followers the better!).
15. Switch to an Instagram Business Profile
A business account will offer you extra tools and features—like choosing a category for your account and offering an email CTA on your profile. You'll also be able to use promoted posts to increase your profile's reach and generate new leads. 
It also gets you access to analytics, which you can use to track your growth and engagement. Check post insights to analyze which content works best for your audience and to choose posting times!
We hope this guide helps you step up your game—or get started—with your Instagram marketing for fitness. Just don't forget to be authentic and let your personal and business values shine through!
Ready to combine your Instagram marketing efforts with online personal training?
Sign up today for a free 30-day trial of Trainerize.