VANCOUVER, BRITISH COLUMBIA – June 19, 2013 – Trainerize, the number one training platform for fitness professionals, introduces their Add-on Directory with the addition of five major app partners: MINDBODY, the wellness industry's leading online business management solution; Withings, makers of the Withings Wi-Fi scale; Facebook, Twitter, and YouTube.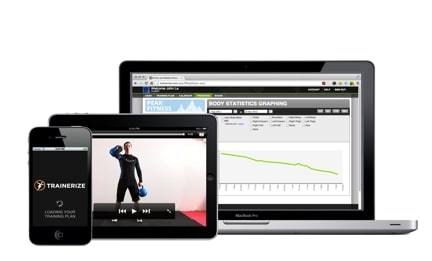 Trainerize and MINDBODY join forces: fitness professionals using MINDBODY fitness management software can now easily import their clients into Trainerize, providing them with an all-inclusive solution for billing, scheduling and online training. In a world where clients are looking for flexibility and affordable training options, Trainerize is the answer.  Personal trainers can also leverage the power of social media with Facebook, Twitter, and YouTube add-ons to scale their training and increase their clientele.
Fitness professionals on Trainerize can also experience the added benefit of using MINDBODY to manage client billing and scheduling through MINDBODY's web-based software and mobile app solutions. As the leading online workout delivery platform, Trainerize now becomes an industry leader for training clients and managing a business through this new partnership.  Trainerize is ideal for large health clubs, fitness studios, individual trainers, and a variety of other fitness industry verticals.
"With our newest add-on integrations, Trainerize extends to being more than an online training platform. Now personal trainers can optimize their business with MINDBODY's business management software, pull in body weight data from Withings, and virally market through social networks as clients simply train," says Sharad Mohan, CEO of Trainerize. "By partnering with the best we ensure trainers are getting maximum value on all fronts."
Trainerize's Add-on Directory features five social networks and tools including technical integrations that connect to popular services and devices. Each unique tool expands the add-on ecosystem of the Trainerize platform. Visit the Add-on Directory to see all of the available apps.
More information:

About Trainerize
Trainerize is a website and a training app for personal trainers to market their services and train clients online. Marketing is optimized through the customizable site designer and social media add-ons, allowing trainers to create a strong online presence. With the training app, trainers can train client's in-person and online using apps, tracking tools, mobile apps, and messaging features. The end result? Trainers train more clients more often, all while spending less time, and enjoying a boost in income. For more information, visit www.trainerize.com.
About MINDBODY
MINDBODY has led the health and wellness industry in software development since it's founding in 1998. Over 350,000 wellness professionals at 25,000 locations in 81 countries are managed by MINDBODY's web and mobile software, and more than 1,000 business locations are added to its network each month, making it the fastest growing SaaS provider in the health, fitness and beauty industry. MINDBODY has been listed on the Inc. 500/5000 list as one of the fastest growing companies in the U.S. for the past five consecutive years. www.mindbodyonline.com/fitness
Take your Fitness Business to the next level.
Start your free 30-day trial of Trainerize.