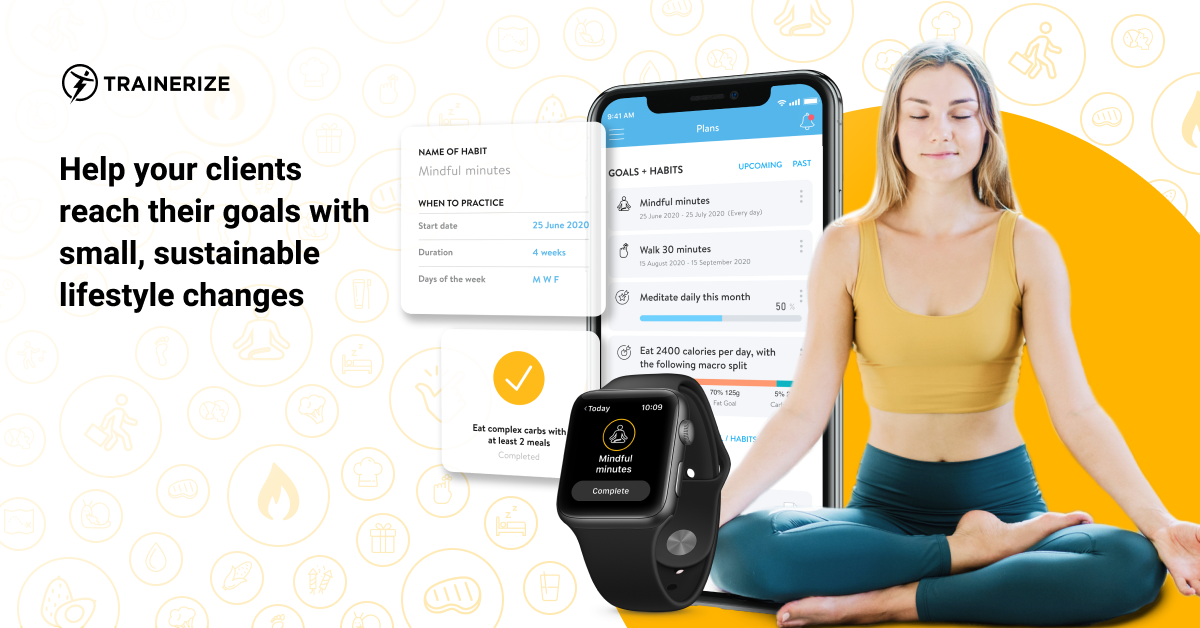 Let's admit it, we all have some habits we're not proud of. Maybe it's drinking too much alcohol, staying up too late, or overeating at each meal. We can't help it, we're creatures of habit! 
That's why we've introduced habit coaching—to help you empower your clients make small, sustainable lifestyle changes! Simply add habits to your clients' calendars and daily to-do lists and encourage them to complete them every day. It's the perfect way to help your clients ditch their bad habits, gain healthy ones, and live their best lives every day.
A 360° approach to coaching
Why the big fuss about habits? Because we all know health and fitness don't just happen overnight! 
There are no instant fixes or miracle techniques, and most of the time exercise and nutrition alone are not enough. What healthy living comes down to is a collection of small but important choices that add up over time to bring us all closer to our goals. 
Plus, with so many people impacted by COVID-19, habit coaching is even more important than ever before. Client routines have been tossed out the window and access to gyms is still limited. As clients continue to adjust to the new normal, forming new habits and routines can help bring a sense of normalcy into their daily lives. 
Take your training to the next level 
The great news is, many of you already know how powerful habit coaching can be and have made it part of your business!
Take coach Kayne Goldfinch for example, he stresses that making one small change at a time will help to create a habit so that it can all be sustainable. While Cortney Christopher-Butler of Fitfecta Fitness helps clients identify their bad habits and then offers simple solutions that they can gradually implement to reach their goals.
As our CEO, Sharad Mohan says, "Habits are the differentiating factor for trainers to retain clients long term. No matter what's happening in the world, habits provide those daily interactions that are so valuable to building stronger relationships between coaches and clients, which means better training results."
Whether you're a seasoned pro with habits or new to the game, our latest habit coaching features are sure to help you level up the way you train with your clients and boost client engagement!
Take a look at what's new and start habit coaching today!👇
Say hello to the Master Habit Library
You may have noticed we've revamped the sidebar menu on the web app to include a Master Library folder with Programs, Workouts, Habits, and Exercises. Inside the Master Habit Library you can view existing Trainerize ready-to-prescribe habits and also create your own custom habits and group them into folders. 
Explore our library of ready-to-prescribe habits
To help you take a 360° approach to your clients' health and wellness, our library of ready-to-prescribe habits span 5 categories identified by researchers as the pillars of healthy living: activity, nutrition, nutrition portion guides, mindfulness, and sleep.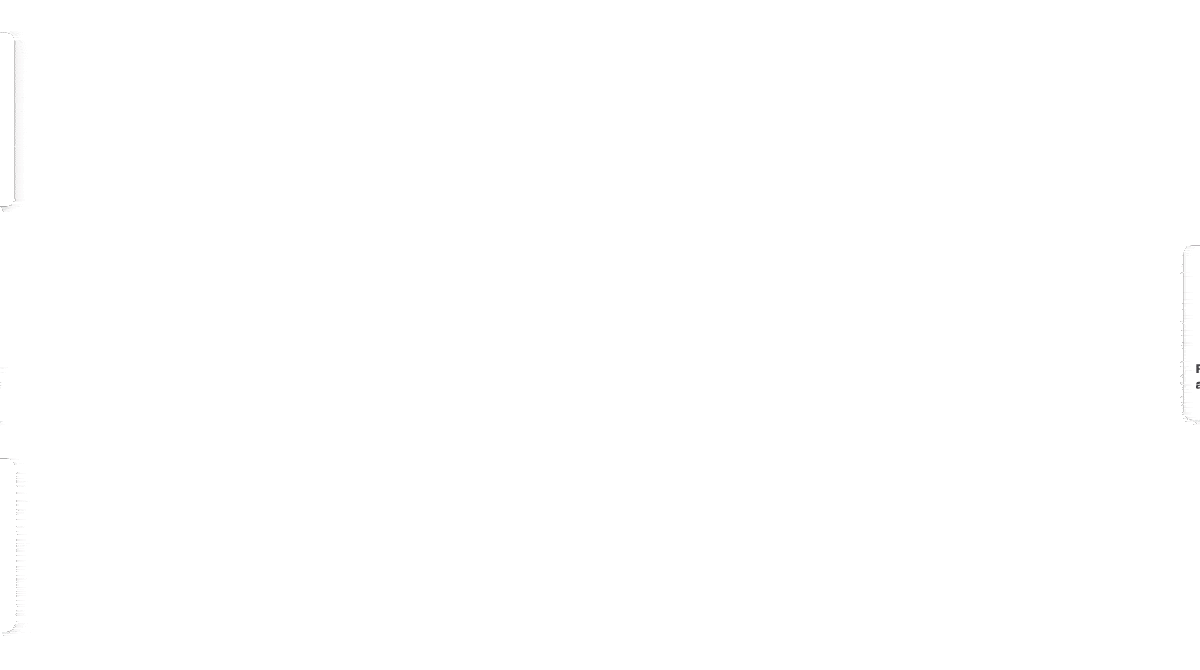 Each of our ready-made habits comes with a video lesson explaining how to practice the habit and why your clients should try to make it part of their lifestyle.
You can learn more about each category, all the different habits available, and how to use them with your own clients by exploring our Habits guide.
Create custom master habits and make assigning habits easy
In addition to the habits we've already created for you, you can also create your own custom master habits within the Master Habit Library—perfect to suit the needs of your clients! 
When you create a custom master habit, you can name the habit and provide a description to help clients understand what the habit is and how they can complete it.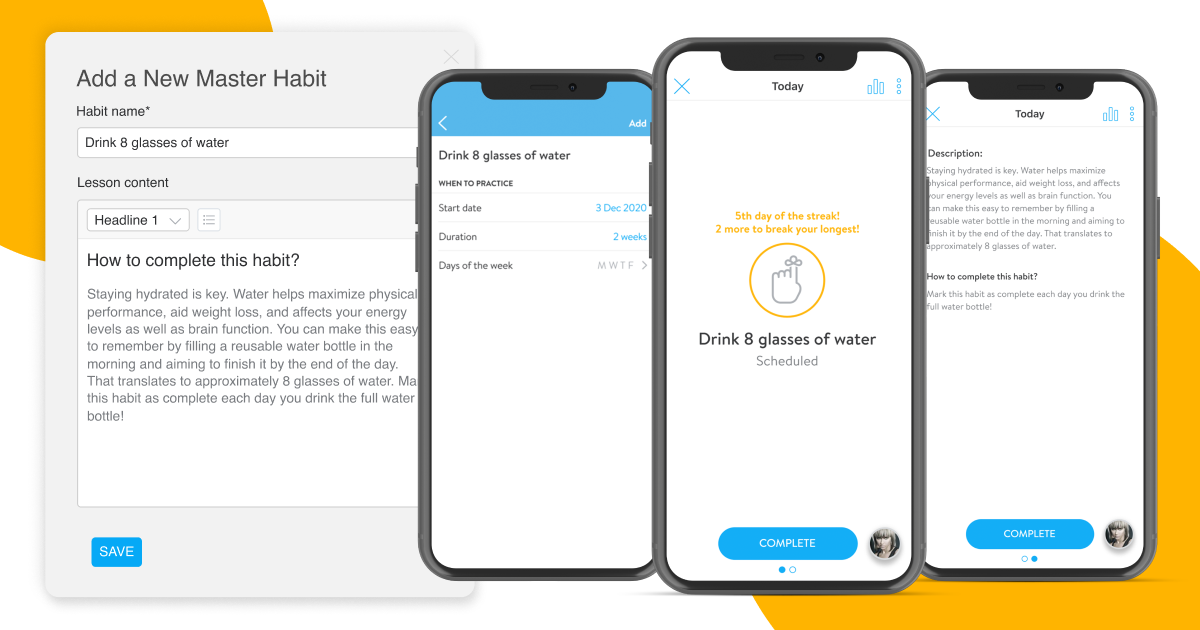 Assigning habits to clients
Ready to assign habits to your clients and help them become 1% better each day? There are two ways to assign habits to your clients:
From the Clients page to assign habits to multiple clients

From an individual client's profile 
Assigning a master habit to multiple clients
Think a certain master habit might benefit multiple clients? Quickly assign that habit to multiple clients with just a few clicks. 
Visit the Clients page on the web app

Select the clients you want from the list

Click "add a habit" and select from the list that appears.
Voilà! Habits assigned, in a snap! ✨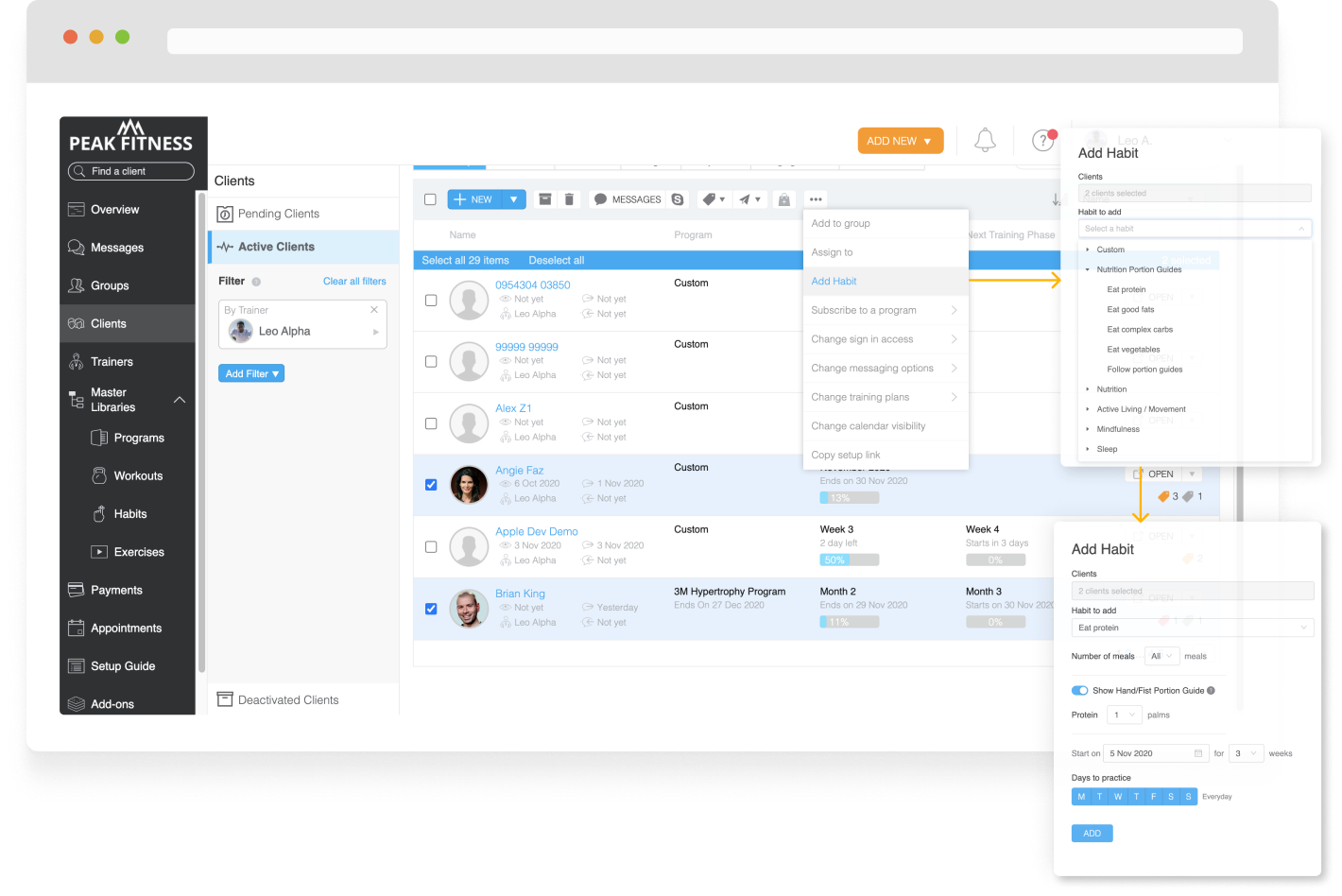 Create or assign a habit to an individual client
The second way to assign habits is individually, on a client-by-client basis, which can be done on both the web and mobile app.
Visit a client's profile on the web or mobile app

Head to Goals and Habits on the web, or click into into the Programs tab on mobile to find Goals and Habits

Click "+NEW" to add a habit on the web, or "+ ADD NEW" to add a habit on mobile

Prescribe an existing Master Habit or create a custom individual habit for your client
Ta-da! Two flexible ways to create and assign habits!
Note: Custom individual habits created from a client's profile cannot be added to the Master Habit Library and prescribed to other clients.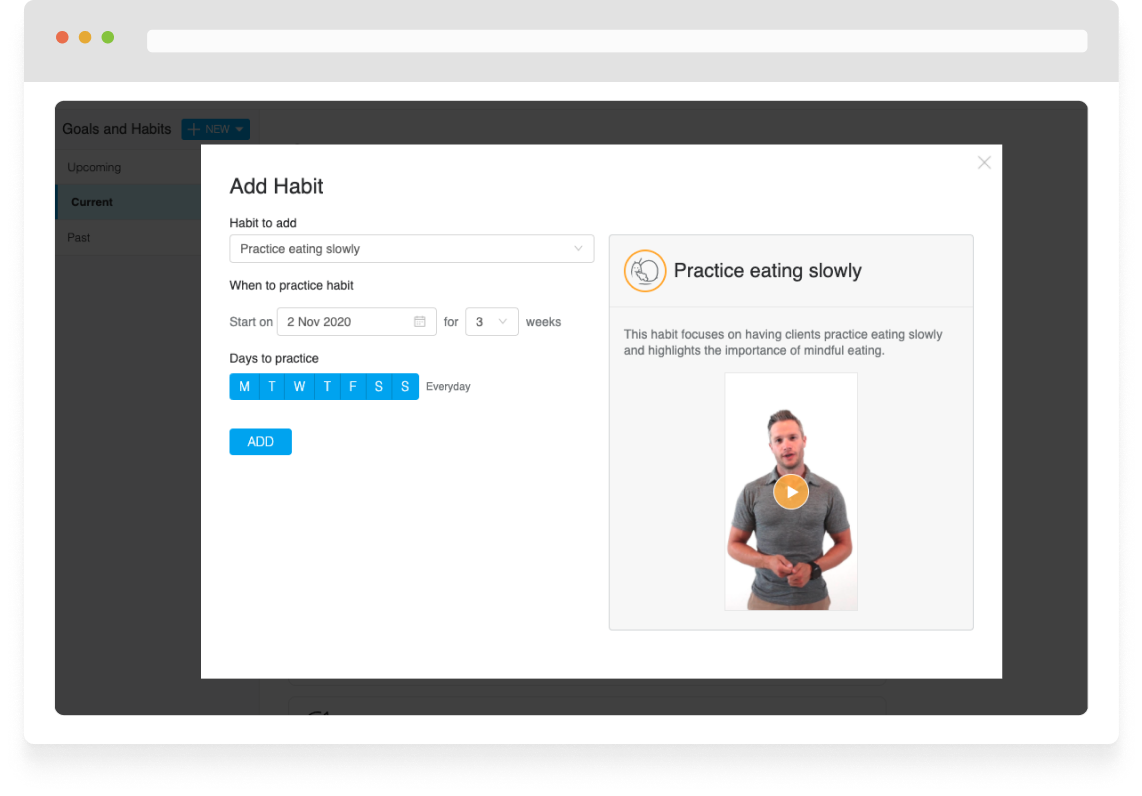 Whichever option you use to assign habits, make sure you slot them into their calendars by choosing which days of the week you want them to practice. Their scheduled habits will then appear in their in-app daily to-do list. 
As they repeat the habits and check them off their daily to-do lists, you'll be able to track their progress. Over time, these habits should become easier for your clients and the healthy behaviors second nature. How's that for creating lasting motivation and long-term change?
Note: Trainers can schedule habits from both web and mobile, while clients view and track habits from their phones or so they can stay on track on the go
Habit tracking on the go
Tracking habits has never been easier! Not only can clients view and complete their habits from their phones, but they can also check off habits from their daily-to-do's using the new Apple Watch App powered by Trainerize! ⌚️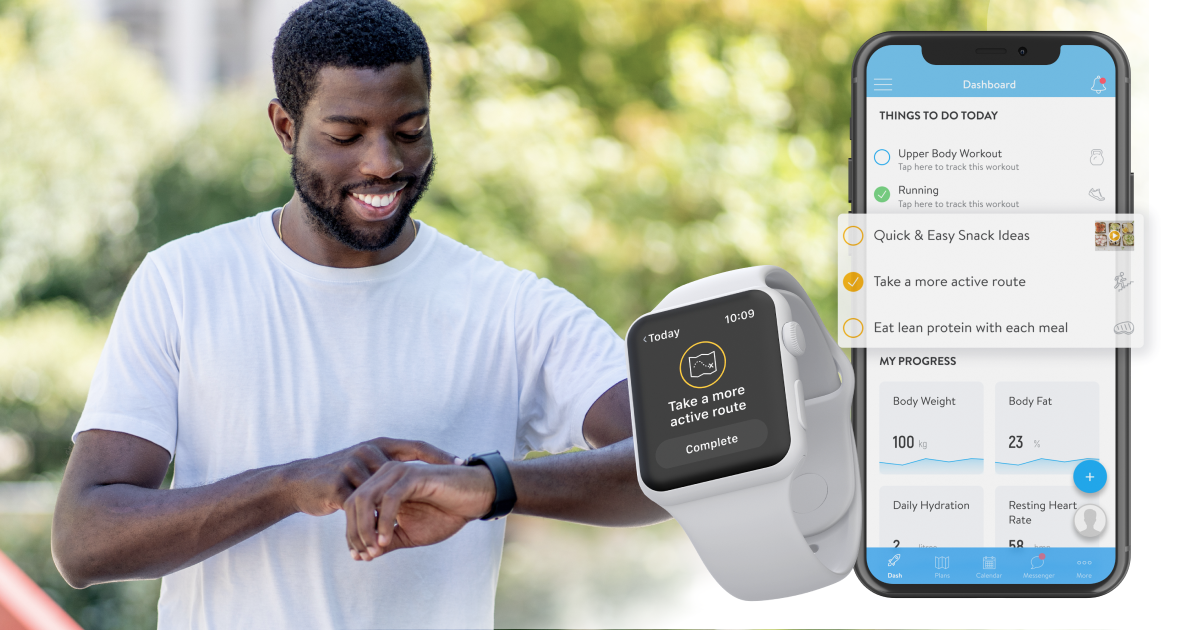 With just a couple of quick taps, clients can view the habits assigned to them for the day right on their wrists, and they check them off as they complete them throughout the day.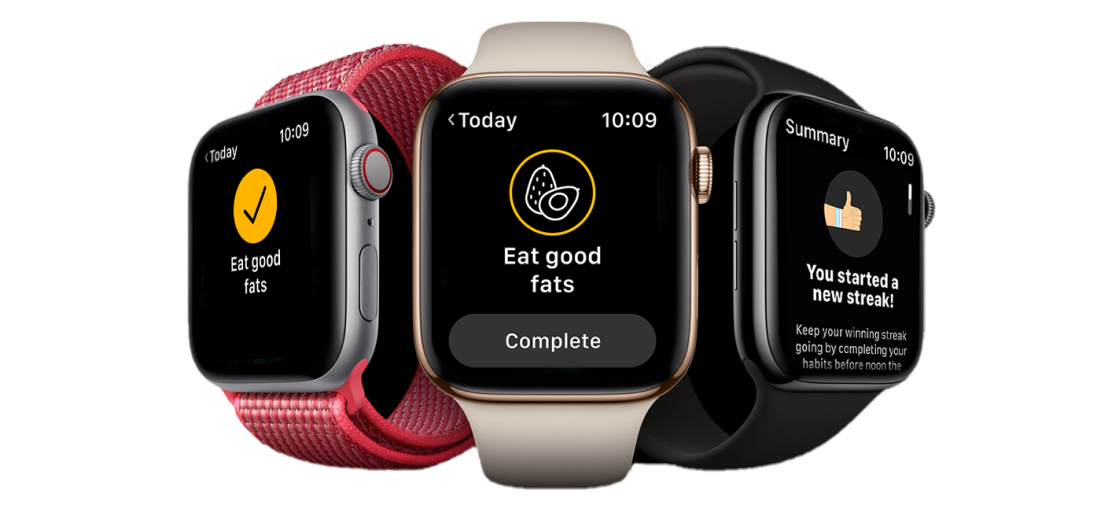 Note: Only scheduled habits can be completed from the Apple Watch App and on their mobile phones, so make sure to slot them into your clients' calendars!
Celebrate small wins
Everybody loves a good thumbs up or hi-five for doing something right! As clients complete habits each day, they will earn habit streaks and unlock special achievement badges—perfect for motivating clients to practice their habits daily!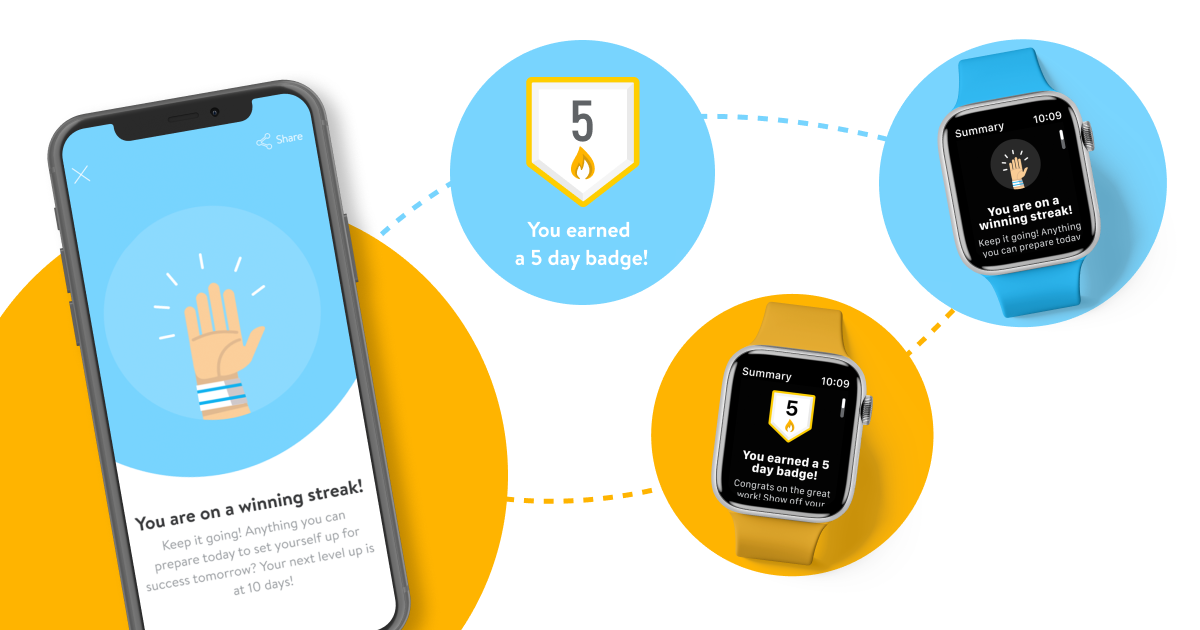 Customize your permissions across your business
We know you run a tight ship in your business and may want to restrict access to your Master Habit Library.
That's why we've kept things super flexible with our in-app role permissions. Head into your account settings to grant editing access to those who need it! By default, only the owner has editing access to create and edit custom habits within the Master Habit Library. 
Note: Trainers without permission to edit the Master Habit Library can still view and assign master habits to their clients. They just won't see the Master Habit Library from their left navigation menu.  
Don't fancy our ready-to-prescribe habits? No offence taken! You can easily disable them, with the exception of the nutrition portion guide. Learn how to access and customize permissions.
Become a habit coaching expert 🎓
Super excited to start habit coaching, but not sure where to start? We've put together a detailed guide on all things habits. 
Explore the habit lessons in our Habit Coaching 101 guide to learn how to incorporate habits into your coaching today! 
What's next for habit coaching?
You didn't think this was all we've got, did you? Oh no, we're only getting started. 
In the coming months, we'll release the ability to build habit-focused programs and fully integrate habits into your existing training programs and products. Stay tuned! Start Using Habits Today!
For more details or for help getting started, check out these great support resources.
#SmallChangesBigResults
As you know, we're always listening to you—our amazing #TZtrainers. We love using your ideas and feedback to help make Trainerize the best app possible for your fitness business. 
Tell us more about your experience using Trainerize and any features you'd like to see by posting in our ideas forum.