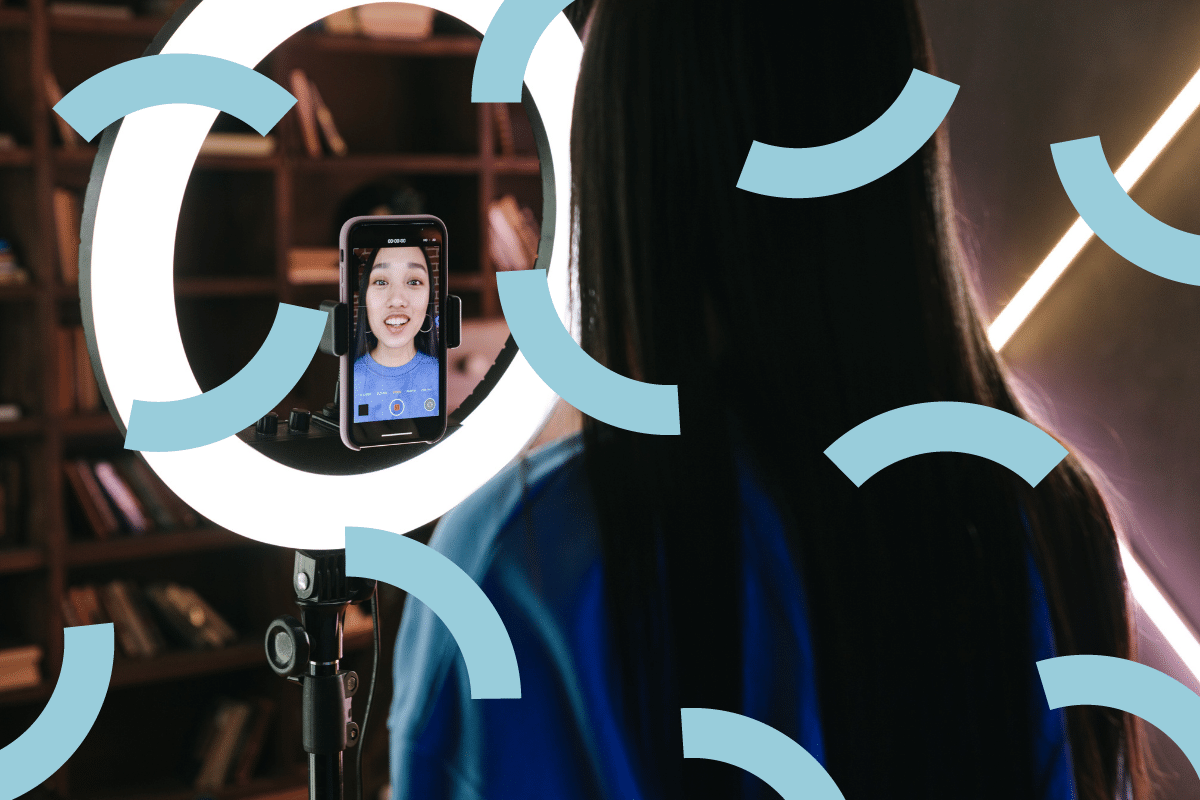 If you love social media, storytelling, and fitness, then becoming a fitness influencer might appeal to you!
But how does one become a fitness influencer? And how does one keep growing and evolving their social media presence?
In this article, we're going to explore 9 steps to becoming a fitness influencer, covering everything from your brand and platform to your social media strategy and sales plan. But first—let's unpack what it means to be a fitness influencer.
What is a fitness influencer?
Fitness influencers are content creators in the fitness space who make their living (or earn supplemental income!) by partnering with brands to promote their products and services.
Typically, this starts with growing an organic follower base on one or more social media platforms, and then pitching that following to businesses as valuable target demographics. Today, many influencers create their own products and services to sell, too.
The social media influencer industry began in the 2010s and has risen in popularity steadily, with interest peaking in January 2022, according to Google Trends. Though they were some scandals about bot followers in the past, today brands tend to favor authenticity and engagement above all else—it's less about the quantity of followers and more about the quality of those followers interests and habits.
An effective influencer will be able to build brand loyalty in their followers not only for their own brand but for others as well.
How to become a fitness influencer
There's no one-size-fits-all strategy to becoming a fitness influencer—everyone is different! What works for one might not work for others—and social media platforms are changing all the time!
The following nine steps will help you figure out the strategy for you. Be specific in your planning—and make sure you're genuinely excited about what you're building, too. Your audience will notice.
Let's dig into our nine-step plan for how to become a fitness influencer.
Pick your niche
Choose a platform & learn the algorithm
Establish your social brand
Learn technical skills
Identify your content pillars
Build your initial following
Build a media kit based on current stats
Pitch to sponsors, partners, and advertisers based on current stats
Analyze the data and repeat steps 4-8
Step 1: Pick your niche
Search "niche" on the Trainerize blog and you'll find a pile of articles about the importance of focusing on your target demographic—and we mean it!
Discovering your niche is the first step to a successful business or building a successful social media presence: it's making sure you are intimately familiar with the people you'll be talking to, and that you'll be able to inspire and influence them in their fitness journeys.
Of course, you should have at least some personal connection to that target audience—maybe you once belonged to that niche, or maybe you still do. Ultimately you need to be authentically motivated to support the folks within your niche, or you can forget about building up a following.
Consider what you have to offer:
What expertise do you have that you can share?
What do you have for training and certifications to show social proof for your content?
Where could your passions help others?
Think about your ideal client:
Who do you want to help?
What type of people will be best-served by your expertise and storytelling?
Who will you be more interested in engaging with on social media?
Think about how you can stand out from the competition:
Why would someone choose you over a competitor?
What will people remember about you?
Why would people in your niche value you?
And do a bit of research, too:
Check in on fitness trends
Monitor hashtags that would apply to your niche
Follow other influencers in your niche and note what they do well
Try to identify if there are any gaps you could fill
📙Learn more about how to find your niche as a personal trainer.
Step 2: Choose a platform & learn the algorithm
In 2022, there are so many platform options for you to build your brand on. Consider your options based on a few factors:
Which platforms do you like the most?
What content types can you see yourself creating?
Which platforms are more welcoming to new creators and influencers?
Where online could you get paid for views?
Which platform will best align with your brand?
Once you've chosen your platform, find some verified information on how to best utilize that platform and follow some experts in those platforms. Pay for training if you need to, but be sure it's fact-based, not empty advice! Learn what the algorithm wants and make sure you can offer it—and have fun with it, too!
Explore our Ultimate Guides to Social Media Strategy for Facebook, Instagram, and TikTok.
🔗 Kick off your online training business!
FREE GUIDE: Get 30 Clients in 30 Days
Step 3: Establish your social brand
If you already have a fitness brand or a personal brand, your social brand can be an extension of those! If you're starting from scratch, then you'll want to decide what the look and feel will be for your social feed!
Your brand goes further than just the visuals of your feed, but they're really important! Think what types of content you can create, and find some feeds that feel like a good example for you—they don't need to be fitness accounts, just any influencers that you like or that you would want to take inspiration from! And make sure the brand you plan out will appeal to that target audience we discussed.
Then, do the basics:
Establish your colors and fonts
Establish your photography style
Choose a few content types: like photos, selfie videos, graphics
📙Read The Ultimate Guide to Branding your Online Fitness Business for more on branding!
Step 4: Learn technical skills
Being a fitness influencer requires a certain level of tech-savvy! Not only will you have to learn the creative side, you'll also need to learn the business side—but let's focus on creating content first.
Shoot & edit video
So much of social media is video now—and you won't be able to grow on any platforms without a video strategy. So you better get ready to learn some new skills!
Not every fitness influencer does hyper-professional video content—it's all about what works for you! But you're definitely going to need to learn to shoot and edit. Start with your iPhone camera and some iPhone apps—InShot is a great place to start!
📙Get everything you need to know about filming fitness content here!
Master iPhone photography
And there's no getting away from photography, either! Download photo editing apps like Snapseed and VSCO, and save time by saving your favorite filters and presets.
📙Learn how to take professional-level photos with your iPhone!
Get graphic
Even if you don't plan to use a tool like Canva or Adobe Creative Suite, any influencer who uses in-app tools on Instagram and TikTok should understand the basics of design: colour, balance, unity, and contrast, in particular.
Write away
Plus, writing is an essential skill for any creator or fitness influencer—think through how you'll best communicate your information! This is especially important for your social media profile: make sure your bio is clear, concise, and descriptive and captures new followers!
📙Learn to write well from Trainerize's Director of Growth Marketing
📙Get inspiration for your Instagram bio!

Step 5: Identify your content pillars
Next, it's time to figure out what you're going to post about!
If your content strategy is to share free workouts and show off your abs in an occasional gym selfie, think again! Though of course these types of social media content can be inspiring, engaging, and even educational, in today's competitive influencer market, you need a strong strategy. You'll need to use every tool at your disposal to build community and share knowledge.
Try to establish three content pillars to start—essentially three "buckets" that your social media content will fall into. Don't go too specific with your pillars, but don't go too general, either!
Here are some examples of content pillars that might work for a fitness influencer:
Fitness Education
Personal Fitness Journey
Freebie Workouts
Aspiration & Motivation
Community Celebration
Food & Recipes
Then, you'll come up with a few post concepts that fit into each of your three pillars, and create a few posts for each concept! Ta-da, you have an editorial calendar!
📙Learn all about content marketing and editorial calendars!
Step 6: Build your initial following
If you completed Step 2, then you should already have a good idea of what will get your content in front of new eyes and distributed on your platform of choice. But just putting out great content isn't enough to gain strong distribution on social media.
You'll need a community engagement strategy to do so! Here are a few things to consider when building you following:
Research and follow key hashtags for your niche and use them strategically
Always use geotags on your posts!
Follow other influencers within your niche
Respond to all DMs and comments
Engage authentically on other channels
Promote your new brand account to all your existing friends, family, colleagues, and followers
Pitch collaborations to like-minded influencers in non-fitness niches (food, health, travel, fashion, and other!)
Build relationships with local businesses in your niche (restaurants, cafes, fitness studios, athleisure companies)
Focus on shareable content—things that are entertaining, educational, or relatable—so your followers can send it to their friends
📙Use powerful tactics to grow your business on Instagram (or other platforms!)

Step 7: Build a media kit based on current stats
Here's where the monetization kicks in. To be a successful influencer, you need to establish some base rates for your content offerings. The best way to do this is to create a media kit that clearly outlines your pricing and options to brands.
And don't you dare create a spreadsheet. This needs to be an on-brand PDF that includes all the information potential sponsors might need. We recommend building it in Canva, and then you can edit and update it regularly.
Your media kit should include the following:
About Me (an intro to who you are and what your brand represents)
Social Stats (like followers, engagement rate, and other key metrics)
Follower Demographics (where they are, how old they are, who else they follow)
Content Offerings (post types, content series, channel availability)
About the Process (help them understand how you work and how you can make their life easier)
Previous Partnerships (brands, stats, and testimonials)
Pricing (create an easy-to-read matrix!)
Contact Info (how they can get in touch)
⚡️TZ Tip: Make sure to add a disclaimer somewhere establishing how long these rates will remain active—you don't want someone coming back a year later and expecting the same prices!
Step 8: Pitch to sponsors, partners, and advertisers based on current stats
Lastly, you need to start pitching yourself to brands!
Start a spreadsheet or an Asana board for all your potential collaborators and work to find contacts at each organization. Research industry events and influencer programs. Look into what brands have a good history with influencers.
And then start reaching out by email! Start by following them all on social media and pay attention to their hashtags and other influencer partnerships.
Personalize every pitch as much as possible and put some thought into the partnership pitch—but don't give away your ideas for free! Leave them wanting more and wait to hear back from them to provide more information.
If you're open to it, consider doing some unpaid or for-product collaborations to start!
Step 9: Analyze the data and repeat steps 4-8
Any social media manager, influencer, or content creator will tell you: you gotta look at the data.
Review your social media analytics on a weekly and monthly basis. Use a tool like Sprout Social or track the data in a spreadsheet manually to make sure you never lose track of your analytics.
Look at what performs well and what doesn't—both for organic and paid content. Take note of your best-performing content types and replicate them in future. Create content series where you repeat similar concepts that you know your followers will love. And keep an eye on your followers! If your engagement rate starts to suffer, take note of the possible causes and use that information to guide future content and campaigns.
Go back to Step 4 and work your way through this list again to keep growing and evolving your fitness influencer brand.
Pick your niche
Choose a platform & learn the algorithm
Establish your social brand
Learn technical skills
Identify your content pillars
Build your initial following
Build a media kit based on current stats
Pitch to sponsors, partners, and advertisers based on current stats
Analyze the data and repeat steps 4-8
Work on improving your technical skills—try some cool transitions! Re-work your content pillars based on the data you have. Build up more of a following using the tactics listed here. And then update that media kit and keep pitching!
Before you know it, you'll have a strong brand with revenue potential. Consider yourself ✨influenced✨.