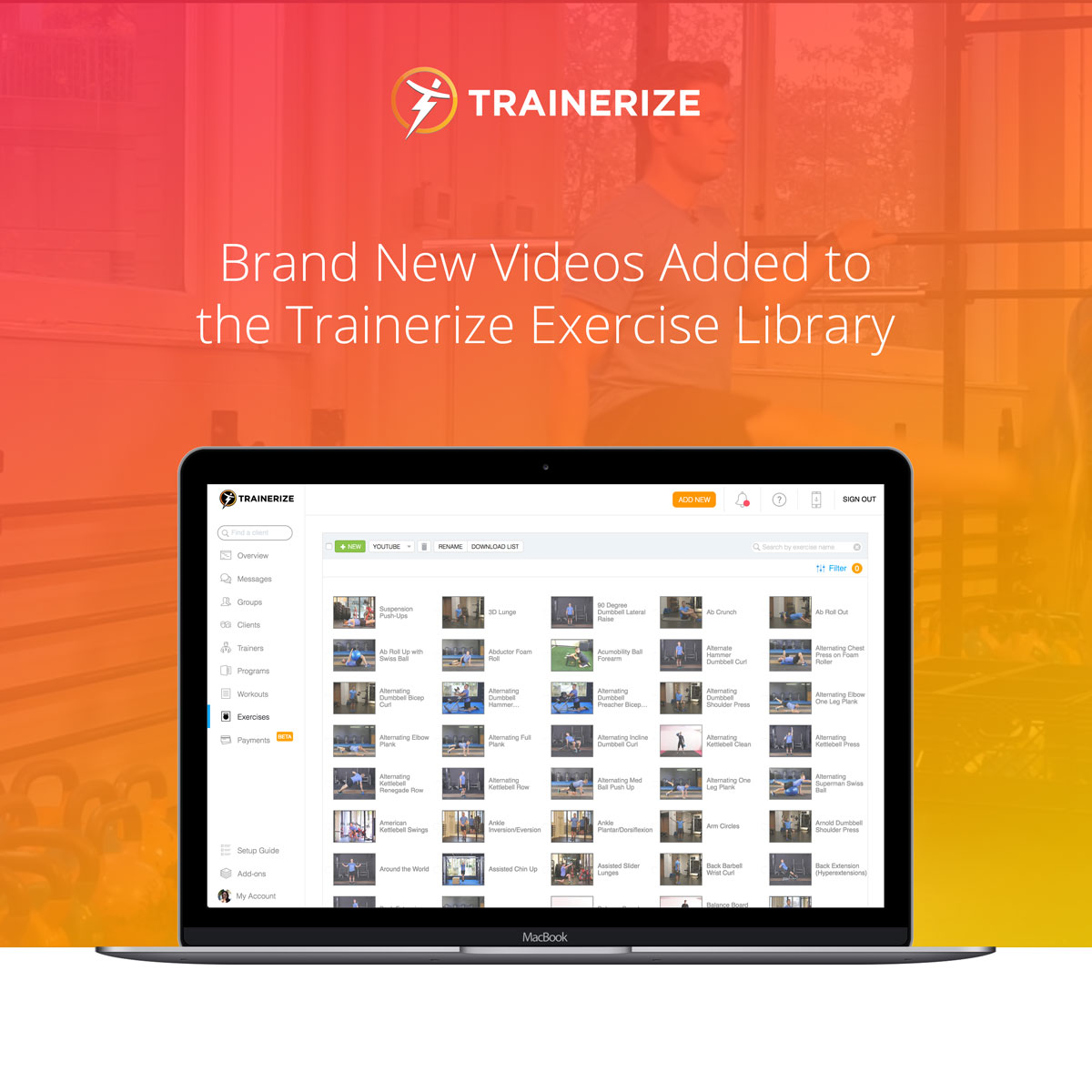 A new year means new clients, new goals, and, of course, new workouts! So to help kick off 2018 right, we've added some fresh new videos to the Trainerize Exercise Library (and given some old favorites an update).
Use these new and improved videos to add some variety to your clients' workouts:
NEW
Barbell 21's

Dumbbell 21's

Kettlebell 21's

High Kicks

Floor Sweeps

Trunk Rotations

Butt kicks

Running (on the spot)

Forward Leg Swings

Lateral Leg Swings

Dynamic Side Lunge Stretch

Static Side Lunge Stretch

Banded Pass Throughs

Fire Hydrants (Standing)

Upper calf stretch

Lower calf stretch

Plantar/Dorsiflexion

Inversion/Eversion

Body weight Step Ups

Seated Piriformis Stretch

Cossack Squat

Lying Straight Leg Raises

Lying Single Leg Raises
UPDATED
Incline Dumbbell Flyes

Dumbbell Lying Rear Lateral Raise

Barbell Sumo Squat

Barbell Sumo Deadlift

Barbell Sumo Back Squat

Barbell Sumo Front Squat
Trainerize Trainer, Jon Vlahogiannakos of Strong Jon Fitness recommends adding leg swings to your clients' warm-ups—especially if they have a desk job or work in a sedentary industry.
"Leg swings are one of my favorite lower body warm-up moves! They really help open up the hips from being seated all day."
Likewise, Trainerize Trainer, Gavyn Berntsen of Start Afresh Personal Training, likes to add leg swings to his clients' workouts and suggests pairing them with trunk rotations as part of a dynamic warm up.
Want to see more exercises added to our library? Let us know by adding your requests to our Ideas forum!
To learn more about the Trainerize Exercise Video Library, check out these articles:
Trainerize Update: Create Your Dream Exercise Library. Add Unlimited Videos to Trainerize
Create High-Quality Workout Videos To Increase Your Brand Recognition
3 Tips For Building Your Online Training Exercise Video Library
7+ Practical Tips to Create Workout Videos for your Fitness Clients
All You Need to Know About Creating Custom Exercise Videos
Discover how you can build online workouts for your clients and access the Trainerize Exercise Library.
Start your free 30-day trial today.