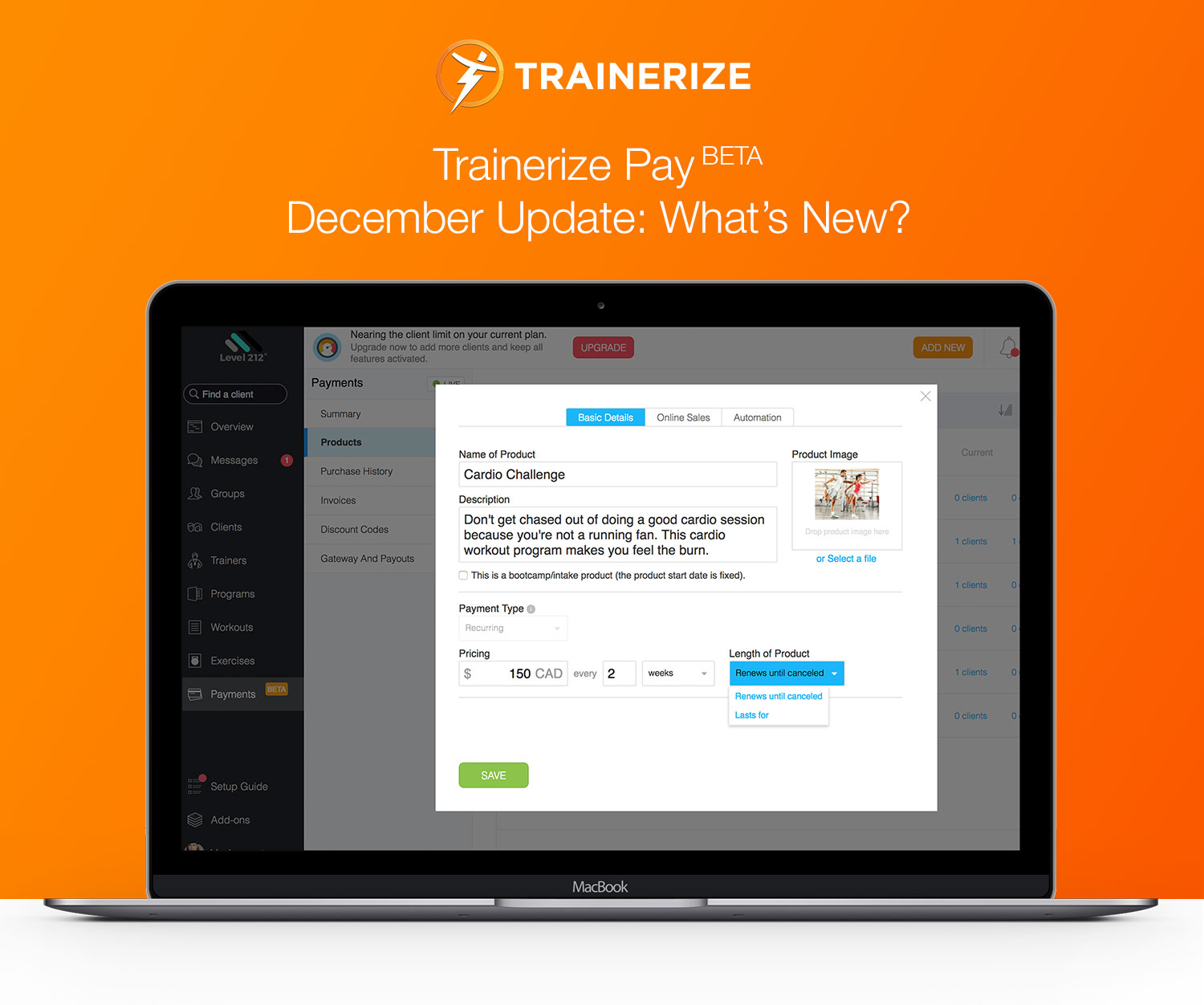 Thanks for taking part in our Trainerize Pay BETA group! With the official launch of Trainerize Pay coming in early 2018, we've been hard at work applying your feedback and making updates, and we want to share those changes with you.
Plans + Packages = Products
The first and maybe biggest change you'll notice is that we've combined "Packages" and "Plans" into what is now called "Products". Products come with flexible set-up options for payment method, start date, and duration that keep things nice and simple while still giving you lots of flexibility.
A New Way to Build Products
The process to build a Product has also received an update, with setup split between three new tabs:
Basic Details
Start building a Product adding a name, description, image and the payment and start/end date details. This is also where you can lock down a set intake/start date—perfect for bootcamps and challenges.
Online Sales
Publish your Product on your Trainerize.me profile and access a Product link to share anywhere you'd like. In this tab, you can also set a Product start date for purchases made by clients through Trainerize.me or using your Product link.
Automation
Add powerful automation to your Products by selecting the actions you want to trigger when a Product is purchased, and when a Product starts.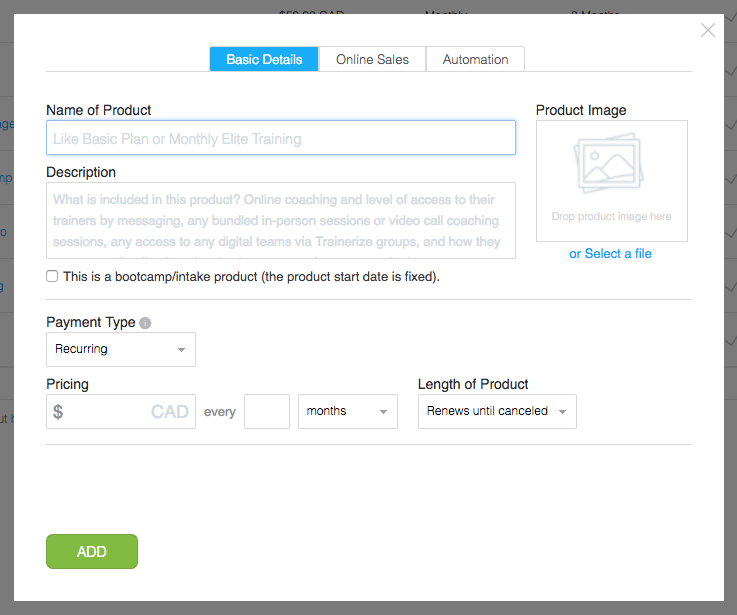 You can view all of your Product details at a glance in the updated Product Grid. Plus, to cut out repetitive tasks and save you time, you can now duplicate and edit Products. We've also made it easier than ever to keep track of client purchases by displaying all purchases, including active and upcoming Products, in the purchases tab.
Discount Codes
We've refreshed the way Trainerize Pay handles discount codes by no longer applying them to specific clients, but instead applying them to Products. You can create codes that are applied either as a percentage (%) discount or as a dollar value ($) discount and that last:
For the entire duration of a product
For the first billing cycle only
For a specified number of months or years
You can also specify a maximum number of redemptions and an expiration date for each discount code.
To offer you full control and let you better manage your Product discounts, as a trainer, you can still manually add or remove discount codes for payments that haven't gone through yet on currently active or upcoming products. You can also track discount code redemptions easily with a new Redemption History Grid.
Purchase History and Invoices
With these recent updates, you'll discover new ways to track purchase history and organize your invoices. Quickly view all purchases including client information, product status, product start and end dates, and discounts applied in the centralized Purchase History Grid. Sort, search, and filter to easily find the information you're looking for.

Need to review or resend an invoice? You can view all invoices and filter them by status in the updated Invoice Grid, which now includes both fully and partially refunded invoices. You can also review purchase history and invoices sent to specific clients in the updated client dialog.
The Trainerize Pay Experience
Finally, we've made some general enhancements to the Trainerize Pay experience, like adding more tooltips and links to help articles; refreshing the look of our auto-messages, emails, and invoices; and simplifying the setup process.