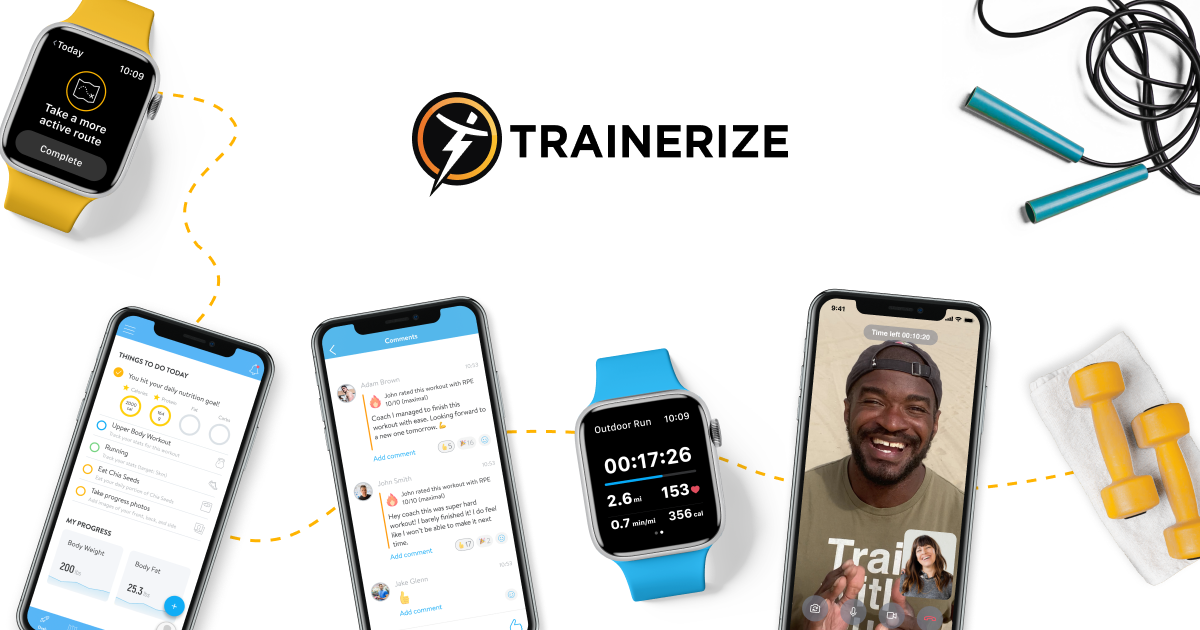 Over the years, technology has changed the world and our individual lives in countless ways.
More than ever, businesses and people are turning to online tools to simplify tasks, save time and maximize productivity. In this new normal, mobile technology is a must-have for fitness professionals looking to keep their audience connected and engaged. And to us, Trainerize is the best in the biz.
We can think of more than a few reasons why Trainerize is the right choice to take your fitness business online. Not only were we recognized by ClubIntel as an industry-leading platform in the initial months of COVID-19, we were also recently named one of Zapier's fastest growing apps of 2020. Read on for more about what separates us from the competition.
You and Your Clients Are Our Priority
The first question that most fitness professionals will ask of any personal training software is 'what does it do?'. The short answer is that Trainerize allows fitness professionals to create, deliver, and sell personal training services. But that's just the beginning. There are literally thousands of ways that trainers and studios can use Trainerize to streamline systems and automate processes, allowing them to focus on what's important: the client experience.
To encourage client engagement and compliance, we've incorporated a ton of fun and functional communication features into our app, including manual and automated messaging, in-app groups—perfect for group training and challenges, and automated notifications and badges that make it easier than ever to track progress and celebrate milestones and achievements. Let's face it; 2020 has been tough—we all need something to celebrate!
Another invaluable tool we offer: video features. Even those of us who weren't lucky enough to own stock in Zoom prior to the pandemic, know how valuable face-to-face interaction can be. Our video features allow you to create on-demand video workouts that are the perfect way to shake up client routines and strengthen your relationships, even remotely.
Video calls can help make check-ins, consultations, and goal-setting sessions more personal and easier to manage—even if you've got clients scattered around the world. Let your clients see your face while they're getting fit!
A Holistic Approach to Health
It's part of our purpose at Trainerize to promote a healthy lifestyle for everyone. We want to encourage people to look at fitness as an enjoyable lifestyle, rather than a chore.
During these uncertain times, many people have turned to some unhealthy coping mechanisms (4-hour Netflix binge anyone? No?… Just us?). But keeping on top of physical health is one of the most important things to do to ensure your mental and emotional well-being. Less than five percent of adults participate in 30 minutes of physical activity each day. And, only one in three adults meet their recommended amount of physical activity each week. That's why we're beyond proud of Trainerize's engagement numbers. Clients working out on Trainerize do it an average of three times per week. Consistency is key, and it beats perfection any day.
Consistency also goes hand in hand with building healthy habits. We're also big believers in a 360° approach to health and wellness. Trainerize isn't just a workout app—we're a fitness, nutrition, and habit coaching app. By incorporating all three pillars of health and wellness into the app, trainers can help their clients build healthy lifestyles. Lifestyle that include nutritious food and wicked workouts, as well as solid sleep hygiene, and regular self-care.
Take your Fitness Studio digital.
Start your free 30-day trial of Trainerize. 
Like You, We're Flexible and Can Adapt Quickly
As trainers know, it's crucial to maintain flexibility—and we're not just talking about the importance of dynamic stretching. That's why we offer easy-to-grow pricing tiers that help trainers start small and build up. At Trainerize, there's a plan for everyone—whether you're a trainer who's just getting started, a seasoned industry veteran, or a brick and mortar business looking to adopt digital and online services.
Our plans scale up based on client seats, so you only pay for the plan that fits you right now. As you gain new clients you can upgrade at any time. If you ever need to drop down a plan level, you can do that too!
Once you've got a solid client base, you can also level up to higher-tier plans, like Studio Plus and Studio Max to unlock additional integrations and gain access to our Studio Custom Branded App.
We're Ready to Help Your Business Grow
Trainerize is incredibly user-friendly, but we're always here to help you and your clients get the most from the app. Once you've made the decision to add Trainerize to your business, we can help you hit the ground running by making it easy to bring new and existing clients into the platform with bulk import features and client syncing with MINDBODY, ABC Fitness Solutions, and more.
We can also help you start programming quickly and easily by offering customizable programs and workout templates, and a library of over 1000 ready-to-use exercise videos.
For users on our higher-tier Studio plans, we also include 1-on-1 onboarding sessions with our specialists who can walk trainers through the platform and help get them set up for success.
To ensure our users get the most out of Trainerize, we're constantly creating resources. We use cases to help trainers learn new skills, and make the most of Trainerize in their business. This includes webinars, guides, blog posts, case studies, and even Instagram takeovers.
We Help You Level Up Your Skills
On top of getting you set up for major success in your business, we've also got you covered when it comes to your professional development.
Since entering the scene, we've built strong relationships with some of the leading businesses and educators across the health and fitness industry, and we've turned those relationships into major opportunities for you to level up your skills.
As a Trainerize user, you get access to the Trainerize Education Partner program, where you'll discover a career-changing collection of courses, resources, and more. Redeem exclusive discounts to start learning about business, nutrition, and habits, and take the next step in your career.
Trainerize is Inspired by You
With over 150,000 trainers using the app, we've got ample opportunity to perfect our platform to support fitpros across the industry. However, we're not content to rest on our laurels. Like our trainers, we're constantly in pursuit of our personal best. We believe in always leveling up what we offer to our users so that they pay the same, but get more value over time as our product gets better and better.
We're constantly seeking new opportunities to integrate with leading fitness, business, and tech platforms to help our trainers (and their clients) do more and take their Trainerize game to the next level.
Ensuring our clients' success is at the heart of every decision we make, and we're committed to building the best personal trainer software on the planet. We're always open to user feedback about how we can improve our app, and assist our users as we work collaboratively to elevate the fitness industry.
Looking to reach new clients? Build stronger relationships with your existing ones? Boost your brand? Look no further than Trainerize.
Take your fitness business to the next level.
Activate your free 30-day trial of Trainerize.