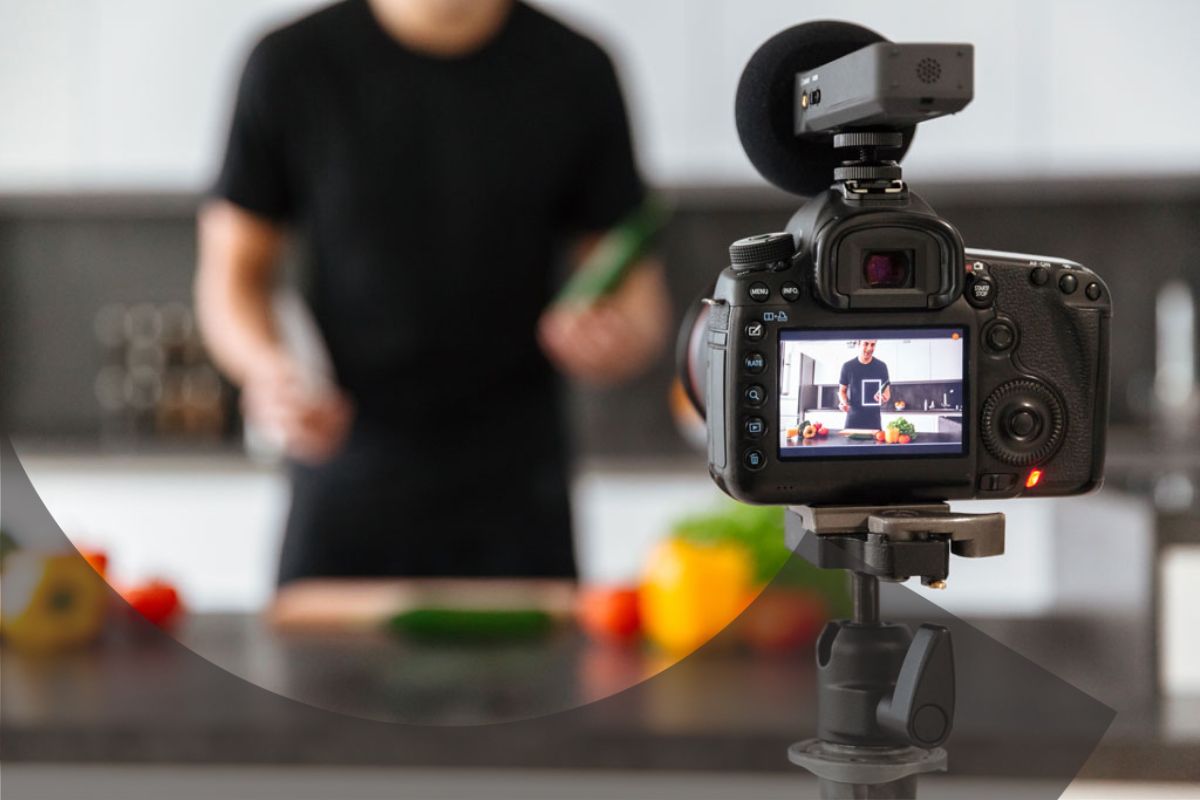 With so many trainers, gyms, and coaches out there competing for clients' and members' attention, making your fitness business stand out from the crowd can be one of the biggest challenges for business owners. The answer to this challenge and the place where you can make the biggest splash in the industry is video marketing.
While many fitness professionals shy away from this tactic, marketing videos can lead to serious business growth, and that means more client and money for you. In fact, research has shown that adding a video to your website or sales page can increase conversions by up to 80%!
Seeing is Believing
I remember when I started my YouTube channel 8 years ago. I had no clue how a video would increase my sales and have people talking about my coaching business.
Was my first video any good? Of course not! I was so nervous, I read from a piece of paper that was taped to the top of my webcam. Not to mention, I had a shirt and tie on.
I laugh at this video now. But, when people saw this video, they would hire me. There were many times I woke up to hundreds of dollars in sales because, in my client's words, "When I saw your video. You looked so professional. I felt as if I knew you."
Video marketing helped me to develop the: know, like, and trust factor without even technically talking to potential clients and thus helped me to increase my income while I was sleeping!
How to Create Video Marketing Content?
After the "success" of my first video, I became video crazy. I would go into forums to see what people were talking about. Also, I asked my own clients about the troubles they were facing with their body, and I would always stay up to date with the latest fitness trends.
I knew I had to find a way to reach beyond my current location. I posted these videos on YouTube and other social media platforms (which only consisted of Facebook and Twitter back then). This allowed me to expand my reach and get more clients, as I started getting online clients from all over the world.
I also started creating content by using the Google search bar method. Just type in a subject and let Google do the rest for you. For example, if most of your clients complain about the size of their quads, type that in and Google will feed you their most searched topics. Find topics that pertain to your audience, product or services the most, and start filming your video. I found this method also essential to growing my online fitness business. Make enough of these videos addressing the problem and offering solutions. Your potential/existing client(s) will think you are the authority, so it will be a no-brainer to buy your product or services.
Another bonus to creating videos for your fitness business is they are easily shareable on social media. We are visual by nature. So, a video is perfect for those who want info. But, don't have a lot of time to read a blog.
Ditch the spreadsheets, build custom workout videos and train online.
Start your free 30-day trial of Trainerize. 
What Other Content Can I Create?
If you just want to keep it simple and dip your foot into the waters of marketing yourself with videos, here are some great content ideas:
1.

Demos
Do you have a new program, app, or core workout? Shoot a quick video and show us how it works and what are the benefit(s). This is great content for your new and existing clients.
2.

 Tips and/or How-to
Our clients are always looking for short quick ways to expand their knowledge on a particular topic.
These videos are the perfect way of giving your audience small, digestible bites of info. Also keeps your existing audience engaged and waiting to hear more from you. *How to videos are also the most shared on social media*
3.

Testimonials
This is the most powerful video fitness professional can possess; a video showcasing your client's journey with you. Anyone can make up a written testimony. But, a video testimony shows emotion and tells a story in which a prospective client can possibly relate to.
4.

Q&A's
Find experts or influencers in your fitness niche and see if they'd be willing to sit down for a short Q&A video on a specific topic. This is also a great way to build relationships in your fitness community.
5.

Product Reviews
People always ask us about various health products. Nowadays it seems like there is a pill, cream or tool out there for everything. Make videos showcasing the pros and cons and give your honest opinion.
These quick and easy videos can really help to raise your authority as not just the trainer but also an educator in your niche.
Keep online clients active with custom exercise videos.
Start your free 30-day trial of Trainerize. 
Anatomy of a High Converting Video
Now, that we know how to create video content. Let's talk about what elements go into creating a highly converting video. Here are a few inexpensive accessories and elements to making your first killer fitness videos.
1.

Camera 
There is no need to spend hundreds of dollars on expensive professional video equipment. At this point, our smartphones cameras are almost up to par with professional equipment. Just charge up your smartphone and get started. If you prefer, you can also use a DSLR or more mid-range camera, but once again, there's no need to spend an arm and a leg.
2.

Sound
Video isn't nearly as impactful without sound, so make sure you're capturing it in as high a quality as you can. Our smartphone microphones are very limited in this regard. If you stand too far back the sound will be inaudible. I use a Saramonic SmartMic, which helps to heighten the sound quality giving it a more professional sound, but there are tons of affordable mic options out there for you to choose from.
3.

Tripod
No one wants to hold the camera while delivering a sales pitch and it doesn't exactly scream professional to use a selfie stick. A tripod makes it easy for you to back away from the camera and is essential for your demo or Q&A videos.
4.

Timing
This is everything when it comes to an informative video. According to Wistia, "Videos up to 2 minutes long get tons of engagement. Anything longer than 2min there is typically a 25-30% drop-off" so keep that in mind while creating your video content. Save the longer videos for curriculum content or other more learning-based initiatives.
5.

Quality Editing
While some videos you might capture on your very first go, others might need a little bit of polishing or editing. Like with your camera equipment, you don't need to spend an arm and a leg. There are lots of affordable video editing platforms out there that will give your videos the polished look you want, quickly and easily. Some of them are even available on your phone!
6.

CTA (Call to Action)
Every video needs a Call-to-Action. This directs your audience to take the next step and helps to (ideally) close the deal. Prompt your viewer to take action:
Visit your website for more information
Schedule a free assessment
Sign up for a newsletter
Sign up for a webinar
Watch another video
When it comes to video marketing, fitness professionals need to remember that customers are people: they want relevant information that will help them reach a goal.
Make your videos: simple enough for clients to understand, interesting enough so that they want to know more, and have a clear call to action. This will help make potential clients eager to take the next step and book a session or sign up for your online personal training program.
Don't get stuck in the past, passing out flyers. Videos are the future of marketing. Get your smartphones ready and let us know how you enhance your client's lifestyle.
Ready to take your online fitness game to the next level?
Start your free 30-day trial of Trainerize today.