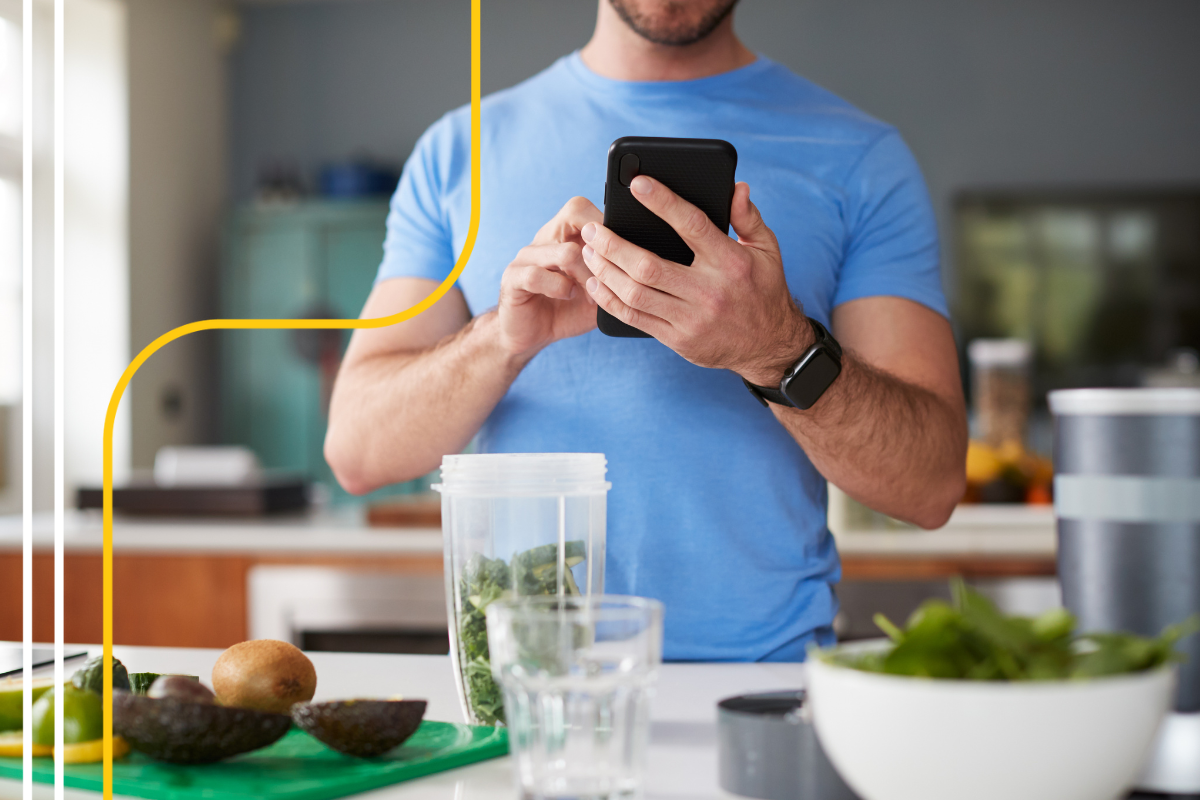 Through technology and the internet, potential clients now have access to a larger selection of coaches than ever before. This shift to virtual coaching enables them to choose whoever they want to work with, wherever in the world they may be.
And as technology continues to advance, the popularity of virtual coaching is expected to keep on growing…making now the perfect time to take your nutrition coaching to a whole new audience!
But, we get it — it sounds kind of daunting. While you're equipped with a deep understanding of the chemical makeup of macronutrients, you may not have all the facts when it comes to becoming an online nutrition coach.
Luckily, we've got you covered with this 7-step guide to taking your nutrition coaching online.
Check out: How to Become a Nutrition Coach in 5 Simple Steps
Step #1: Create a professional setup
First things first, it's important to look the part. You should set up a professional space for your online coaching sessions.
Ensure your set up has good lighting, and that you have a clutter-free background. This will help you maintain the professional image you've already worked so hard to build. You should highly consider investing in a good-quality camera and microphone for clear communication.
Step #2: Understand online platforms
It's vital to understand how online tools work, and which ones will work best for you. This will help to ensure effective communication and engagement with your clients.
Familiarize yourself with video conferencing tools like Zoom or Skype, as well as
platforms that allow for data collection and management. Some nutrition coaches use software like MyFitnessPal or NutriAdmin to track clients' dietary intake and monitor progress.
Here at ABC Trainerize, we provide an all-in-one solution to manage all aspects of being an online nutrition coach including: 
Customized meal plans:

Use our built-in nutrition database to create meal plans that meet your clients' specific needs and preferences.

Progress tracking:

Set goals and track your clients' progress using the Trainerize app.

Client communication:

Use our built-in messaging features to chat and share photos, videos, and documents with clients

 
Step #3: Adapt your services
Once you have the right set up and the best tools available, it's time to tailor your existing coaching methods and approaches for the online environment.
Create digital resources, such as PDF guides of meal plans, printable grocery shopping lists, etc. and establish a system for sharing them with your clients.
If you have clients who are not used to online coaching or seem unsure of any of your new methods, use screen sharing during sessions to explain concepts visually.
Step #4: Make scheduling easier than ever
Remember that a huge reason more and more people are seeking online coaching is convenience. You should implement an online booking system that allows clients to schedule sessions at their convenience.
It's easy to book sessions and check-ins using scheduling software like Calendly, in a coaching platform like ABC Trainerize, or by simply integrating a booking feature on your website.
Step #5: Set up secure online payments
Chances are you already had an online payment option for your nutrition coaching services before taking your training online, but if not then now is the time.
Like we've alread said, convenienve is the name of the game. Send professional invoices to clients after each session or as per your payment structure. By setting up a secure online payment system for your services, clients and simply click and pay — or even automate recurring payments for your services.
Popular platforms typically used to handle these kinds of transactions include PayPal and Stripe, or should you opt to use ABC Trainerize, we have an integrated payments system in place too!
Step #6: Market your online business…online
No doubt you also have some form of presence on social media, which is great. Platforms such as Instagram, TikTik and Facebook offer valuable marketing opportunities and are all great places to advertise your online coaching business.
One of the best ways to do this is by showing people what you bring to the table. Showcase succesful transformations, share a weekly healthy recipe, provide smart tips when it comes to grocery shopping… make it visual and infomative and people will keep coming back for more.
A nutrition coach who knows how to leverage these platforms effectively can attract a wider client base and share informative content on nutrition and wellness to establish credibility. And, of course, there's more to online marketing than just social media. Check out our recent post 5 Easy Online Marketing Tips To Help Trainers Find New Clients to learn more!
Step #7: Develop a clear client onboarding process
How you onboard new clients is a vital part of transitioning your nutrition coaching business online. Remember, it sets the tone for the entire relationship.
Through the onboarding process, you can gather essential information about a client's goals, dietary preferences, and any underlying health issues, enabling you to create a tailored nutrition plan. It's also a golden opportunity to introduce them to the tools and platforms you'll be using for online coaching.
A smooth onboarding experience leaves a positive impression, increasing the likelihood of client referrals and building a strong reputation for your online coaching business.
Take your nutrition coaching to the next level
By following the steps outlined above, you can successfully transition your in-person nutrition coaching to an online format and continue helping your clients achieve their health and wellness goals from the comfort of their homes.
And, here at ABC Trainerize, we can help you be a truly successful online nutrition coach. Learn more about our nutrition coaching features, or sign up for a 30-day FREE trial below!
Ready to take your fitness business to the next level?
Start your free 30-day trial of ABC Trainerize today!