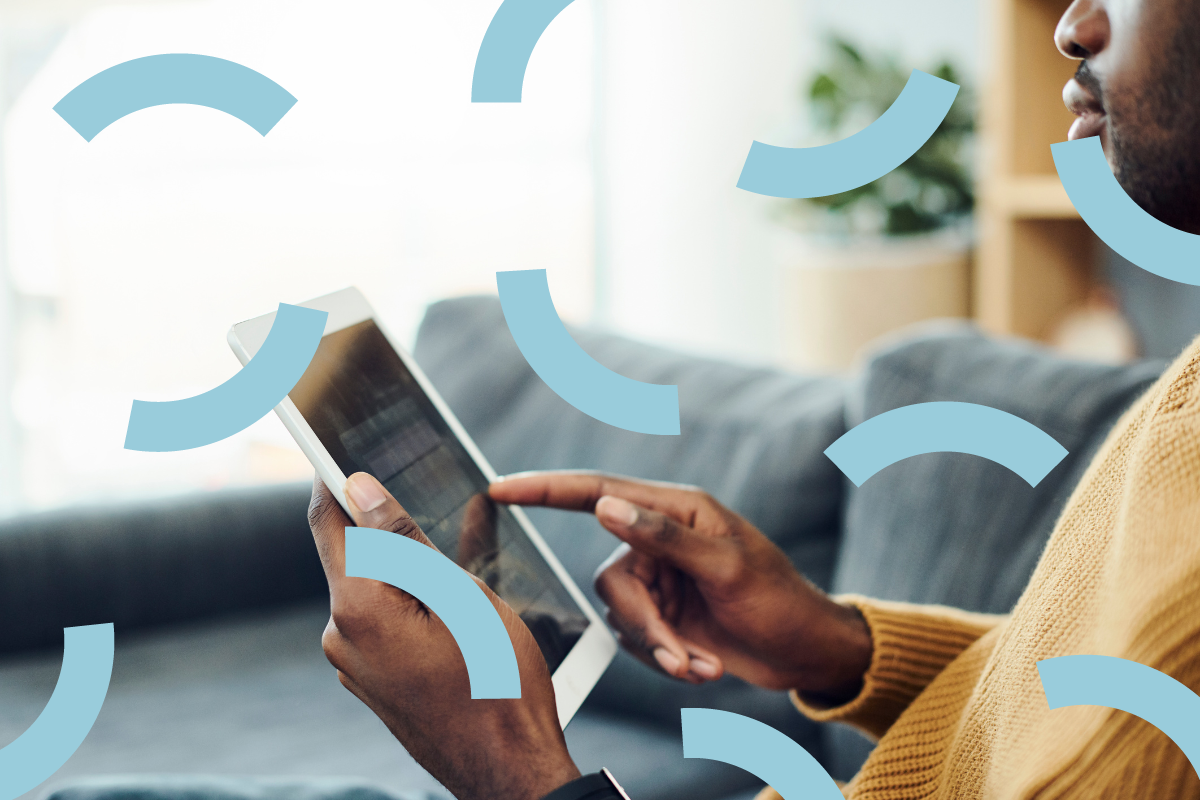 Looking to purchase scheduling management software for your gym? We've rounded up a list of the 5 best schedule management software solutions for 2023.
Gym owners and trainers like you love helping clients smash personal bests. Not doing tedious admin work which is definitely the less glamorous part of running a fitness business. Still, effective schedule management can be the difference between jam-packed classes and an empty building.
So, this begs the question: what's the best schedule management software for gym owners and trainers? After all, there's tons of different project management tools out there. And, trying to pick the right one for your business can be a serious headache. You've got to compare pros and cons, click through page after page to find accurate pricing, and then think about what you actually need.
Luckily, we've done all the research for you, drawing on our team's knowledge of the fitness industry's favorite task management tools—which include Trainerize. So let's explore the five best scheduling management software tools in 2023 and make planning your fitness business a piece of cake.
The 5 best scheduling management software solutions in 2023:
1. Trainerize
Source: Trainerize
Geared specifically towards personal trainers and gym owners, Trainerize helps over 75,000 fitness businesses schedule training, support clients, AND market their services—that's huge!
Trainerize allows you to schedule workouts for your clients, see a 360° view of all your clients in your in-app calendar, deliver automatic reminder messages, and manage payments and billings. Every high-level tool you'll need to cut your admin stress in half is there, right from the jump.
Trainerize goes way beyond schedule management, though. You can offer online, in-person, and hybrid memberships through the app. As well as track your clients' progress in real-time. You can even set up check-in messages to keep your clients engaged outside of their training sessions—which is a great way to make sure they come back.
Trainerize even gives gym owners the option to create a custom-branded app, which can really set your studio apart from the pack. It's included in Studio and Enterprise memberships, and available as a one-time $99 add-on for Pro members.
Pricing for Trainerize depends on the features you need, making it the most flexible schedule management software for trainers and gyms. The number of client seats you reserve, the number of locations you operate, and the business tools your team members want all affect your plan price—so you're covered, no matter what you need.
Reasons to buy:
Monthly payment depends on number of client seats—so you only pay for what you use
Trainers can offer video training directly through the app
Fast customer support
Free trial available
Limitations:
App has a deep, comprehensive feature set, which means there's a learning curve for some users
From $5.00/month.
2. Mindbody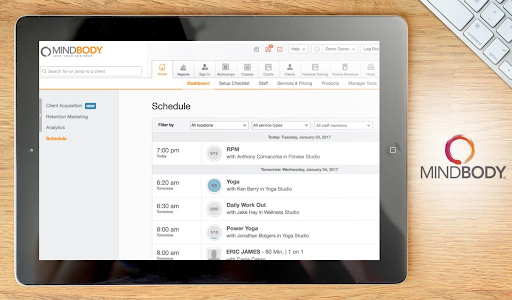 Source: FinancesOnline
Mindbody is a leading scheduling solution used by fitness, wellness and beauty centers. The platform allows you to organize classes, training sessions, and appointments. Gym-goers can also download the Mindbody app for free on the App Store. Then use it to register and pay for classes and personal training sessions.
The Mindbody app addresses a wide range of task management problems for gym owners, from accepting payments to analyzing attendance statistics. The app even integrates client schedules and trainer schedules, which will help your team members spot schedule overlaps and coordinate project timelines.
However, there's a con, the interface is a little bit outdated—especially on the client end. If you read their review forums, you'll see a number of users complaining about the retro-looking UI.
Reasons to buy:
Accepts payments through the app
Free mobile app for clients
Detailed business analytics
Limitations:
Mobile app for clients can be buggy
Slow customer support
From $129.99/month.
3. Gymflow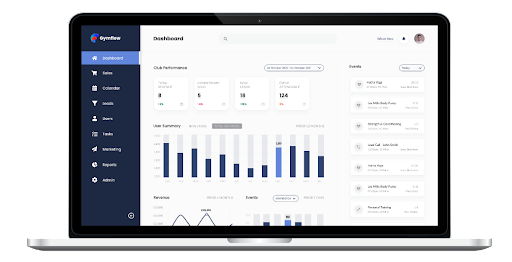 Source: Gymflow
Founded in 2019, Gymflow is a newer player in the scheduling management space, but they're starting to catch on with clubs all over the world. (And it's not hard to tell why!)
Gymflow's user interface is sleek and simple. Making it easy to manage your scheduling, marketing, sales and payments from their dashboard. If you go to their forums, you'll see gym operators commenting on how easy it is to onboard their staff and get started.
Unlike one-size-fits-all solutions like Trainerize, Gymflow caters mainly to clubs and fitness centers—which may leave personal trainers wanting for more. Fan favorites like nutrition planning and workout routines aren't available in Gymflow, so you won't be able to create check-in messages and assignments.
Reasons to buy:
Simple, easy-to-use interface makes team collaboration simple
Allows clubs to manage scheduling, sales, and marketing, all from one place
Limitations:
Lacks features specific to trainers like meal planning and workout routines
Pricing is not as flexible as some competitors
From $110.00/month.
4. Genbook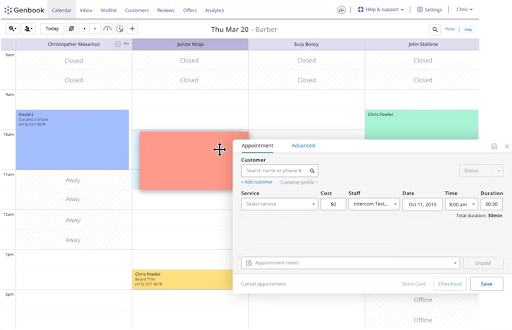 Source: Capterra
Genbook isn't specifically designed for gym owners. But, it's one of the most popular general-purpose project management tools out there. If you're managing a busy training schedule and offer multiple types of fitness services, it could be the perfect solution for you.
Capterra's interface is sleek and simple. And it comes with every feature in the book. You'll be able to see all your training activities from the Activity Dashboard, set up automated scheduling, send SMS reminders, and create client profiles for your repeat clients.
Genbook mainly supports businesses in the beauty, hair and wellness industries—which includes fitness businesses like yours. Every scheduling management tool you can imagine are included, but there are no fitness-specific features. Depending on the types of training you provide, this might be a slight drawback… or no problem at all.
Reasons to buy:
Ease of use
Affordable pricing
Customized confirmation emails
Limitations:
Missing some key integrations for payments (PayPal) and marketing (MailChimp)
No features geared specifically towards fitness industry
From $29.99/month.
5. Glofox
Source: Glofox
Glofox allows fitness studios and gyms to create and manage schedules through branded membership apps. If your gym is called Make My Lats Big, your customers will be able to log right into a custom Make My Lats Big app, instead of a third-party app.
There's several key benefits to this model. For one, having your own branded app just looks plain awesome. Secondly, it signals your professionalism to clients. And finally, signing up to a dedicated app at your favorite gym can also be easier than signing up for a third-party app, and then connecting to your gym.
The admin features built into Glofox are comprehensive, including class scheduling, calendar views, member management, billing, reminders, and check-ins. You'll make time tracking, class scheduling and project planning a total breeze.
Creating a custom app isn't right for everyone, though. Smaller gyms and personal trainers may get equal business results at less cost with a more flexible software solution like Genbook or Trainerize.
Reasons to buy:
Custom branded app looks great to prospective clients
Deep set of schedule management and payment features
Limitations:
Creating an entire custom app may be overkill for trainers and smaller gyms
Some key fitness features like workouts and nutrition plans are missing still
From $29.99/month.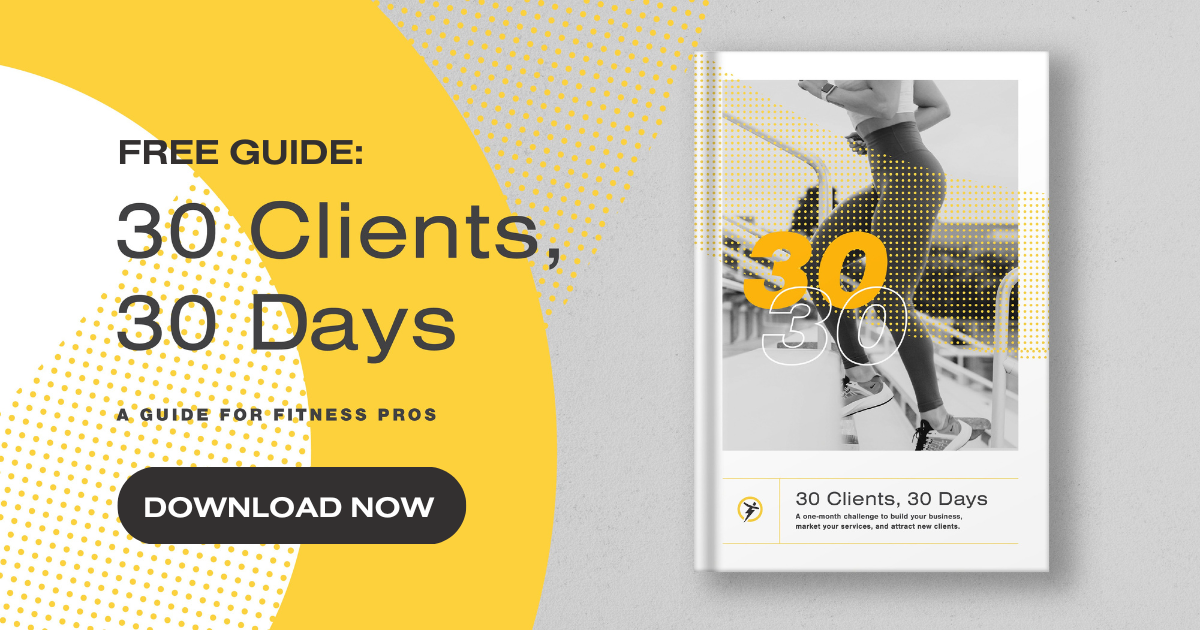 FAQs about schedule management software
Why should I use a scheduling management software?
Scheduling management software saves you time, makes you look professional, and increases your client retention. For example, instead of sending manual reminder emails, you can use a scheduling management tool like Trainerize to automatically send out polished confirmation emails. You look like a total pro, and take out all the stress—and that's why every gym worth their salt uses a scheduling management tool.
What are the most useful features of a schedule management software?
Every schedule management software has slightly different features. But there's some must-haves ever gym owners and trainers will want to look out for, including:
Calendars or project timelines
Appointment scheduling
Training plans for clients
Meal and nutrition plans
Automated messaging
Payment processing
With these core features, you'll be able to schedule training sweat-free, support your clients outside sessions, and collect payments, all in one place.
What is the best schedule management software?
All the tools that we've reviewed here are great. That said, we recommend Trainerize. It's an industry-leading schedule management software that supports over 75,000 trainers and fitness businesses. (Not that we're biased or anything)
Our flexible pricing, easy-to-use scheduling and training tools, and straightforward interface make us a great choice for gyms of all sizes. Plus, Trainerize comes packed with fitness-specific features like nutrition plans that other schedule management apps just can't compete with.
So, what's next?
To start saving serious time on appointment scheduling, just fire Trainerize. You'll be able to create appointment times for your training sessions, invite your clients, and send handy reminder emails. Soon, you'll have that bustling training schedule you've always dreamed of, without all the administrative stress.
Ready to take your fitness business to the next level? Start your free 30-day trial of Trainerize.