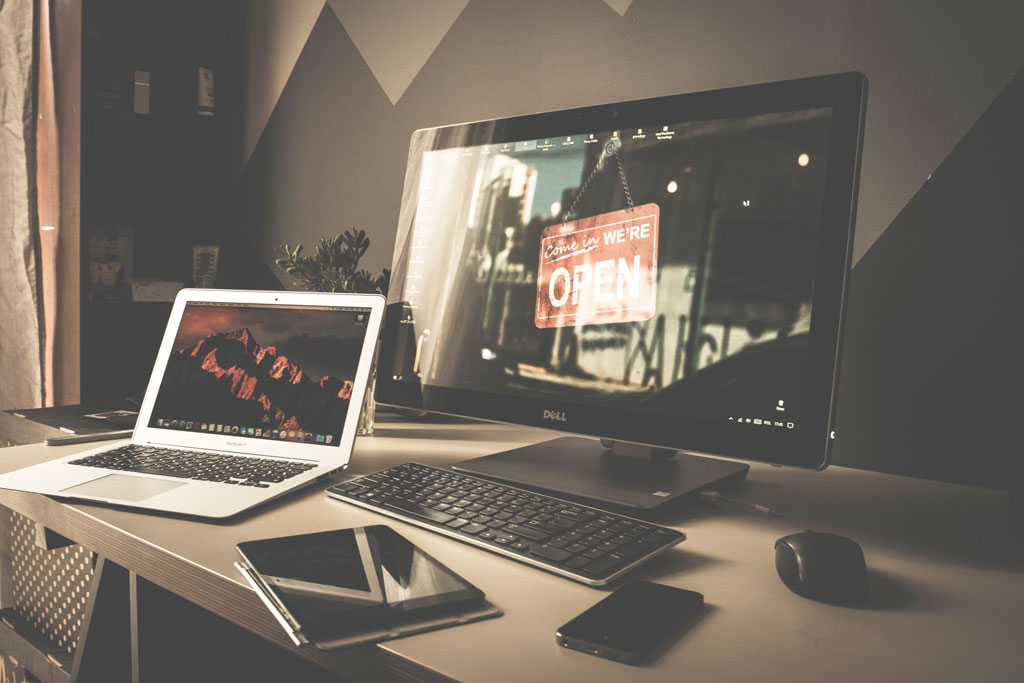 When you're just starting out, it's easy to compare yourself to bigger brands and businesses. It seems as though everyone has a fancier website, an Instagram that's more curated, and overall, they just look more put-together.
Logically you know those bigger businesses have larger budgets to put towards teams dedicated to creating compelling content, cohesive graphic designs, and contributing to the overall appearance of the brand. But when you're already dealing with those "who am I to be doing this?" thoughts, this game of comparison can make you feel inadequate.
Luckily, there are lots of little things you can do to make your business appear more professional, and in turn, help you feel more confident. Keep reading for six little things you can do to make your business feel big league.
1.

Purchase a Custom Domain
Getting your own custom domain is incredibly easy. Most website builders include a custom domain with paid plans, and many even incorporate them into their free plans. Just make sure the domain you're being offered won't also include the name of the website builder. Yourname.websitebuilder.com looks less professional than simply yourname.com.
You can also purchase domains without attaching them to a website through platforms such as GoDaddy. The reason for purchasing a domain with no website is because you can direct them to any address you like. For example, if you have a Facebook group you operate to generate leads, you could purchase a domain with the name of your community and forward it to your group. Then, rather than having to share a long Facebook link when inviting others to join your group, you can instead share your branded, custom domain that will automatically direct them to the group.
Up your Fitness Business game.
Start your free 30-day trial of Trainerize. 
2.

Use a Custom Email Address
Once you've got your domain, get an email address! Having a [email protected] email rather than [email protected] looks more professional and helps your clients build more trust in you. The easiest way to go about this is through Gmail. A business Gmail account is inexpensive and can easily be linked to your domain and websites. It also comes with a host of additional tools and storage that you will no doubt find valuable. If you've opted to use one of the common website builders, there's a large chance a business Gmail account will be included.
3.

Print Custom Business Cards
Business cards may not be as popular as they used to be, but you'll still want to have some on hand in case anyone ever asks you for one.
If you don't want to spend the money on having cards professionally designed, you can easily make your own through services such as Vistaprint. These online design platforms offer lots of affordable options that are easily customizable, and you can save your designs for quick reference in the future.
Take your Fitness Business to the next level.
Activate your free 30-day trial of Trainerize. 
4.

Hire a Professional Photographer

Our phones can take great photos these days, but nothing beats having a professional photographer who knows how to take advantage of lighting and angles!

Save yourself the trouble of setting up your camera and using the self-timer and hire a professional. If you're on a budget, you can find a local photography student who is looking to build their portfolio, or you could find someone who's willing to do a service trade to receive some fitness coaching from you.

When it comes to your online presence, most people will judge your website and social media channels upon first glace. Make a good impression by investing in good quality photos that represent your authentic self.
5.

Collaborate with Other Businesses

There's a reason influencers are so popular…as soon as you align yourself with a bigger brand or business, people immediately assume your business is bigger than it may actually be!

Find a business, either local or online, that's aligned with your message and values. How can you team up to create a mutually-beneficial opportunity for your clients and community? Can you pair up with a supplement store to offer discounts to your clients? Do you know a nutritionist who would be willing to give a free talk to your clients in exchange for exposure?

When pitching your ideas to potential partners, be sure to emphasize how both of you will benefit from the collaboration. This will help you stand out from the dozens of other offers and opportunities they are likely receiving.
6.

Train Your Brain

All the tips and tools in the world won't make a difference if you continue to feel inadequate in your business. So many new business owners get caught in the trap of "once I have a better website, THEN I'll feel better about my business" when in actuality, those positive feelings from your business come from within.

At the end of the day, clients don't care if you have the fanciest website or the most beautifully-curated Instagram feed. They care about your ability to help them! A visually-appealing brand is nice, but it doesn't make you any more or less qualified to help somebody.

Do what you need to do to eliminate feelings of imposter syndrome and build up your confidence so you can share your message with ease and let the world know why and how you are here to help. The know, like and trust factor can help.

Once you get your mindset right, everything else will fall into place.
Set your Fitness Studio apart.
Start your free 30-day trial of Trainerize today.