Whether you're a budding personal trainer with one client or a fitness franchise with gyms all around the world, you want to give your clients the best possible experience.
And you know that the "best experience possible" goes far beyond the basics of top-notch guided workouts, progressive programs, and recovery sessions.

To give your clients the best possible experience, you'll want to deliver services that meet their needs, help them achieve their goals, and fit seamlessly into their daily lives.
From staying connected with their trainer, to scheduling workout sessions and classes on the go, to tracking progress in just a few simple taps, your clients should feel supported, motivated, and engaged. And we can help with all of it!
What is gym software?
In a sentence, gym software is software designed to help fitness businesses level up and digitize their businesses. They can help to streamline, organize, and run their operations. But, more importantly, they can help them deliver services, engage their members, and strengthen their brand.

Gym software can be used by organizations of all shapes and sizes. For example, here at Trainerize we have plans and add-ons that make us an ideal option for the following business types:
| | | | |
| --- | --- | --- | --- |
| Independent Coaches | Small Businesses | Medium Businesses | Large Businesses |
| Personal Trainers | Fitness Studios | Gyms | Health/Fitness Clubs |
| Nutrition Coaches | Martial Arts Studios | Recreation Centers | Franchises |
| Lifestyle Coaches | Boutique Studios | Open Gyms | Celebrity Trainers |
| Health & Wellness Coaches | Physio Clinics | Corporate Wellness Providers | |
| Creators and Influencers | | | |
So what makes Trainerize the best gym software?
Here at Trainerize we help trainers and fitness companies to both reach new clients and build stronger relationships with their existing ones.
Our software simplifies and streamlines everything – whether it's assigning workouts, communicating with your clients or even getting paid. 
Here's what makes Trainerize the best gym software out there:
Better client engagement
Using Trainerize makes it easy to initiate and maintain contact with your clients. Our features make it easy to keep them updated, cared for and motivated to keep working hard!

Video coaching:

Not every client will always be able to make it to in-person sessions, and video coaching allows you to take the training to them—anywhere they might be. Trainerize allows you to provide multiple

video coaching

options for clients, including both live video sessions and on-demand video workouts.

In-app messaging:

Whether you need space for one on one conversations or want to

communicate

with larger groups, you're covered with Trainerize. In-app messaging means all your important communications happen in one place. With our messaging features you can add reactions to posts, and @ mention clients within a group to boost camaraderie.

Milestones:

A great way to keep clients engaged is to celebrate their milestones. Our platform makes it easy to instantly highlight milestones, with in-app badges, notifications for personal bests, daily streaks and more.

Auto-messages:

Coaches using Trainerize can automate messages to be sent to clients exactly when they need them most. You can remind forgetful clients about upcoming workouts and congratulate them on reaching milestones. You can even make sure they feel the love on their birthdays! Auto-messages can also be used for simple onboarding processes, saving you some valuable screen time.

Create appointment types:

Appointment types allow you to categorize your appointments and create different types – such as online assessments, consultations and PT sessions. Not only are these appointments easy to arrange, the process is entirely customizable for coaches. You can customize how far in advance your clients can book, cancel, and create appointments that best fit both you and their needs.
🔗 Build top-notch client relationships
FREE GUIDE: The Ultimate Guide to Client Engagement
Next level training 
Not only does Trainerize make it easier than ever to engage with and motivate your clients, but we also help you build and deliver the best training programs for their specific needs.
Trainers using our software can easily create customizable workouts and programs that work for  online, in-person, hybrid, or group training. Here's how:

Progress tracking:

You can easily monitor clients' progress using a variety of measures and methods, including body stats, before/after photos, weekly compliance graphs, and exercise progress graphs. This makes it easier to manage programs, tweak routines and adjust nutrition plans.



RPE rating:

RPE measures how hard a client thinks they worked during a workout. Each time a client completes a workout using Trainerize, they'll be prompted to enter a rating. This will show up in your timeline, making it easy for you to make any necessary routine changes or build progressions.



Custom exercise videos:

Trainerize comes with over 1,000 exercise videos already loaded, meaning you can quickly and easily build workouts. However, if you prefer to record your own, you can easily upload your own exercise videos to the in-app Video Drive. If not, you can import your YouTube videos and then use them to build out your custom workouts!



All workout types:

Trainerize allows you to build general sports or conditioning workouts, cardio workouts, interval training, super sets, and progressions. We also plan on introducing AMRAP workouts sometime in the near future!
Trainerize Tip: You can view all of Trainerize's features here.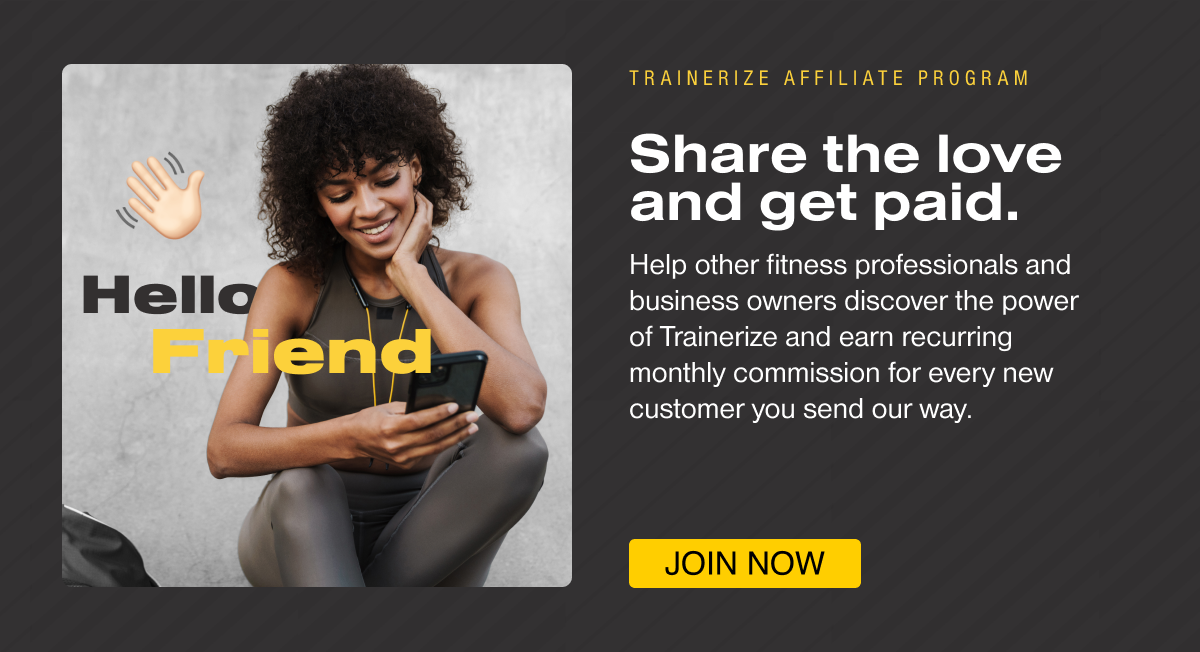 Boost your PT profits
An often overlooked way of increasing conversions and sales is making it as easy as possible for your customers to pay you! We've got you covered for that too.

You can use Trainerize Integrated Payments to collect payments and automate your entire business from program creation, through online marketing, all the way to product delivery and final sale.

Get paid easily:

Trainerize Integrated Payments is the perfect way to take clients from ready to buy to ready to train in seconds. If you're already using an in-person payment solution, our in-app payment option can be the perfect complement. This allows clients to purchase your services quickly and easily, online. This can help keep both sides of your business organized and make accepting payments easy, no matter how you train!

Give clients a taste with free trials:

People are much more likely to try something when there's no upfront financial commitment — and we all like trying something out before we pay for it! Trainerize allows you to offer free trials to newbies as part of your sales funnel. This means you can target new clients specifically to capture more leads, upsell them and ultimately grow your client base.
Check Out: How to Sell Personal Training in 5 Easy Steps
Boosts your brand's visibility
We know the value of brand visibility. The more aware people are of your brand, the more they will trust it. The more trust consumers have in your brand, the more successful your business will be. Here's how we help with that:

More branding opportunities:

Both

the Trainerize mobile app and desktop login page can be customized with your logo. You also have the option of getting your own

Custom Branded App

(a white-labeled version of the Trainerize app, decked out  with your business name and branding)!



Social media sharing: There's almost nothing more powerful than social proof, and with in-app "share to social" options, you and your clients can post their progress, milestones, and activity to social media in seconds. It's the perfect way to promote your business and services.


Bonus marketing materials:

Trainerize Marketing Materials (a curated collection of creative assets) are available to customize for digital or print use: use videos and logos, print flyers or posters, share images and screenshots to show how great your service is!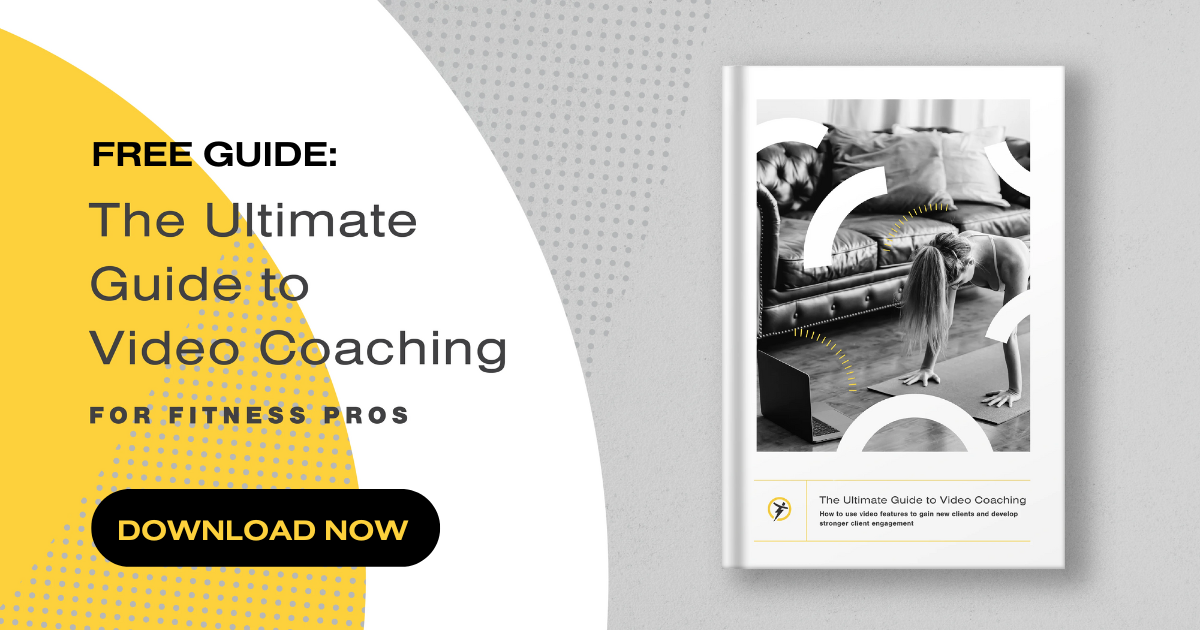 Streamlines your admin
For any busy business owner, even the thought of mundane administrative tasks can really slow down your rhythm.

Spending too much time doing things that aren't high-level business growth activities means you're not doing yourself (or your company) any favours.

Unfortunately, there's no avoiding them, but with Trainerize, those everyday tasks don't have to take so much time or energy!

Studio/gym management:

Trainerize admin settings allow you to manage multiple locations from within one account, and lets you access an overview of trainer activity. You can assign team roles and permissions, update schedules, monitor trainer engagement, and much more.

Client set-up:

Add clients on-the-go from any device– smartphone, computer, or tablet—with just a few details and a couple of clicks. With our automated consultation forms and document attachment options, dealing with client paperwork has never been easier.

Manage add ons

: Connect to an ecosystem of fitness and business apps—such as MindBody, Fitbit, MyFitnessPal, Constant Contact, PayPal, Stripe, Shopify, CudaSign, and more—to create a seamless business operation and a client experience like none other.
And much, much more!
Ultimately, Trainerize will revolutionize your fitness business with powerful personal training software.
Over 400,000 coaches and 30,000 fitness businesses are currently powering their coaching and member experience with us. Why not join them and see for yourself why Trainerize is the best gym software on the market?
Start your free 30-day trial today, and discover everything Trainerize has to offer!