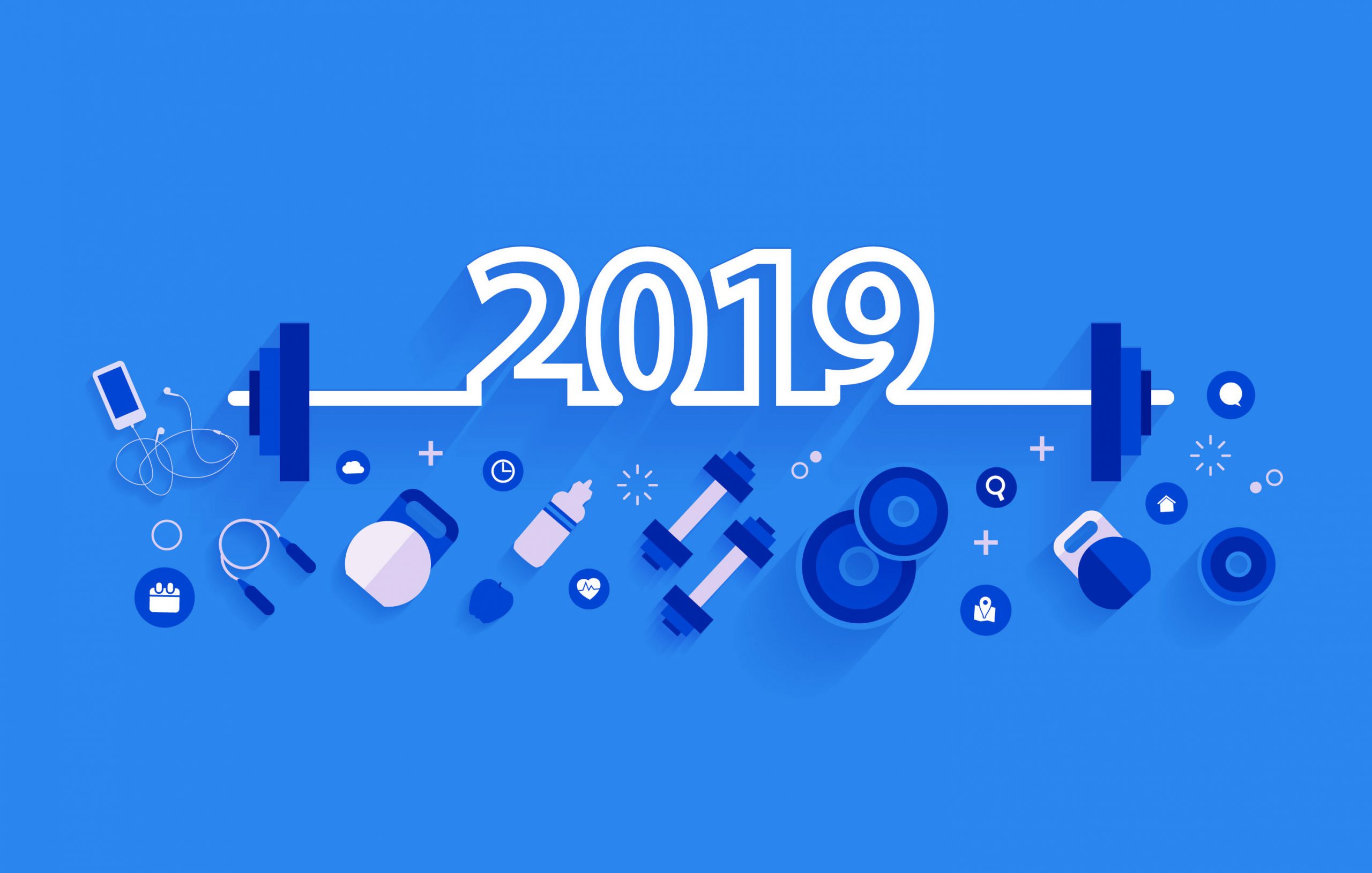 As 2018 comes to a close, fitness business owners should start to look ahead to 2019 and research what fitness trends they can expect to see in the coming year. After all, the fitness world is constantly changing, and markets never stay the same. The last thing that you want to do is get left behind!
We're not saying that you should change your whole niche, but adapting and integrating a few new fitness trends into your business can definitely help. Always remember: you can't expect growth without at least a little bit of change.
At Trainerize, we want to see your fitness business succeed. So, to help you kickstart your plan for 2019 and take the new year by storm, here are ten of the top up-and-coming fitness trends you should know about:
1. Heart Rate Trackers
If you haven't already noticed, heart rate trackers have become increasingly popular in the past few years. They can be found in watches, bracelets, necklaces—even rings—and many people wear them both in their daily lives and while they work out to monitor their cardiovascular health or engage in metabolic or interval training.
Fitbit, for instance, is one of the most popular makers of wearable devices that wirelessly track heart rate, athletic performance, and fitness progress over time.
How exactly can you integrate this fitness technology trend into your fitness business? One option is to offer a heart rate tracker to your clients as part of their training package. Or, if your client already owns a heart rate tracker, you can ask them to connect it to their Trainerize account so you can monitor their activity, nutrition, and prescribe challenging cardio workouts.
2. Group Training
Group training, like the name implies, is training or workouts that take place as part of a group. What could be more fun than that!?
The group could be as intimate as three people or as large as 20 clients—it's up to you to set the size. Fitness classes, boot camps, or other challenges all fit under the umbrella of group training. 
Whether it's suspension training, a running club, crossfit, or an early-morning boot camp, providing group training in your business has many benefits. Not only is it the most social way for clients to train, but the group setting also adds an extra layer of social motivation and helps create fitness communities and support networks for you and your clients. It can be competitive and fun, all at the same time.
Building support networks and fitness communities for your clients is key to the success of your fitness business.
Providing a schedule of in-person fitness classes or online live streaming group training is bound to gather a crowd to your business.
Start offering group training.
Activate your free 30-day trial of Trainerize. 
3. Online Personal Training
Digital fitness has never been bigger than it is right now. With advancements in technology being made every day, and people's schedules becoming more and more hectic thanks to the fast-paced world we live in, many are seeking online personal fitness trainers rather than in-person trainers.
A lot of people just don't have time to go to the gym, but with an online personal trainer, there's no excuse. People can work out at their leisure, at home or on the road, using a digital device.
Providing your clients with online personal training will make your business accessible to a large market, and can help you gain more clients. You can integrate online personal training to your fitness business easily using Trainerize. 
4. Obstacle Course/Ninja Training
Come on, who hasn't sat at home, eyes glued to the TV watching a fitness obstacle course shows like American Ninja Warrior or Ultimate Beastmaster!? They're addictive, entertaining, and downright grueling at times. So why not integrate some of that into your personal training services!?
Obstacle course/ninja training is a hot fitness trend because it uses every part of your body, and requires strength and stamina. For your more advanced clients, they'll love the new and unique challenges this kind of training offers, while your more novice clients will appreciate how it packs a whole-body workout in a short amount of time. Plus, they'll feel like ninjas and who doesn't love that?
5. Fusion Workouts
As you can probably already guess, fusion fitness combines two or more different disciplines into one fun workout. For example, you could combine strength training and yoga, or ballet and boxing; dancing and TABATA. The combinations are limitless, so get creative!
As a trainer, these workouts are a great way to freshen up your regular routines, and your clients will love them because they're so fun they'll hardly notice they're working out! Now that's the dream. 
6. Digital Gym Memberships
Imagine a gym membership where you don't actually visit a gym. This might seem like a strange concept, but these "remote" or "digital" gym memberships are picking up steam—fast!
Instead of unlocking a fitness club's physical facilities, digital memberships give members access to all of the gym's other services—online. Members can sign up for online personal training, join live-streamed classes or group workouts, or chat with gym staff including nutritionists.  
This helps fitness clubs become global brands because their members no longer need to live in a specific location, and it helps more and more people access professional fitness services and guidance. If you operate a club or studio, why not consider adding digital memberships to your list of services?
Take your Fitness Studio digital.
Start your free 30-day trial of Trainerize. 
7. Streamed Cardio Classes/Training Sessions
Streamed cardio classes, or streamed training sessions, are workouts performed live on camera and available to be viewed live online. There are lots of different platforms to help you do this, but it can be as simple as a private link to a video conference that you share with your clients.
Live streaming a fitness class feels similar to conducting a class at a gym, except you and your clients have the privilege and leisure to workout at home. This makes it more convenient and pairs nicely with the idea of a digital gym membership mentioned above. 
8. Holistic Approaches to Training
Taking a holistic approach is when, as a fitness professional, you treat a client as a whole person,  and provide guidance that will help them improve not only physically, but also mentally, and socially. It's a big-picture kind of coaching and one that more and more clients are looking for. 
As a trainer, it's up to you what your holistic training programs look like—some trainers like to start with their fitness programs, then add nutrition plans, meditation practices, mindfulness journaling, or even self-reflection to them. It can be whatever you feel comfortable prescribing and whatever your clients will benefit from, so get creative as you contemplate your clients' overall health and wellness. 
9. Equipment-Free Training
Not all of the fitness trends coming in hot for 2019 are expensive or extensive. For instance, equipment-free training is a huge trend projected for the coming year. 
Catering to different markets is important. Your clients will appreciate the variety in training.
More and more, people are seeking workouts that they can do at home, outside, or while traveling. Not only that, but many people are no longer keen to purchase expensive equipment,
Not to mention, with apartments getting smaller and smaller,  a lot of people also don't want to have to store said equipment. Here's where equipment-free training comes in.
To get in on this trend, start building some bodyweight workouts and programs that clients can do anytime, anyplace and make sure to promote them as such. If you want to get really creative you can even incorporate some household or commonplace items into the workouts, like bags of rice, or broom handles for stretching—or you can use physical structures like stairs.
10. Audio Workouts
Last to make it on this list, but certainly not least, is audio workouts. 
Made popular by a range of mobile apps and video series, with audio workouts, your clients can take their training with them everywhere and can have you in their ear motivating them to hit those personal bests. To create and deliver audio workouts, you'll just need a recording device and some time.
As you create your audio tracks, begin by outlining the workout session and what parts of the body you'll be focusing on. Name and describe the stretches and exercise movements as you go along, counting reps and sets. You can even add motivational music in the background.
Make sure to offer words of encouragement to your clients throughout the audio training session. Your clients will feel like you are physically there with them as they train at home, or at the gym.
It's important for your fitness business to stay current. Start thinking of integrating at least a few of these fitness trends in 2019. Your fitness business will be booming!
Keep your Fitness Business current.
Start your free 30-day trial of Trainerize.